Stargazing in July is warm and pleasant. After sunset Venus and Jupiter are together in the west and Saturn is low in the south amid the stars of Scorpius.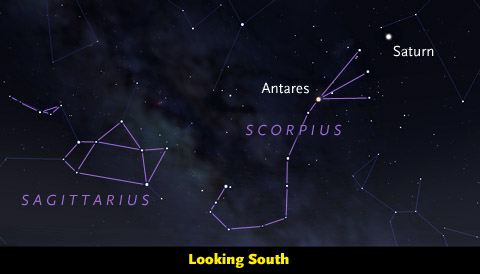 This month starts with a beautiful pairing of Venus and Jupiter in west after sunset. These two planets were breathtakingly close together in late June, so watch night by night as they separate and drift lower in the evening's twilight.
Meanwhile, you'll find Saturn low in the south, situated among the stars of Scorpius and not far from Antares, the reddish star that marks this critter's heart.
There's lots more to see by eye in the July evening sky. To get a personally guided tour — and to find the location of Pluto as the New Horizons spacecraft makes his historic visit — download our 7½-minute-long stargazing podcast below.
Podcast: Play in new window | Download
Subscribe: Apple Podcasts | Android | Email | Google Podcasts | Stitcher | Spotify | RSS | More
---
There's no better guide to what's going on in nighttime sky than the July issue of Sky & Telescope magazine.