For anyone north of the equator, days are longest and nights shortest during June. But you can still get an eyeful of celestial sights, starting with a parade of Jupiter, Mars, and Saturn in the evening sky.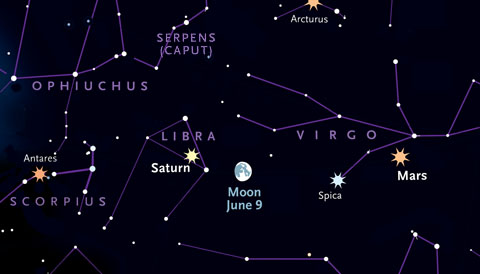 If you love the starry sky, June is a minimalist month because the nights are so short. But there is still plenty to see in the night sky tonight. Three planets and many bright stars await you after the Sun finally sets — as you can see on S&T's Interactive Star Chart.
Jupiter, Mars, and Saturn are spread across the evening sky as twilight ends. The King of Planets is in the west, Saturn in the east, and Mars in between. Not far from Mars is the superhot star Spica, whose surface is a blistering 40,000° Fahrenheit. Saturn lies in the dim constellation of Libra, whose stars were once imagined to be the claws of Scorpius to its east.
There's lots more to see and discover! By playing or downloading this month's 6¼-minute audio tour, you'll get a great introduction to the stars and planets overhead during June:
Download the podcast here.