The U.S. National Science Foundation will continue to fund the iconic radio dish, though at a much-reduced level, as it seeks partners to share in the facility's operation.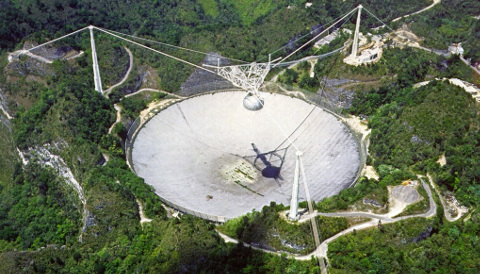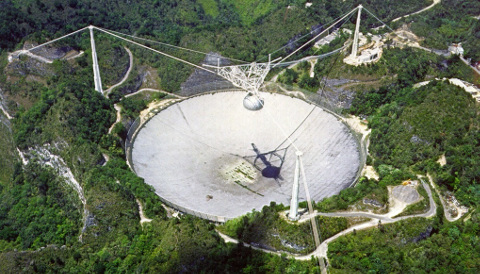 September's one-two punch of hurricanes Irma and Maria left trails of devastation in the Caribbean. Maria dealt a particularly harsh blow to Puerto Rico, and one of the island's more minor casualties was Arecibo Observatory, the enormous 1,000-foot-wide radio dish nestled amid verdant hills near the island's north-central coast.
Although the facility escaped major damage, one primary receiver plunged from its aerial mounting and punctured the dish below. Full operations resumed this past week, though the visitor center remains closed.
Astronomers had been expecting even worse outcomes, even before the hurricanes hit, because last year the National Science Foundation had signaled its intent to reduce and eventually cease its funding of the facility over the next few years. To make matters worse, the NSF also issued an environmental impact statement to guide how the agency might go about mothballing or even dismantling the dish and returning the site to its original state.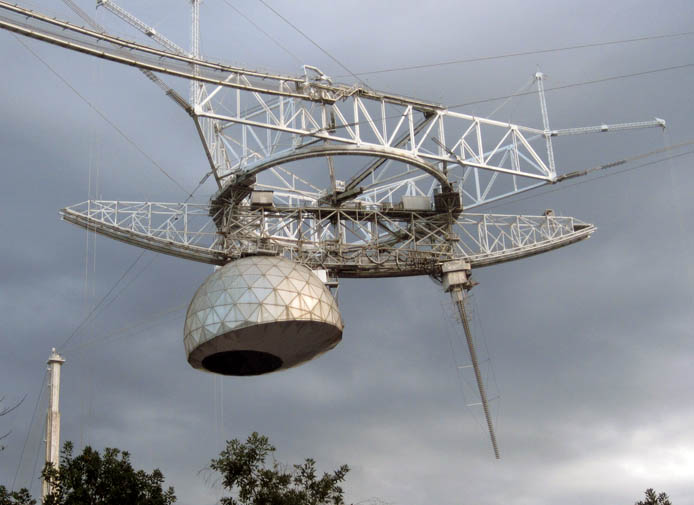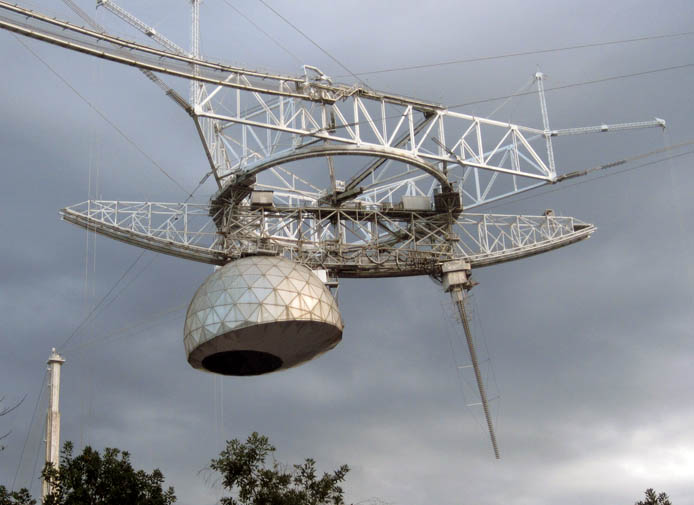 The prospects for Arecibo's continued operation first took an ominous turn five years ago, when an NSF review panel laid out a long-range plan to fund new facilities at the expense of older ones in anticipation of several years of flat science budgets by the U.S. government. That's about when NASA stepped in to fund the facility's important radar-sounding of near-Earth asteroids at a rate of about $3.6 million per year.
At issue is the remaining $8+ million needed annually to fund Arecibo operations at their current level. Among other options, including outright demolition, NSF managers floated the idea of finding other organizations to take over the lion's share of the needed funding.
Now a draconian shutdown has been avoided, at least for the next five years. NSF officials have decided to adopt the plan they've favored all along: to keep Arecibo basically as is, to keep the dollars flowing (albeit at gradually declining levels), and to seek alternative funding. The agency has reportedly received expressions of interest from more than one source to take on the major share of Arecibo's funding.
"This is very good news for the Arecibo Observatory and a huge win for the scientific community in general," Francisco Córdova, the observatory's director, told Nature. "There is definitely a sense of relief in the air."
The current contract for Arecibo's management, with SRI International, expires on March 31, 2018. NSF officials hope to negotiate a funding agreement with one or more new partners before that agreement expires. The plan is to ink a new 5-year contract with terms that allow the NSF to reduce its annual funding from about $7 million to $2 million.