After months of excitement in the predawn sky, the action is shifting to the evening. This month's astronomy podcast features Jupiter rising early and the stars of Orion anchoring an array of celestial sights.
March is a time of seasonal transition, celestially speaking. The March equinox, which marks the start of spring in the Northern Hemisphere and of autumn in the Southern Hemisphere, occurs this year on the 20th at 12:30 a.m. Eastern Time (9:30 p.m. Pacific Time on the 19th).
Soon after sunset you'll find the first star of the evening: brilliant Sirius, the night sky's brightest star. Anytime during the first days of March, make a note of the horizon point directly below this beacon at 8 p.m. — that's very nearly due south.
Look to the upper right of Sirius to spot Orion, the Hunter. Its two brightest stars are white Rigel, which marks his lower-right foot, and orange-red Betelgeuse, his upper-left armpit. Midway between them, look for the three-star row of Orion's Belt. Look to the left of Betelgeuse for the bright star Procyon. These two stars, together with Sirius, form a big, equilateral triangle — known as the Winter Triangle to skywatchers.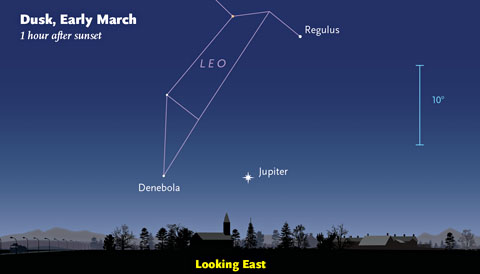 Let your eyes drift past Procyon over to the eastern horizon. There you'll see a "star" that outshines Betelgeuse, Rigel, and even Sirius. But that's no star — it's Jupiter. The King of Planets comes to opposition, that is, opposite the Sun in the sky, on March 8th.
To get a personally guided tour of these night-sky sights and others overhead during March, download our 7½-minute-long astronomy podcast below.
Podcast: Play in new window | Download
Subscribe: Apple Podcasts | Google Podcasts | Spotify | Stitcher | Email | RSS | More
---
There's no better guide to what's going on in nighttime sky than SkyWatch 2016, a yearlong guide prepared by the editors of Sky & Telescope magazine.