Whether you're a seasoned observer or a novice, star parties provide the perfect opportunity to kick back and enjoy the night sky with some fellow astronomy enthusiasts.
When people think of summertime, they might imagine nights spent toasting marshmallows, listening to cricket chatter, and camping out under the stars with friends. For astronomers, that latter will include pulling out a pair of binoculars or setting up the telescope to enjoy some stargazing without the cumbersome bulk of winter wear. And when astronomers camp out under the stars, sometimes they do it with dozens or even hundreds of strangers, all drawn together by a common fascination with the night sky.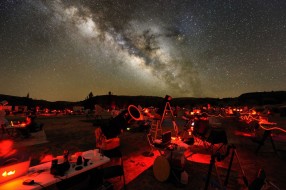 Summer is the high season for star parties, when newbies, amateurs, and professionals alike gather for astronomical observation and conversation. Many astronomy clubs and observatories host single-night star parties for club members and the local public. Some societies also organize annual regional star parties, typically held in remote locations to escape the pall of light pollution, and folks from all over the country flock to these events to set up camp for a several-night stint of stargazing.
These gatherings are great not only for astronomy enthusiasts seeking kindred spirits, but also for beginners seeking guidance from more seasoned astronomers. Though a few star parties have reputations for attracting "serious observers" — like the Mount Kobau Star Party, set on a high, cold summit in Canada nearly an hour's bumpy drive from the nearest town — most star parties are designed to accommodate everyone from the veteran astronomer to the novice. Even the organizers of those "serious" star parties encourage ambitious beginners to join them. In many cases, you don't even need to bring your own telescope, because so many attendees are excited to share and show off their equipment and knowledge.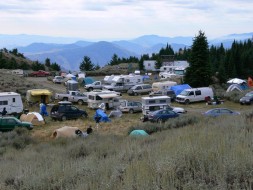 During the day, many star parties host workshops on using or building telescopes, presentations by professional astronomers, and markets where astronomy venders hawk their wares. Many offer a family-friendly atmosphere with workshops for teenagers and astronomy camps and activities for kids.
Listed below is a selection of the major star parties in North America for the remainder of 2014. Also check out Sky & Telescope's list of annual star parties, which includes some winter and spring events for advanced planning. NASA's Night Sky Network is also an excellent resource for finding upcoming events in your area.
For detailed information on star parties and much more, including museum exhibits and talks by professional astronomers, check out our Events Calendar. (Note to club officers: make sure your events are listed and up to date!)
Selected North American Star Parties in 2014

Event
Location
Dates
Table Mountain Star Party
Oroville, WA
July 22-26
Mason Dixon Star Party
Wellsville, PA
July 23-27
Stellafane Convention
Springfield, VT
July 24-27
Mount Kobau Star Party
Osoyoos, BC (Canada)
July 26-Aug. 3
Oregon Star Party
 Prineville, OR
 Aug. 19-24
Starfest
 Ayton, ON (Canada)
 Aug. 21-24
Almost Heaven Star Party
 Circleville, WV
 Aug. 22-26
Nova East Star Party
 Hants County NS (Canada)
 Aug. 22-24
Idaho Star Party
 Mountain Home, ID
 Sept. 19-21
Alberta Star Party
 Drumheller, AB (Canada)
 Sept. 19-21
Okie-Tex Star Party
 Kenton, OK
 Sept. 20-28
Astroblast
 Franklin, PA
 Sept. 23-28
SJAC Fall Star Party
 Woodbine, NJ
 Sept. 25-28
Astronomy Day (autumn)
 Everywhere!
 Oct. 4
Bays Mountain StarFest
 Kingsport, TN
 Oct. 17-19
 Chiefland Star Party
 Chiefland, FL
 Nov. 17-23