The 10th edition of what has become a major stargazing event drew thousands of visitors to Mount Desert Island in Maine.
With each northern summer come the premier stargazing events across the United States: iconic venues like Riverside, Stellafane, the Texas/Oregon/Nebraska Star Parties, and many others.
In recent years a newcomer has emerged to compete for the hearts, minds, and telescopes of stargazers. It's the Acadia Night Sky Festival, whose 10th run took place last weekend in and around Acadia National Park in "Downeast Maine."
The ANSF represents a rare and perhaps unique partnership between a national park, its local business community, and an entire region's amateur-astronomy clubs. The event runs for five days — September 5–9 this year,  September 25–29 in 2019 — and features a rich assortment of talks and workshops at venues scattered among the towns of Mount Desert Island.
Capping off dozens of such activities are two enormous star parties on successive nights. This year, propelled by a stretch of beautifully clear skies, Friday's gathering on the island's southern coast drew a record crowd of 750. And Saturday night's "main event" atop 1,530-foot-high Cadillac Mountain drew a crowd of 1,000. (A new reservation system, instituted this year by the National Park Service, kept the summit count somewhat below the peak capacity of 1,600 seen in past years.)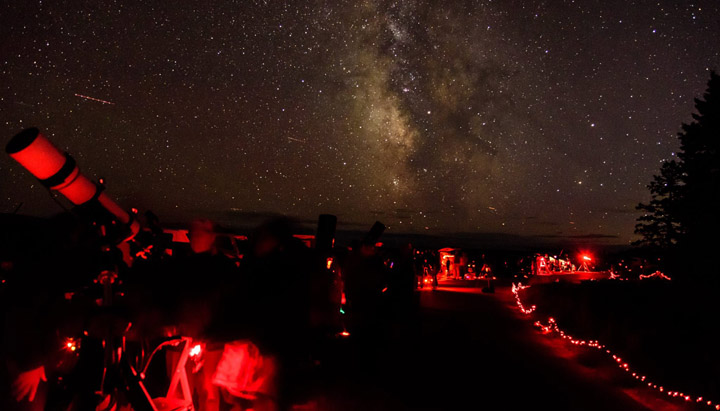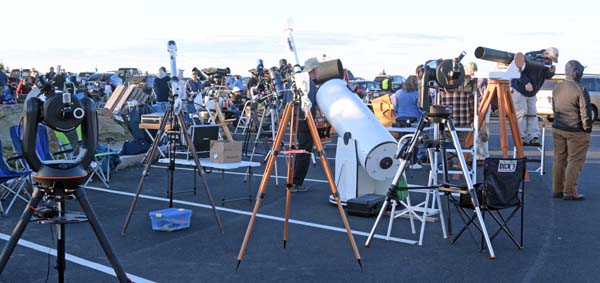 The first Acadia event, in 2009, was spearheaded by Peter Lord of the region's now-defunct Island Astronomy Institute. But yeoman stargazer Dwight Lanpher — president of the Penobscot Valley Star Gazers and a member of 14 other astro groups — has been a part of the organizing team every year. "I have been recruiting astronomers since the beginning festival," Lanpher says. This year he rounded up enough observers to provide 53 telescopes and five binocular stations atop Cadillac Mountain.
Getting to Mount Desert Island (pronounced like "dessert," by the way) for the night-sky festival is a 5-hour drive for my wife and me. But it's become one of those rites of summer that we just wouldn't miss.
A Dark-Sky Destination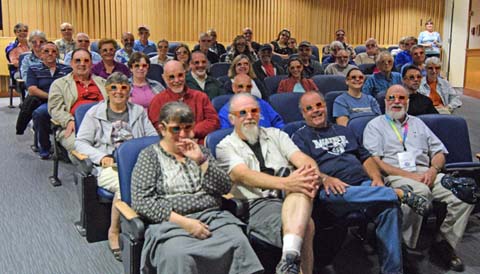 Key to the success of ANSF is the perennial popularity of Acadia National Park, which hosted 3½ million visitors in 2017 — ranking seventh among 417 national parks in the U.S. But another important factor is how Acadia NP's personnel cultivate an appreciation of the night sky. Always on hand are astronomically trained VIPs ("volunteers in parks") who love the night sky and share their enthusiasm with visitors from around the world.
Acadia National Park takes up most of Mount Desert Island and the southern tip of Schoodic Peninsula to MDI's east. Overall it's a very dark environment: Sky-Quality Meter readings show the sky above to have a typical naked-eye limiting magnitude of 6.3 or better. The nearest significant source of light pollution is Ellsworth (population: 8,000), on the mainland to the north and about 25 miles away.
In fact, Lanpher, park officials, and key members of the Mount Desert "League of Towns" are exploring whether to put forward an application for dark-sky certification from the International Dark-Sky Association. Part of that process involves making sure all the park's roughly 1,000 outside light fixtures meet IDA's dark-sky requirements. But it also requires buy-in from the surrounding communities, which must likewise improve their lighting and enact regulations to minimize light pollution.

That message seems to be getting heard. Residents of Bar Harbor, the island's main town and tourism hub, overwhelmingly approved an ordinance to control outdoor lighting in 2008. Now both Bar Harbor and neighboring Mount Desert (a collective swath of villages across the island's midsection) are moving toward replacing their streetlights with dark-sky-friendly LED fixtures.
Martha Searchfield, who heads Bar Harbor's Chamber of Commerce, is thrilled with the spurt of dark-sky-seeking tourists that the ANSF attracts each year. She and her small staff were "all in" last weekend, dashing from one venue to the next to coordinate all the activities. Searchfield found that most attendees had traveled from out of state to be there. Still, she admits that convincing the town's tourism-dependent retail establishments to dial back their lights at night remains a work in progress.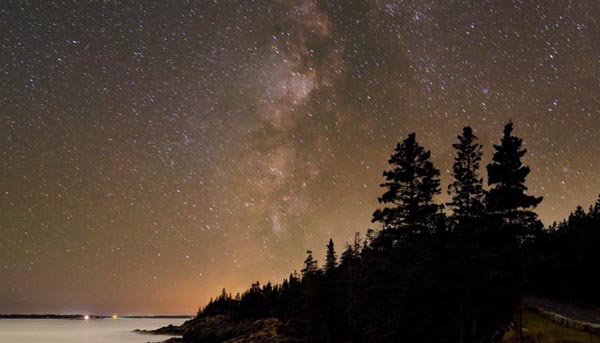 By virtual of its rugged, heavily forested interior, Maine retains vast tracts of remote wilderness and, arguably, the darkest U.S. skies east of the Mississippi River. More and more of the state's traditionally conservative citizens are coming to realize that those dark skies are a resource worth preserving — and that they have the potential to attract dark-sky devotees and their vacation dollars from around the world.
For deeper dives into the effort to preserve Maine's beautifully dark night skies, see this provocative economic analysis by graduate student Locher Grove and this extensive article by Portland Press Herald reporter Mary Pols.