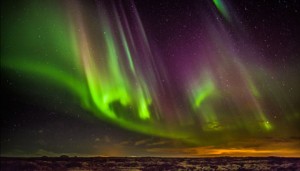 I'll never forget when I saw the Northern Lights for the first time. I was driving north through southern Maine long after dark, and through the windshield I noticed something strange about the sky. There were thin white clouds, but they were moving. They rippled, billowed, and surged. On a quiet stretch of road, I pulled over and got out. By then I'd realized what I was seeing, and I stood there for quite awhile, neck craned, mouth agape, awestruck.
Over the years I've been to many high-latitude regions — Alaska, Baffin Island, Greenland, the Antarctic Peninsula. But it's always been in the summertime, when daylight rules even at night, and I've never again seen auroras, much less in color. Which is why I'm very excited to help lead S&T's third-annual aurora trip to Iceland this October. Want to join us?
Besides getting a fascinating tour of Iceland during the day arranged by Spears Travel, we will have multiple opportunities to witness some amazing auroral displays at night. Auroras occur within an oval up to 900 miles wide that is centered on the Earth's geomagnetic poles, and Iceland always lies within or near this ever-shifting oval.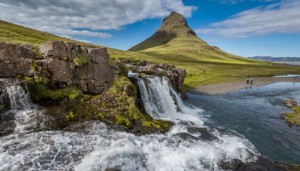 Strong auroras happen more frequently around the equinoxes, making October a great time to head outside in late evening — not to mention it actually gets dark in Iceland at that time of year. And we've scheduled the trip for a time when the Moon won't interfere too much with our viewing. Finally, the years on either side of a solar maximum — the time of greatest solar activity in the Sun's typically 11-year cycle — often result in the finest auroras, and, according to NASA, solar max was reached in 2014.
What is the aurora? Galileo was the first to call this otherworldly phenomenon the aurora borealis, or "dawn of the North." (The Southern Hemisphere's version is the aurora australis.) The lights form when charged particles shot out from the Sun breach our planet's magnetic field and collide with and ionize gas high in our atmosphere. We're talking really high: typically between 50 and 185 miles up, far above any weather phenomena. Impacts with oxygen atoms result in green and bright red colors, while those with nitrogen molecules produce blues and deep reds.
If you're interested in photography, you'll be happy to know that on our trip we'll have along a very skilled photographer of the night sky — Sean Walker, S&T's long-time Imaging Editor and now Equipment Editor. Sean will be on hand to help you take the best photos you can of any auroral displays we see.
During the day we'll visit some iconic natural and cultural features of Iceland. See the itinerary for complete details.
Hope to see you in Reykjavík this fall!