How large an asteroid could a person jump off?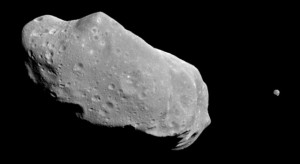 This interesting question goes back to 1952 or even earlier. It turns out that the asteroid must be no bigger than 3.9 v(ρe / ρ) kilometers in diameter, where ρ is the asteroid's density and ρe is that of Earth in the same units (S&T: July 1984, page 62). Given how poorly we know the densities of asteroids, about all we can say is that the object can be up to 4 km across if it's as dense as our planet, or perhaps 9 km if it's a "rubble pile."
So a human could easily hop the 1.5-km span from 5381 Sekhmet to its moon and back, since both bodies are 1 km or less in size. The astronaut might even jump from 243 Ida's tiny moon, Dactyl, all the way to Ida itself, 90 km away — taking care not to miss!
—Roger W. Sinnott