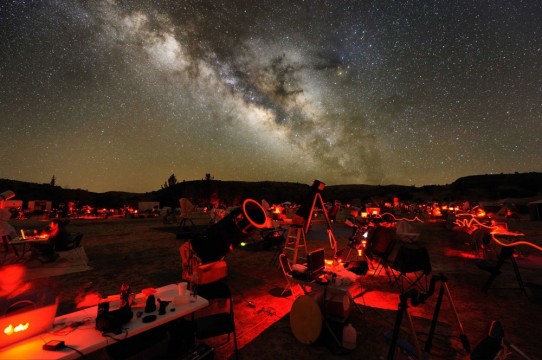 If you're an amateur astronomer and planning a vacation for your family, consider planning a vacation around a star party.
Deep-sky star parties — as opposed to more traditional, general-interest conventions — have become a permanent part of the amateur scene worldwide. Like pilgrims on an annual trek to some hallowed site, many amateur astronomers travel hundreds, even thousands of miles to attend their favorite star parties. Many clubs initially intended to have their own local or regional stargazing sessions, but now some of these have reached such popularity that they attract crowds of more than 1,000 from across the country and abroad.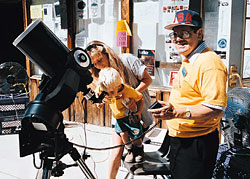 Star parties are the places where you can observe to your heart's content (weather permitting), exchange stories and share feats, showcase your telescope creation, learn the latest trends and techniques, haggle for the best buys at the swap meet and, most importantly, make friends and have fun. Kids especially can get great exposure to the hobby while having an exciting time camping out.
If you've never attended one, it's time to catch the party fever! Star parties are returning in modified form after the COVID pandemic. Find a star party near you using our Events Calendar.
Whether you're a star-party veteran or neophyte, Winter Star Party regular Tom Clark offers the following tips:
Bring your own instrument, if you can.
Come prepared for downpours, wind, dust, high humidity, bugs, heat, or cold.
Follow all star-party rules and regulations.
No driving or white lights after dusk.
No flash photography at night.
Before using any telescope, ask the owner first.
Smokers should be considerate of nonsmokers.
If you listen to music, use headphones.
Avoid loud talking or making noises, especially in the morning, so you don't disturb sleeping astronomers.
Pick up your trash.
Most important, relax and have fun!
You don't have to wait for a major star party to view the night sky through a variety of instruments. Contact your local astronomy club — its members may be able to point you to a dark, safe observing site near your home, and they probably have regular monthly (or even weekly) observing sessions at such a site. To find a club near you, see our directory of clubs and organizations.