On December 4, 2021, you can experience totality in the South Orkney Islands on a 17-day solar-eclipse cruise that includes setting foot on Antarctica!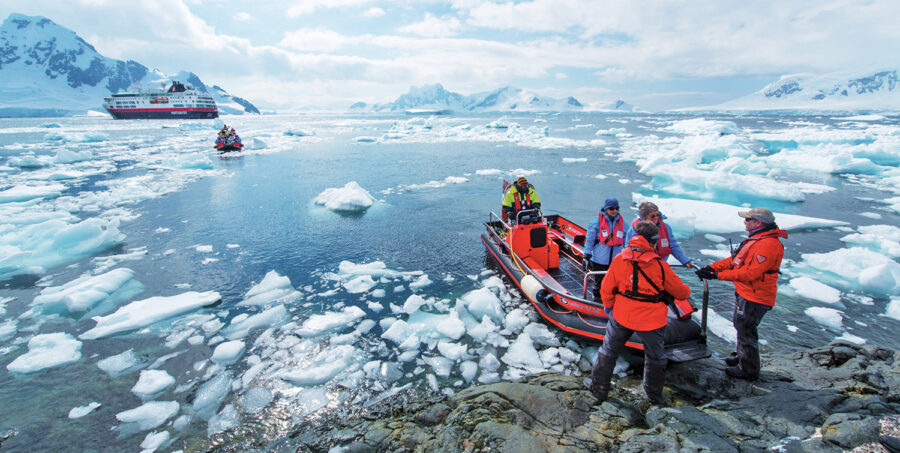 On December 4, 2021, you'll have a rare opportunity to witness the totally eclipsed Sun as the culmination of a remarkable solar-eclipse cruise that includes setting foot on Antarctica itself. Join us aboard Hurtigruten's state-of-the-art ms Roald Amundsen, for 2½ unforgettable weeks sailing across oceans full of icebergs, whales, awe, and wonder. Here's a quick look at the itinerary:
Wednesday, November 24
SANTIAGO DE CHILE: Exciting and Diverse
Your action-packed adventure starts with an (included) overnight stay in Santiago, the exciting and diverse capital of Chile. There is much to discover here, from Andean glaciers at the city borders to skyscrapers in the center, lovely colonial architecture and the shores of the fast-flowing Mapacho River. You can also extend your expedition by adding an optional visit to the amazing Atacama Desert or to Torres del Paine National Park during a tour of Chilean Patagonia.
Thursday, November 25
SANTIAGO DE CHILE/PUNTA ARENAS: Embarking the Expedition
Fly early in the morning to Punta Arenas where the hybrid-powered ms Roald Amundsen awaits you, ready for your expedition cruise to Antarctica. (All transfers are included.)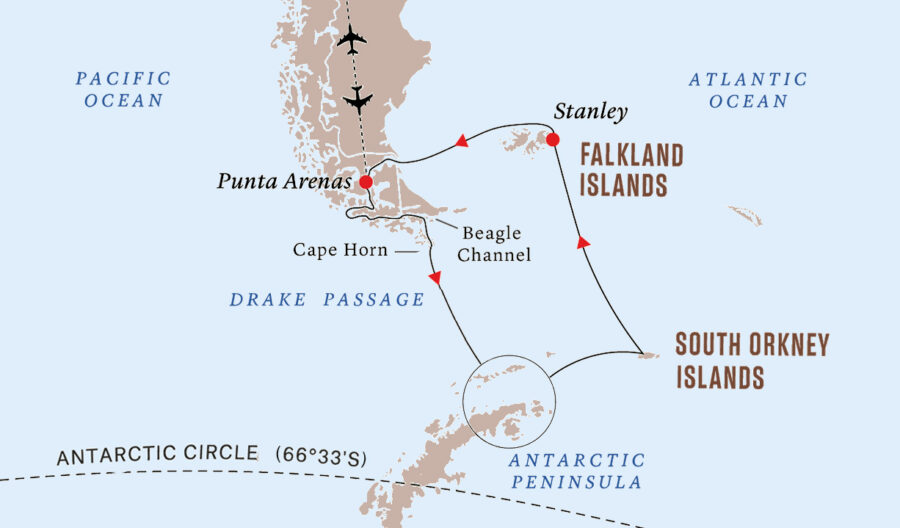 Friday and Saturday, November 26 and 27
At Sea: The Drake Passage
We sail through the scenic Beagle Channel and across the legendary Drake Passage. On board, the Expedition Team provides information about Antarctica's fantastic wildlife, geology and history. You will also join the Citizen Science program to learn more about the wildlife and ecosystems of Antarctica.The time at sea is also a great time to enjoy all the amenities of our advanced hybrid-powered expedition ship.
Sunday to Thursday, November 28 to December 2
ANTARCTICA — Another World!
With white horizons above oceans full of icebergs and whales, Antarctica never fails to inspire awe and wonder. From deck, there are great opportunities to spot whales. Perhaps even more awe-inspiring will be your first encounter with the huge colonies of penguins. Our Expedition Team will lead ice-cruising and landings at every opportunity to come ashore in the South Shetland Islands and on the Antarctic Peninsula to explore the impressive scenery. Wherever we explore, the sights and sounds and of Antarctica are sure to stay with you for a lifetime!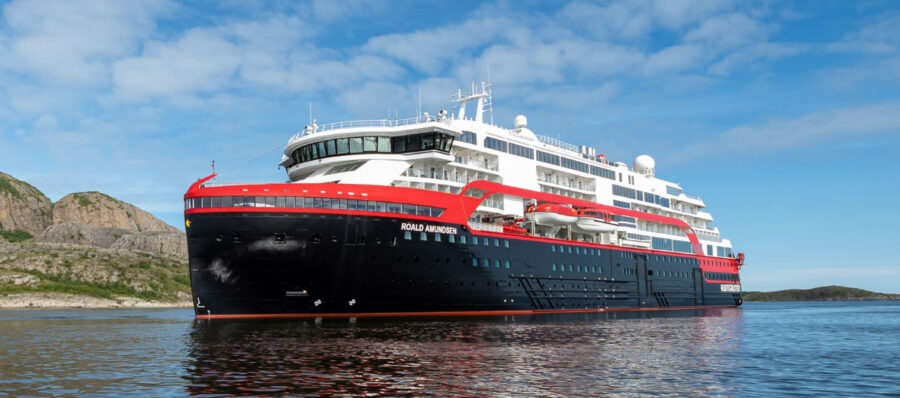 Friday, December 3
At Sea: Relaxing on MS Roald Amundsen
Today, Sky & Telescope's eclipse expert, Kelly Beatty, will provide a briefing on the next day's big event, including what to watch for during the eclipse and tips for photography. Before and after, relax in the tranquility of a day at sea, sharing experiences and exchanging stories with your fellow adventurers. Enjoy the amenities of our innovative expedition ship and look out for wildlife from our outside decks.
Saturday, December 4
SOUTH ORKNEY ISLANDS: ECLIPSE DAY!
As eclipse day dawns on December 4th, ms Roald Amundsen will have have reached the South Orkney Islands, from which (weather permitting) you'll observe the solar eclipse from beginning to end, with totality lasting 60+ seconds shortly after sunrise. Kelly Beatty will be on hand to help you experience this spectacle to the fullest. Although we can't predict the ship's exact location on eclipse day, the map and table provide the circumstances close to what you'll witness: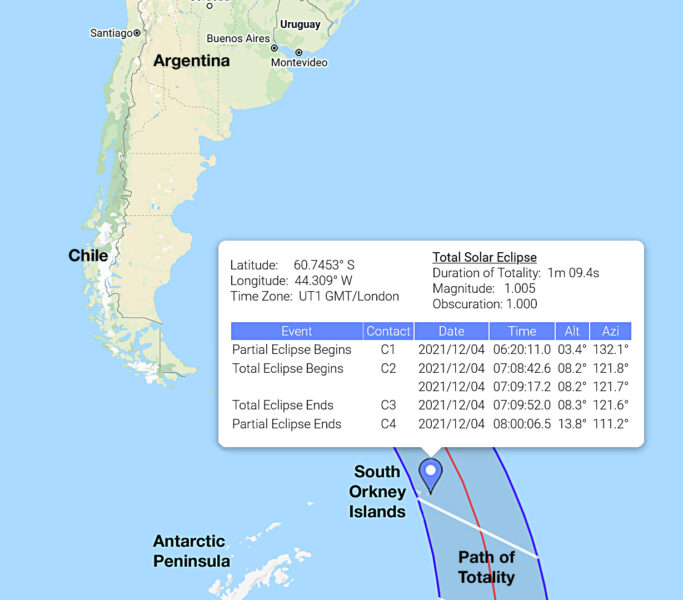 Sunday and Monday, December 5 and 6
At Sea: Lectures and Scanning for Wildlife on Deck
After exploring this unforgettable continent, our Expedition Team will brief you about the history and biology of the Falklands Islands, point out wildlife from our outer decks, and scout for the albatrosses that often guide our way. Using the state-of-the-art microscopes in the ship's Science Center, you can analyze samples taken during the expedition cruise to see another kind of "wildlife" at the cellular level.
Tuesday to Thursday, December 7 to 9
THE FALKLAND ISLANDS and ISLAS MALVINA: At the Edge of Antarctica
After the wilderness of Antarctica, enjoy the contrast provided by Stanley, with red phone boxes, red buses, and old pubs. We will be docked here throughout the day, and we'll go ashore to explore the area on hikes and spot some of the many bird species that live here. Stanley is a good size for roaming the streets on foot — or you can join an excursion to explore the wilderness and wildlife in the surrounding area. The Falklands are teeming with wonders of nature, with fantastically clear blue skies, seamless horizons, and stunning white-sand beaches.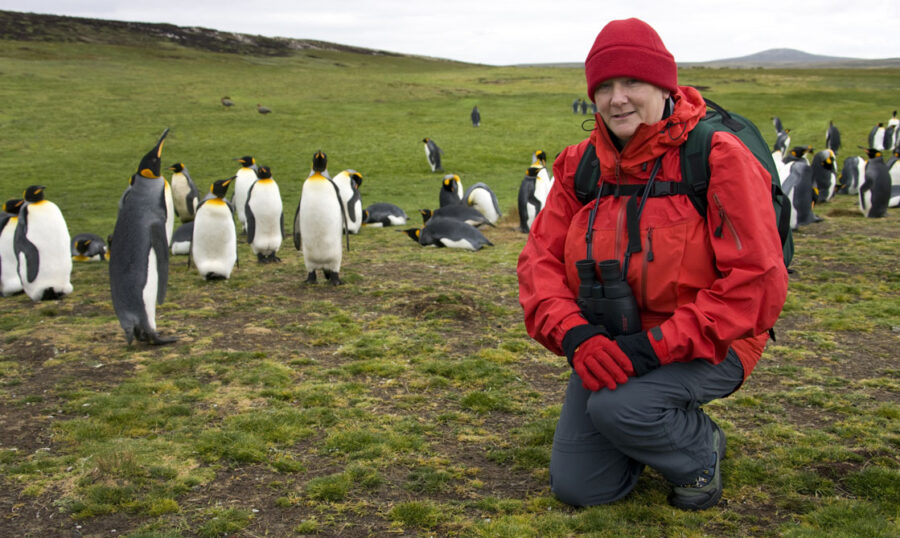 Friday, December 10
At Sea: THE STRAIT OF MAGELLAN
As we complete the loop of the Magellan Strait, we'll have a recap of everything we have experienced on this expedition cruise in the Science Center. Make sure you also spend some time on deck looking for wildlife.
Saturday, December 11
PUNTA ARENAS/SANTIAGO DE CHILE: The End of the Expedition
We arrive back in Punta Arenas in the morning. Your pier-to-airport transfer is included. After the flight back to Santiago de Chile, you can extend your vacation with a visit to Easter Island, a UNESCO World Heritage Site, famous for its moai — mysterious statues of giant heads.
Don't wait to secure your cabin on this once-in-a-lifetime combination of Antarctic adventure and celestial spectacle! Go here for full details and to make your reservation!