On December 4, 2021, you can experience a total solar eclipse in the South Orkney Islands on a 17-day cruise expedition that includes setting foot on Antarctica!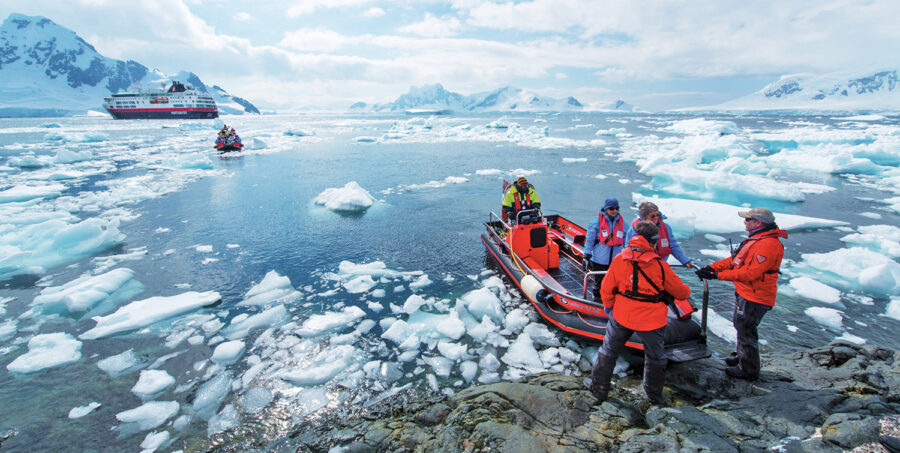 On December 4, 2021, you'll have a rare opportunity to witness a total solar eclipse as the culmination of a remarkable polar adventure that includes setting foot on Antarctica itself. Join us aboard Hurtigruten's state-of-the-art ms Roald Amundsen, for 2½ unforgettable weeks sailing across oceans full of icebergs, whales, awe, and wonder.
Our adventure-packed tour begins November 24th with a visit to Santiago, Chile, before flying early the next day to Punta Arenas, at the southernmost tip of Chile, where you'll board the ship that will be your home until our return to Punta Arenas on December 11th. After disembarking that day, you'll fly back to Santiago and, from there, to your home.
As eclipse day dawns on December 4th, ms Roald Amundsen will have have reached the South Orkney Islands, from which (weather permitting) you'll observe the solar eclipse from beginning to end, with totality lasting 60+ seconds shortly after sunrise. Although we can't predict the ship's exact location on eclipse day, the map and table provide the circumstances close to what you'll witness: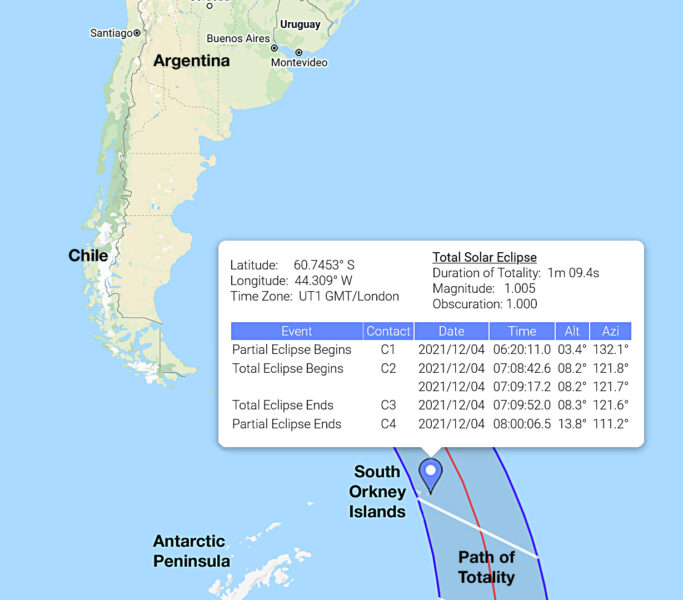 Hurtigruten's Expedition Team will lead ice-cruising and landings at every opportunity to come ashore and explore the monumental Antarctic scenery. Our hybrid-power ship will take you as close as possible to Antarctic wildlife and untouched wilderness. The ship will attempt landings at several sites in the South Shetland islands and on the Antarctic Peninsula aiming to bring you to the incredible diversity of landscapes and rich wildlife seen in this pristine wilderness.
Don't wait to secure your cabin on this once-in-a-lifetime combination of Antarctic adventure and celestial spectacle! Go here for full details and to make your reservation!