Join Sky & Telescope for a one-week Iceland tour and the chance to see the Northern Lights! With our tour partner Spears Travel and a local Icelandic guide, we'll explore this fascinating island's unique culture and geology during the day, then each night we'll venture into dark areas away from city lights to view Iceland's aurora borealis. The subtly colored, ever-changing aurora is a truly awe-inspiring spectacle not to be missed!
This tour begins on Saturday, October 7, 2023 (your departure from the U.S. is the previous evening) and ends on Saturday, October 14th. You'll also be able to stay for an optional extra day to explore the breathtaking Snæfellsjökull National Park.
Although the Northern Lights are elusive and unpredictable, we've chosen the time and location to maximize our chances of seeing one or more displays. Iceland always sits right under or near the auroral oval, the band around the far north where auroras are most common. Late September to early October is a good time for aurora-watching, as the nights are full and dark, and the weather prospects are better than deep winter. We have selected a week when moonlight won't interfere with nighttime viewing.
The friendly people of this island nation have a culture that's a fascinating mixture of both ultramodern elements and customs that date back to the original Viking settlers more than 1,000 years ago. We'll stay at premium hotels both in and outside the capital city of Reykjavík and sample delicious Icelandic cuisine. Iceland's tourist infrastructure is modern, and the nation is one of the cleanest and safest in the world. Most Icelanders speak at least some English, so it's very easy to interact with the local population.
During the trip, a Sky & Telescope representative will give talks on the science of auroras as well as detailed information on how to successfully photograph the phenomenon.
Click below to get the full details:
• Itinerary for our 8-day/7-night tour of Iceland and its amazing landscape
• Itinerary for our optional 1-day tour of Snæfellsnes peninsula
• Pricing, Payments, and Terms
• What is and isn't included
• Reserve today using this online registration form
---
ITINERARY FOR S&T's 2023 ICELAND AURORA ADVENTURE
Day 1 (October 7, 2023): Arrival in Iceland
Welcome to Iceland! Once you've landed at Keflavík Airport, head through customs and collect your luggage. There is a duty-free shop located by the baggage carousels, at which you can shop while waiting for your luggage. Many items such as candy, snacks, and drinks are less expensive here than at local shops.
When you've collected your luggage, proceed into the arrivals hall to meet your tour guide, who will escort you to a private coach waiting outside. We'll head to a local restaurant (Vitinn) for a group, buffet breakfast.(For those arriving on an earlier date or on afternoon flights, you will be responsible for your own transfer on your day of arrival and for any additional hotel nights that may be required. We can arrange these for you, at an extra cost.)
Refreshed by a hearty breakfast, we'll follow the western coastline of the Reykjanes Peninsula, visiting sites such as Gunnuhver Hot Springs, the Bridge Between Two Continents, and the quaint village of Grindavík.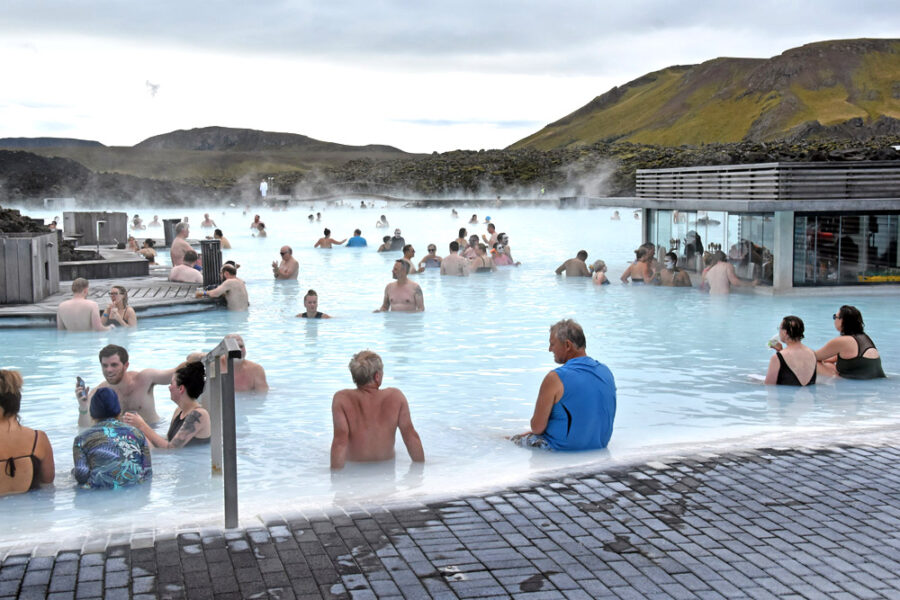 Then it's time to relax at the world-famous Blue Lagoon spa. A group admission, towel rental, and complementary drink are included in your package. The Blue Lagoon is a unique wonder: an artificial lagoon with pleasantly warm, mineral-rich geothermal water in the middle of a black lava field. The high natural levels of silica and minerals give the Lagoon its electric-blue color and its purported healing power. The facilities include modern changing rooms and showers, an indoor geothermal pool, a restaurant, and other services. Don't forget to pack your bathing suit (and water shoes, if you prefer to not go barefoot) in your carry-on luggage for easy access. Lunch is on your own.
After your time at the Blue Lagoon, we'll rejoin our guide and tour bus and drive about 90 minutes to the plush, 5-star Hotel Grimsborgir in the Selfoss area, to check in for a two-night stay. The rest of the afternoon is free to have a short rest, go for a walk in the fresh air, and to get ready for the group Welcome Dinner this evening.
Watching the fantastic colors of the Northern Lights dance across the arctic sky is an unforgettable experience, and Iceland is one of the best places to see them. They are mostly observed on crisp, still evenings, and your location well away from the city lights gives you the best chance of witnessing this spectacular natural phenomenon. You'll simply need to step outside of the hotel and look up into the sky. We can provide no guarantee, of course, as the aurora borealis is a natural phenomenon — it can be fickle and a bit unpredictable — but we have seen it on all eight Iceland tours that S&T and Spears Travel have offered.
Day 2 (October 8): Iceland's "Golden Circle"
After breakfast, we'll check out and head northeast of Reykjavík to visit some of Iceland's most amazing natural features — what's known as the "Golden Circle Tour."
Our first stop is Þingvellir, a remarkable geological site and the most famous historic site on the island. (The "Þ" consonant is pronounced very similarly to "th".) Þingvellir is the site of the world's oldest democratic parliament, founded in 930. Located by Lake Þingvallavatn, Iceland's largest lake, Þingvellir is now a national park. The beautiful canyon running through the park is actually the meeting point of two of Earth's tectonic plates, literally the dividing line between North America and Europe. Þingvellir's combination of natural phenomena and historical significance have made it a symbol of Iceland's national identity.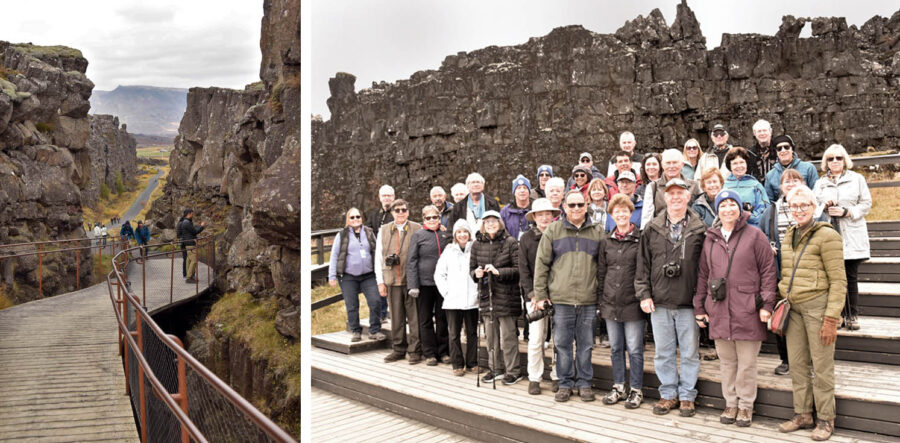 Leaving Þingvellir, we'll drive through some of the fertile farmlands of southern Iceland (and have lunch amid tomato greenhouses) on our way to the famous Geysir, which has given its name to spouting hot springs all over the world. You will see one of the most active geysers in the area, Strokkur, which sends a jet of superheated water to heights of up to 30 meters (90 feet).
Then we'll continue to Gullfoss, the Golden Waterfall, one of the most impressive waterfalls in Europe. Its broad cascades have a total drop of about 32 meters (105 feet). Here you will see thousands of tons of icy water thunder majestically down in double falls into a deep canyon.

Our final stop will be the impressive Kerið caldera, a lake-filled volcanic crater. An estimated 6,500 years old, this caldera is 270 m (890 feet) across and 55 m (180 feet) deep. Then it's back to Hotel Grimsborgir for a hearty dinner and aurora watching.
Day 3 (October 9): Iceland's Southern Coast
After breakfast we head along the southern coast and explore the land of Njal's Saga, a region of breathtaking scenery and legendary stories. During our drive we'll encounter the wonderful variety of this area — from the wide alluvial plains formed by glacial rivers to sea inlets with views of volcanic mountains and moss-covered lava fields. We'll continue to the sheer sea cliffs of Dyrhólaey, to the spectacular waterfalls of Seljalandsfoss; and to Reynisfjara, a wide black-sand beach beside the small fishing village of Vík í Mýrdal.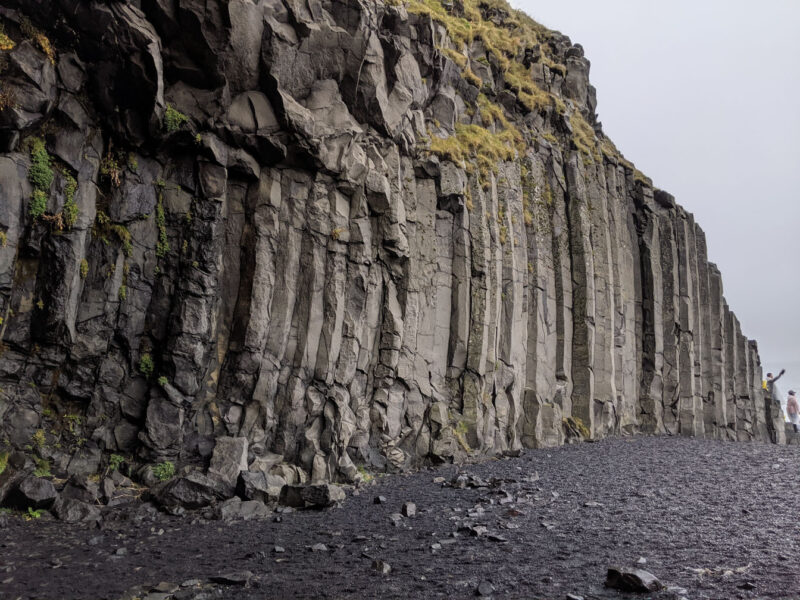 A group lunch will be served in Vík. Then, for something unique and completely different, we'll take our seats to watch a demonstration of an actual flow of molten lava — under carefully controlled conditions. It's the hottest show on Earth! Later we'll stop at the stunning serpentine canyon of Fjaðrárgljúfur ("feather river canyon"). The Fjaðrá River flows through the canyon. It has steep walls up to 300 feet tall and is more than 1 mile long.
We'll continue east to the Kirkjubaejarklaustur (Kirk for short!) area, where we'll stop to have a look around the town, stretch our legs and maybe do a bit of shopping. From there we'll keep going east on the main highway our night's lodging, Hotel Laki, which offers amazing views of Vatnajökull glacier and (of course) an excellent location for viewing the northern lights after our group dinner.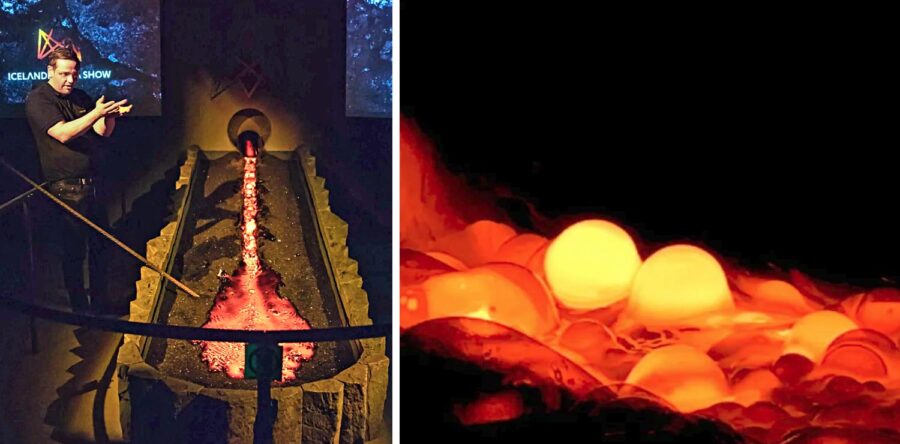 Day 4 (October 10): Skaftafell, Jökulsárlón Glacier Lagoon, Diamond Beach
After a leisurely breakfast this morning we'll head to the stunning Skaftafell area located in Vatnajökull National Park. At Skaftafell you can get up close to the glacial tongue of ice pushing down the valley from Vatnajökull glacier.
After a group lunch, we'll travel a short distance to the stunning glacial lagoon at Jökulsárlón, where icebergs float in a lagoon of icy, azure-blue water, runoff from a huge glacier. Sometimes seals can be seen sunning themselves on the icebergs or at the edge of the glacier. We'll enjoy a boat ride on the lagoon, floating among the icebergs.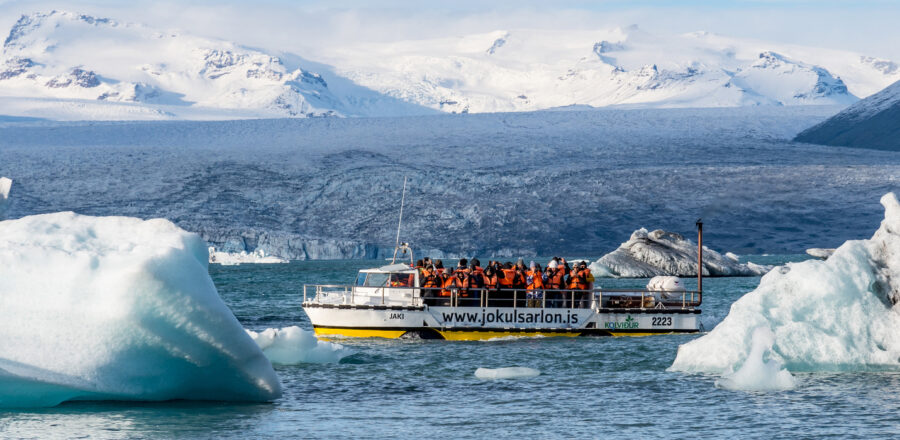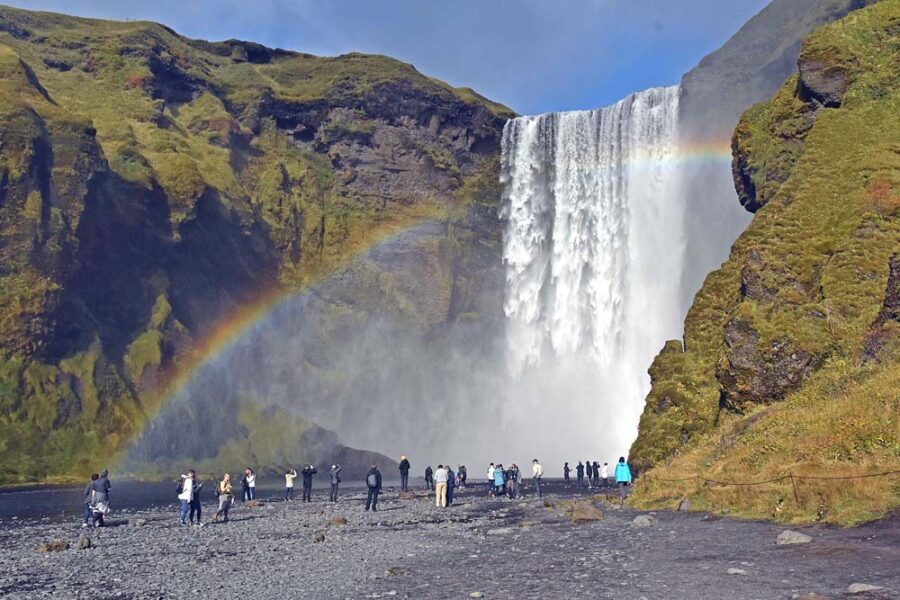 After iceberg-gazing, we will continue on to the dramatic cascades of Skógafoss, which is just a short walk from its parking lot. We'll also pay a visit to the Skógar Folk Museum, a complex of three sites exploring early Icelandic history with folk relics and a model turf-house village.
After an eventful day we head westward along Iceland's rugged southern coast and check in at the 4-star Hotel Ranga. Steep yourself in its rustic charm and indulge in the fine dining you'll experience at dinner. Situated far from any artificial lighting, it's an ideal location for watching the curtains of auroral light dance overhead.
Even better, the hotel features its own observatory, equipped with three high-quality telescopes (including a 14-inch Schmidt-Cassegrain and an 18-inch Dobsonian reflector) in a permanent roll-off structure. If the skies are clear, you'll be able to get in some serious stargazing.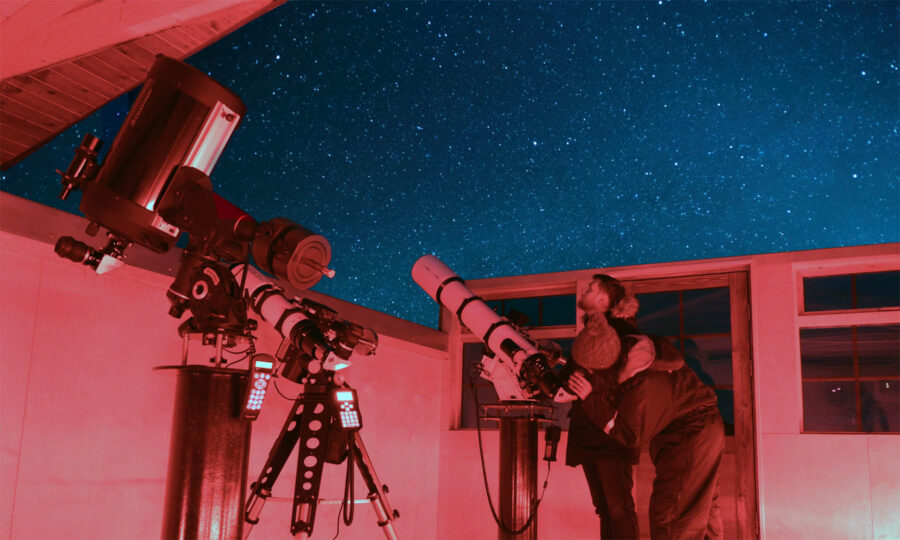 Day 5 (October 11): Westman Islands (Vestmanayaer)
Once we've had a good breakfast to start our day, we'll head south to the port of Landeyjahöfn and board the ferry to the fascinating island of Heimaey, in the Westman Islands. We'll tour the island and learn about the various volcanic eruptions that formed it, including the Eldfell eruption of 1973, which partially buried the main town and nearly filled in the town's harbor. A visit to the Eldheimar museum, dedicated to the eruption, is included.
Following our group lunch on the island we'll board the ferry to return to the mainland and back to Hotel Ranga. Enjoy our group dinner at the hotel, then we'll again scan the sky for auroral displays and have use of the hotel's observatory.
If the northern lights decide to make an appearance, all we will have to do is step outside and marvel at Nature's own light show! Wake-up calls for aurora appearances during the night can be arranged with reception.
Day 6 (October 12): Hellisheiði and Reykjavík
Following breakfast and check-out, we'll enjoy the countryside scenery on the drive to the capital city of Reykjavík. A visit to Hellisheiði is first on the day's agenda! The Hellisheidi Geothermal Power Plant produces hot water (for heating homes and businesses in the capital area) and electricity. Completed in 2006, Hellisheiði has a capacity of 200 megawatts in thermal power and 303 MW in electricity. A hydrogen-sulfide abatement unit at the plant uses the so-called Carbfix method, which reduces carbon dioxide emitted into the atmosphere.
Westward bound again to the capital city of Reykjavík, we arrive at Hotel Borg, our home for the next two nights. Centrally located, a short walk from Reykjavík's City Hall and City Library, this 4-star property offers art deco style throughout and elegantly appointed rooms with an extensive array of modern amenities. After check-in and a group lunch, there will be plenty of time to take a walk around the city center and have dinner (on your own). And if the sky is clear, our bus driver will take us beyond the city for an optional northern lights viewing session.
Day 7 (October 13): Exploring Reykjavík
After breakfast, enjoy a morning-long bus tour of Reykjavík with stops at Hallgrimskirkja, Perlan (with admission to its observation deck), and the National Museum (with admission and guided tour). Here's some information about these signature destinations: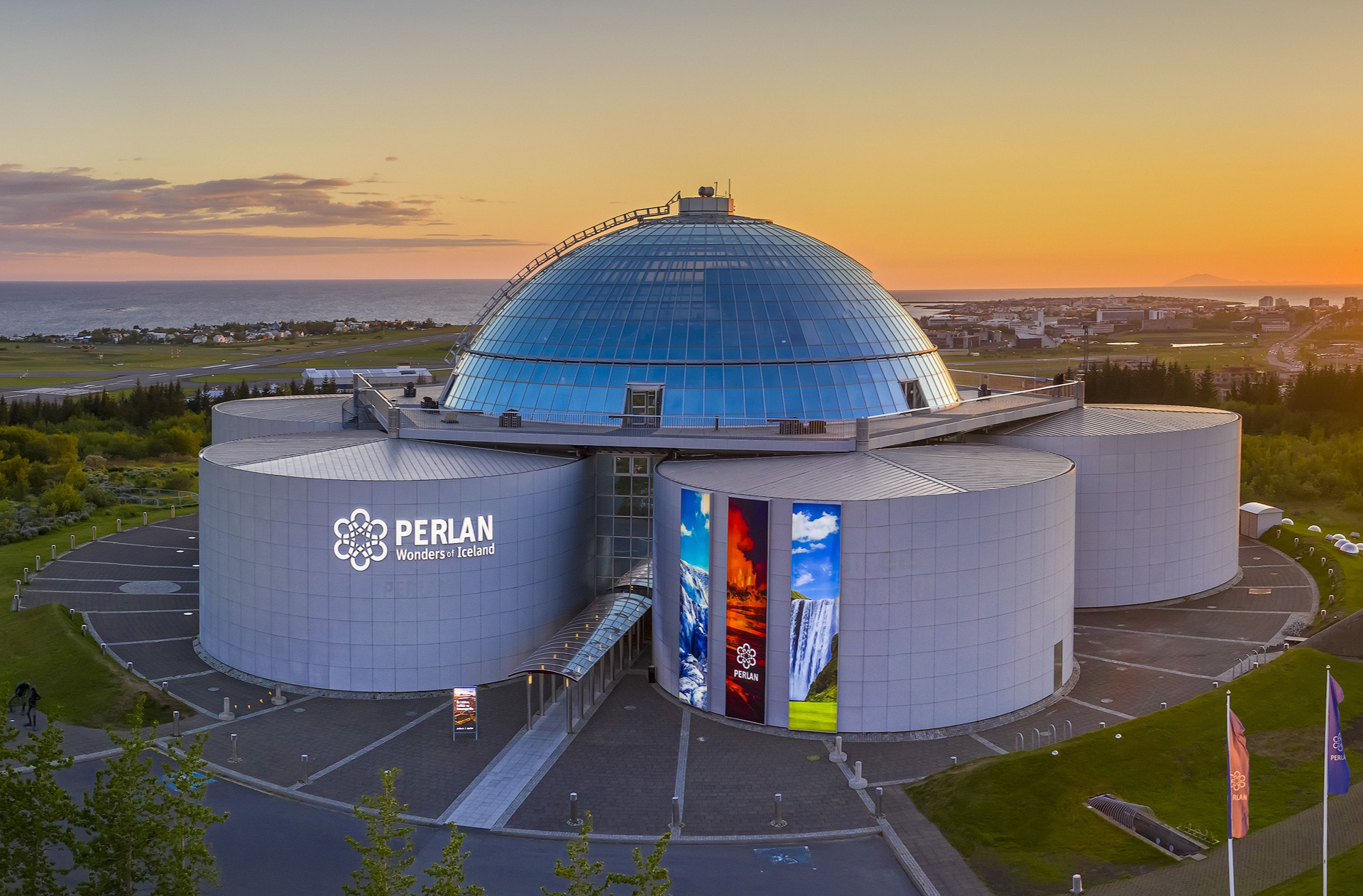 After the guided tour, you have the rest of the afternoon free to explore the city, with lunch on your own today. Here are a few suggestions for places to see on your free time:
• The Settlement Exhibition, just steps from the hotel, showcases an excavated long house that provides a unique window on Iceland's early inhabitants. (Tour members will receive a voucher good for free admission.)
• Reykjavík Art Museum, also known as Hafnarhús (translating as Harbor House), serves as the institute of contemporary art. New developments in art are explored through diverse exhibitions of Icelandic and international artists. An exhibition of paintings by the pop artist Erró is a permanent feature.
• Shopping: Reykjavík has become known for cutting-edge design, international and design jewelry, hip fashion, art galleries, and a vibrant music scene. The trendy 101 quarter in the city center around the main shopping street of Laugavegur and the nearby Skólavörðustígur offers fabulous shopping at very affordable prices.
• Cheap eats: Stop at a local hot-dog stand and try the famous Icelandic hot dogs or pylsur with all the special trimmings. This is very popular among the locals, and you will see long queues, especially on weekends.
This evening we gather at a local restaurant for a sumptuous farewell dinner. Afterward, if the sky was cloudy the previous night but clear tonight, our bus driver will take us beyond the city for an optional northern lights tour. Otherwise, enjoy a stroll on your own during the rest of the evening.
Day 8 (October 14): Main Tour Ends; Departure for Home
All good things must come to an end, including your visit to Iceland. After breakfast and check-out, we'll board a bus to Keflavík airport for flights home. Once there, our guide will assist with check-in. We schedule this transfer to reach the airport 2½ to 3 hours before the earliest flight departure of the group's members. Should you be leaving substantially earlier or later than the main group, individual transfers can be arranged for you at a small extra fee.
---
Day 8 (October 14): Optional Tour of Snæfellsnes Peninsula
Stay an extra day and enjoy a tour of the Snæfellsnes Peninsula and its national park. About 90 km (60 miles) long, this region to the north of Reykjavík offers breathtaking scenery, the glistening ice cap of the volcano Snæfellsjökull, waterfalls, lava fields, and quaint fishing villages. We'll have both lunch and dinner en route, then return to the Hotel Borg for one final night before departing for home.
Day 9 (October 15) — Departure for Home
After breakfast and check-out, we'll be transferred by private bus to Keflavík airport for our departure flight. Once there, our guide will assist with check-in.
Góða ferð! (Have a good trip!)
---
PRICING, PAYMENTS & TERMS FOR S&T's 2023 ICELAND AURORA ADVENTURE
| | | |
| --- | --- | --- |
| Tour Pricing (per person) | Double occupancy | Single occupancy |
| Main Tour of Iceland & Northern Lights (7 days) | $5,950* | $7,775** |
| Main Tour & Full-day Tour of Snæfellsnes Peninsula (8 days) | $6,550* | $8,675** |
* You can upgrade your two-night stay at Hotel Ranga for an additional $450 per person (Deluxe Room), $900 per person (Deluxe Superior Room), or $1,400 per person (Junior Suite). ** These upgrade rates will be doubled if just one person is occupying the upgraded room.
Pricing: All tour prices are based on costs and U.S. dollar exchange rates in effect at the time of posting. As such, prices listed here are subject to change. Spears Travel and/or AAS Sky Publishing LLC will inform clients of any changes prior to departure.
To make a reservation: A reservation request can be submitted by completing this form. Reservations are recorded and acknowledged in order of receipt. Spears Travel handles all invoicing.
Deposits and final payments: A deposit of US$2,000 per person is required to secure your reservation. Initial deposits may be charged to a credit card or by check payable to "Spears Travel" and mailed to: Spears Travel, P. O. Box 1256, Bartlesville, OK 74005. Final payment is due by July 8, 2023, and can be paid by credit card or by check payable to "Spears Travel" and mailed to the address above. Note, however, that when a credit card is used for final payment, a processing fee of 2.75% will be assessed. Reservations made after July 8, 2023, must include full payment at the time of booking.
Cancellations and Refunds: Deposits are fully refundable until May 31, 2023. Cancellations received after May 31, 2023, but on or before June 30, 2023, are subject to a penalty of US$1,000 per person. Cancellations received after June 20, 2023, but on or before July 8, 2023, are subject to a penalty of US$2,000 per person. No refunds of deposits or final payments will be made after July 8, 2023. Notification of cancellation must be received in writing by Spears Travel.
Terms and Conditions: In offering this tour itinerary or any other travel arrangements for sale, Spears Travel acts only as an agent. Spears Travel maintains no control over the personnel, equipment or operations of any supplier and assumes no responsibility for, and shall not be expected, asked, or required to pay for any financial loss, personal injury, property damage, other loss, accident, delay, inconvenience, or irregularity which you may experience either by reason of: (1) nonperformance by any supplier for whatever reason; (2) wrongful, carelessness, negligent or unauthorized acts or omissions on the part of any supplier or its employees or on the part of any other party not under the control of Spears Travel; or (3) any defect, breakdown or other failure of any aircraft , train, automobile, ship accommodations or other equipment or instrumentality owned, operated or otherwise used by a supplier. Spears Travel is not responsible for weather conditions causing difficulties in viewing astronomical events. Prices are subject to change without notice. Reasonable changes in the itinerary may be made where necessary or deemed advisable for the comfort and well being of the passengers by Spears Travel. Spears Travel reserves the right to cancel this trip for any reason and agrees to refund all monies paid by passengers less non-refundable deposits paid to suppliers and contractors. On advancement of deposit, the depositor agrees to be bound by the terms and conditions stated. All rates quoted by the tour company are based on double occupancy and do include taxes for air, hotel or other transportation unless otherwise stated.
Release: You hereby agree to release AAS Sky Publishing LLC, Spears Travel, and their respective affiliates from any liability for any injury, damage, loss, accident, delay, or other irregularity which may be caused by the defect of any aircraft or vehicle or the negligence or default of any company or person engaged in carrying out or performing any of the services involved, and for losses, injury, damages, or expenses of any kind due to sickness, weather conditions, considerations of the safety of the transportation being used (for which the transportation operator shall be the sole judge), earthquake, strikes, local laws, hostilities, wars, terrorist acts, acts of nature, quarantine, force majeure, injury including: eye injury, animal or insect bites, altitude related sickness, or other such causes. All services and accommodations are subject to the laws of the country and jurisdiction in which they are provided.
WHAT THE TOUR DOES & DOESN'T INCLUDE
Included in S&T's 2023 Iceland Aurora Adventure (main tour):
Private coach with English-speaking guide for the program as outlined
Breakfast buffet at Vitinn Restaurant*
Blue Lagoon Comfort Entrance (use of towel, one drink of your choice)
2 nights' accommodation at Hotel Grimsborgir
1 night's accommodation at Hotel Laki
2 nights' accommodation at Hotel Ranga
2 nights' accommodation at Hotel Borg
VAT on accommodation and lodging fee
Breakfast daily at each hotel*
Welcome dinner (3 courses with 1 wine/beer/soft drink included)*
Five 2-course group lunches including coffee/tea*
Six 3-course group dinners including coffee/tea*
All daily tours and entrance fees as described above
Free admission to Settlement Exhibition at Reykjavik City Museum
Guided transfer Reykjavík to Keflavík Airport on day of departure
Free WiFi on the coach
Included in S&T's Iceland Aurora Adventure (Snæfellsnes extension):
Private coach with English-speaking guide for the program as outlined
1 night's additional accommodation at Hotel Borg
Breakfast, lunch, and dinner including coffee/tea*
VAT on accommodation and lodging fee
All entrance fees as described above
Guided transfer Reykjavík to Keflavík Airport on day of departure
Free WiFi on the coach
*Please inform us of any special dietary requirements including food allergies.
---
Not included in S&T's 2023 Iceland Aurora Adventure:
International airfare
Drinks with lunches and dinners other than coffee/tea and any meals not mentioned
Guide on day of departure
Extra fees for porterage, grab-and-go lunches, room service, items of a personal nature
Unexpected fees introduced for access to nature sites on private land
Transfers for individual arrivals
Entrance fees not mentioned above
Optional tours
Travel insurance (highly recommended — we can send you a quote)
Room outside of normal check-in/check-out times
Tips and gratuities
Anything else not mentioned under "included"
Tour Note: In rare cases a change of itinerary may be necessary during our program in Iceland should weather or road conditions not allow operation of the scheduled itinerary. Certain outdoor activities may be canceled. In this case, no refund will be given but a reasonable alternative will be substituted where and whenever possible.