December's astronomy podcast urges you to get outside early to gaze on dazzling Venus — then Mercury, then Jupiter — crowding the eastern sky before dawn.


This podcast is sponsored by Celestron, manufacturer of high-quality telescopes and an industry leader in developing exciting optical products with revolutionary technologies.
On December 21st, at 5:23 p.m. Eastern Standard Time, we reach a celestial turnaround point: the solstice. This Latin word means "Sun stands still." At that moment the Sun has traveled farthest south in the sky, shining directly down on Earth's Tropic of Capricorn in the Southern Hemisphere. This date marks the astronomical beginning of summer in the Southern Hemisphere and of winter up here in the north.
Planetwise, you can catch Saturn low in the southwest not long after sunset. Swing your gaze to the left, toward south, to find Mars gliding along in relative isolation. Neither Mars nor Saturn is as bright or obvious as it was earlier this year.
In the predawn sky, Venus is high up in the east as dawn twilight takes over. As the December days go by, keep an eye out for Mercury, which is creeping upward well to the lower left of Venus as dawn's twilight starts to brighten. Your best chance of seeing Mercury comes around the 15th, when it rises more than 1½ hours ahead of the Sun. Keep your vigil going for one more week, and you'll spy a third planet — Jupiter — rising from the predawn glow low in the southeast.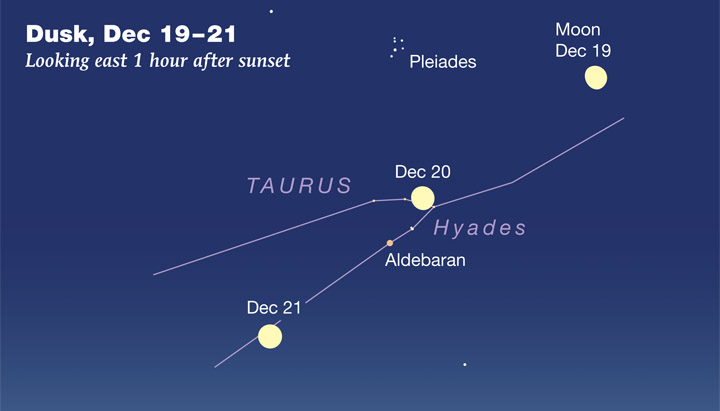 In the evening sky, wintertime constellations are taking over. Look for Orion and its distinctive Belt in the east after sunset. Not far away are the bright star Aldebaran and the Pleiades star cluster.
To find out how to spot these constellations — along with tips for watching the annual Geminid meteor shower — play or download this month's 8-minute-long astronomy podcast (linked below).
Podcast: Play in new window | Download
Subscribe: Apple Podcasts | Android | Email | Google Podcasts | Stitcher | Spotify | RSS | More