Download our monthly astronomy podcast to spot Venus and Mars in the west — and a celestial unicorn hiding in plain sight among the stars.
February might be the coldest month of northern winter, but this month's sky is ablaze with fascinating sights. Start off your evening with dazzling Venus, high in the southwest, and much, much dimmer Mars to its upper left.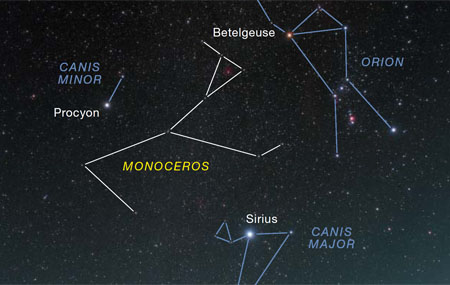 Then swing your gaze to the left to take in magnificent Orion, the Hunter. The row of three stars in his Belt are unmistakable. Betelgeuse marks his shoulder and Rigel his foot. Look lower left of Orion for Sirius, the brightest star in the nighttime sky. Higher up, to Orion's left, is Procyon.
Draw imaginary lines among Betelgeuse, Sirius, and Procyon, and you've outlined what stargazers call the Winter Triangle. But more than that, you've boxed in most of the constellation Monoceros, the Unicorn. Its stars are faint, so it's easy to overlook this mythical creature amid all the stellar sparklers nearby.
To learn about midwinter's stars — and for details on February 10th's lunar eclipse — listen to or download our monthly astronomy podcast below.
Podcast: Play in new window | Download
Subscribe: Apple Podcasts | Google Podcasts | Spotify | Stitcher | Email | RSS | More