Watch a binocular-bright comet leapfrog across Auriga in the next few weeks before a remarkable conjunction with the bright star cluster, M35.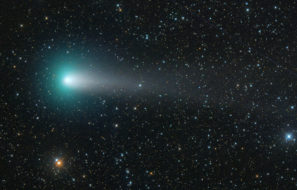 Every season, there are something like a dozen comets visible throughout the night. Most are faint, usually around magnitude 11–13, and require larger amateur instruments to see. This time around, we have a wonderful exception — 21P/Giacobini-Zinner.
With an orbital period of 6.6 years, it's a regular visitor to our planet's night skies. G-Z's making a favorable approach at this apparition, passing just 58.6 million kilometers over the tops of our heads on September 10–11, the same date it reaches perihelion. That's just a few million kilometers shy of Mars's close brush with Earth this past July.
In late August, the comet glows at magnitude 7.5 and is expected to peak at around 7 next month. I easily saw it two weeks ago in 50-mm binoculars from a semi-rural sky when it crossed into 8th-magnitude territory. At that time, the comet appeared near the "W" of Cassiopeia and looked like a small fuzzy patch with a brighter center. Through my 15-inch Dob at low magnification, it was a beautiful sight with a compact, 3-arcminute-wide coma housing a bright "false nucleus" and a tail more than ½° long fanning to the west. At 357× I detected a small density enhancement within the coma sunward of the nucleus.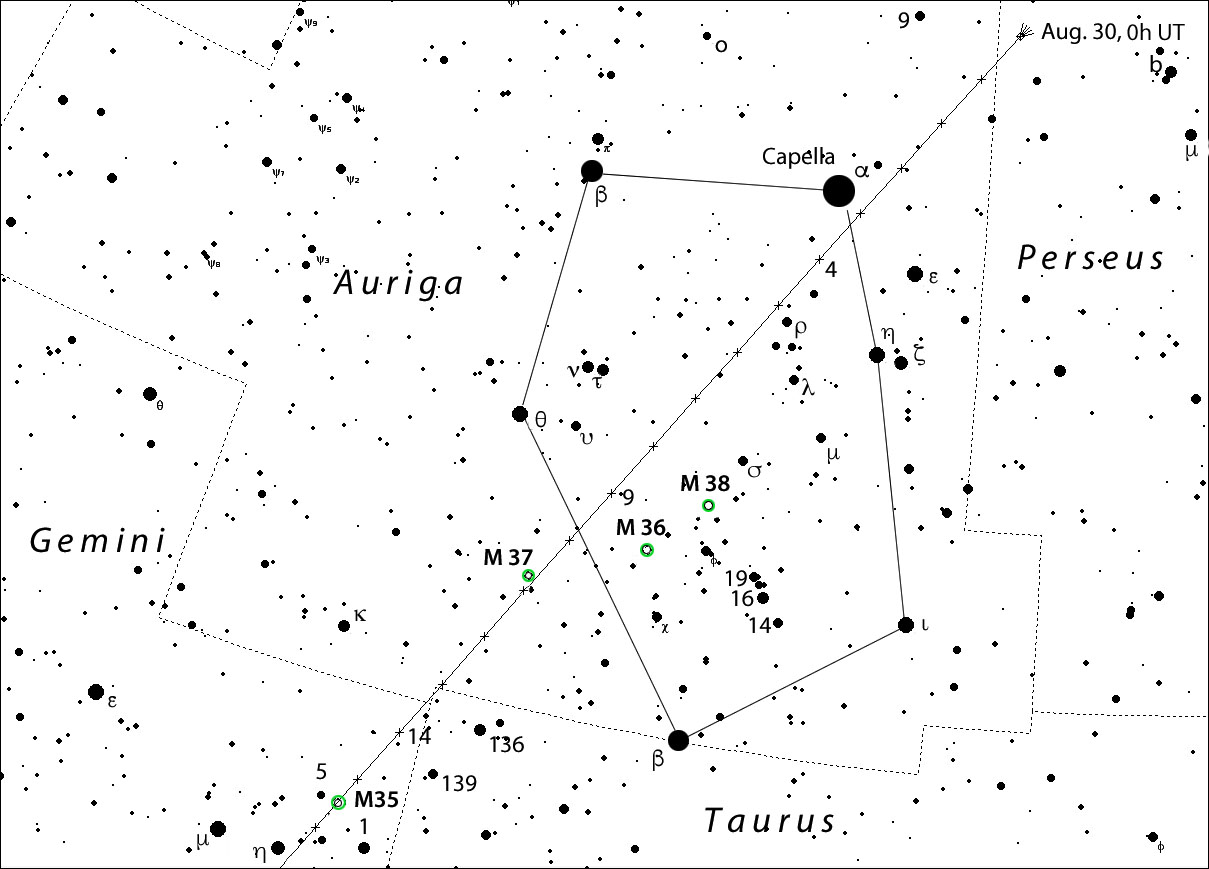 Comet 21P/G-Z has since moved east. This week (August 29–September 2), it crosses from Perseus into Auriga and glows low in the northern sky at nightfall. At twilight's end from 40° N, the comet will be only 5–7° high, not exactly the best viewing circumstances.
Midnight's better, when it climbs to about 15° altitude just 1° south of Auriga's brightest star Capella on September 2nd.  Another option, perhaps the best, is to wait until September 5th, when the Moon thins to a crescent and Auriga stands more than 50° high shortly before the start of morning twilight.

For more than two weeks, from September 5th through about the 23rd, the comet will hold court in a dark sky as it moves from Auriga through Gemini and into Monoceros. Getting up early to observe takes more effort, but it always pays off. This time of year it means the welcome sight of Orion and the shimmer of Sirius. Besides, you have to if you want to see a comet that really looks like one with a nice tail and bright head. How many of those have flown by this year? For most of us, 21P/G-Z will be the first.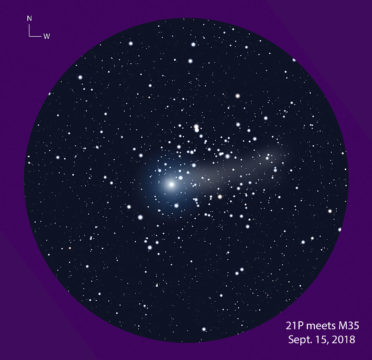 Fortuitously, 21P/G-Z is passing through the winter Milky Way and will make scenic pit stops near several bright, well-known star clusters. Watch for it to pass close to M37 on the night of September 9th and directly across M35 in Gemini on the morning of September 15th for the Americas.
The M35 crossing will be amazing to watch for several reasons. The comet enters the outskirts of the cluster around 7:30 UT (2:30 a.m. CDT) and exits about 11:30 UT (6:30 a.m.). Traveling at an apparent speed of 4.4′ per hour, anyone with a small telescope can watch it slowly slide across this famous Messier object as the wee hours tick by. With 120 stars brighter than magnitude 13 it's quite possible that 21P/G-Z's false nucleus — the bright condensation near the coma's center — will occult one or more of them along the way. The binocular view should be unique with the rich cluster appearing to sprout a tail!
The comet has been seen at nearly every return since its discovery in 1900. In 1946, it passed only 0.26 a.u. from Earth in late September, when it reached magnitude 7, its brightest ever observed up until that time. Just day after, it underwent a bright outburst, rising to magnitude 6 in early October. Several smaller outbursts were observed during the 1959 apparition. Given its eruptive nature, amateurs should keep track of it each clear night. If you do see a sudden and unexpected increase in brightness, please let us know by leaving a comment.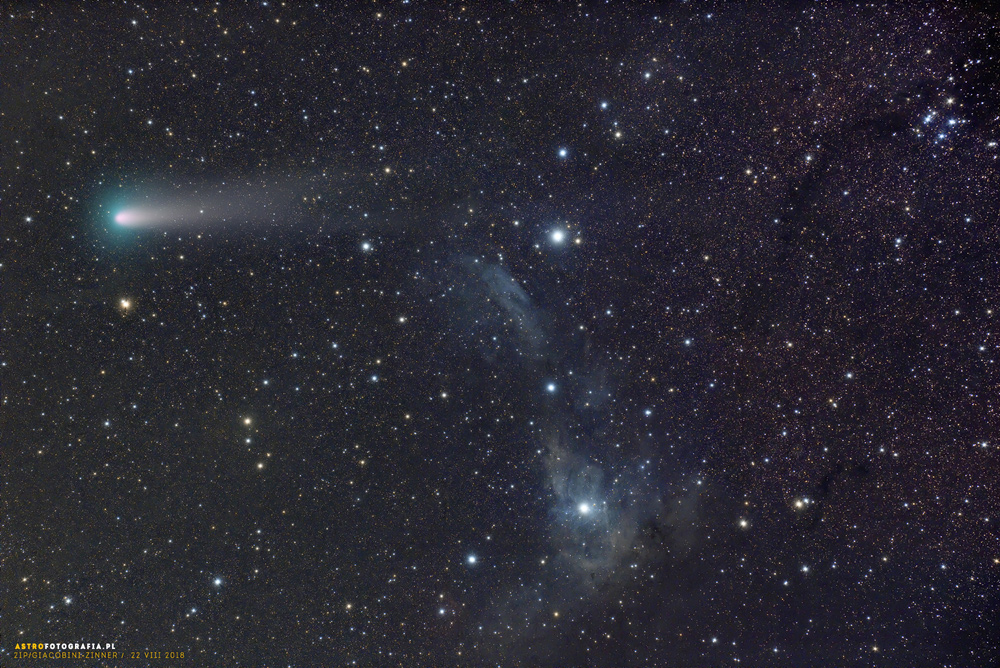 Although 21P/Giacobini-Zinner is the parent comet of the annual Draconid meteor shower, which peaks on October 9th, it's normally a weak shower that generates only a handful of meteors per hour except during rare outbursts, the most recent of which occurred in 2011. Meteor counts increase over the normal when Earth ducks inside the comet's orbit shortly after its passing. That's not expected to happen this year, but some models predict a somewhat higher than average count (maybe up to 15 per hour) during the comet's passage through an older dust trail left behind in 1953.
If you don't mind setting aside an hour before dawn, get aboard 21P and let it transport you across the winter sky as summer fades.