Skywatchers in the Eastern Hemisphere will see tonight's full moon skirt through Earth's dusky outer shadow.
The fourth and final eclipse of 2016 would be easy to overlook. It brings up the rear after a dramatic total solar eclipse last March 9th and an annular eclipse on September 1st seen across south-central Africa, Madagascar, and the Indian Ocean.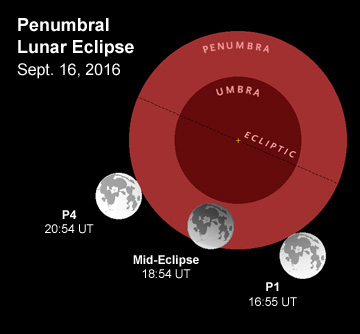 Tonight's full Harvest Moon features a "barely there" lunar eclipse. As with the solar eclipses, its viewing area is restricted to the Eastern Hemisphere. Mid-eclipse occurs on September 16th at 18:54 Universal Time. Skywatchers in Europe and Africa will see it this evening, while for those in eastern Asia and Australia it's a predawn event on September 17th.
The Moon will pass deeply into the dusky penumbra of Earth's shadow and barely misses clipping the much darker umbra. Although the entire eclipse lasts 4 hours, geometrically speaking, attentive skywatchers might pick up a subtle, dusky shading on the full Moon's northern half only 30 or 40 minutes on either side of mid-eclipse.
Ajay Talwar will webcast tonight's penumbral lunar eclipse from his home in Gurgaon, India, a program hosted by Slooh.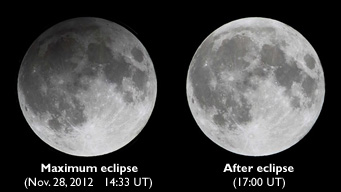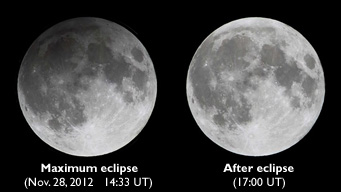 This year's other lunar eclipse, back on March 23rd, was also a penumbral affair. That will also be the case at the next lunar eclipse on February 11, 2017. In fact, there won't be another total lunar eclipse until January 31, 2018.
Meanwhile, tonight's the full Harvest Moon. Traditionally, this is the full Moon that falls closest to the autumnal equinox. The Harvest Moon gets this name from a geometric oddity. Because the lunar orbit makes a shallow angle with respect to the eastern evening horizon at this time of year, the Moon rises only about 30 minutes later on successive evenings, not the usual 50 minutes or so. So it never really gets dark between sunset and moonrise for several successive evenings — a boon to farmers working late to try to harvest their crops at day's end.