The Perseids are upon us — and as you're looking out for shooting stars, look for Jupiter and Saturn low in the southeast as soon as night begins to fall.

This episode is sponsored by
Celestron
, manufacturer of high-quality telescopes and an industry leader in developing exciting optical products with revolutionary technologies.
Listen Here:
Podcast: Play in new window | Download
Subscribe: Apple Podcasts | Google Podcasts | Spotify | Stitcher | Email | RSS | More
This month's Sky Tour astronomy podcast tells you "what's up" in the evening skies. No experience or equipment is necessary — just download or stream the audio file and take it with you outside.
August's perennial celestial highlight is the Perseid meteor shower, one of the two best displays of "shooting stars" all year. These meteors are caused when little bits of dust shed by Comet Swift-Tuttle slam into our atmosphere at 37 miles per second. Every August, we cross the comet's orbit and plow right through this dusty debris. You don't need any special equipment to enjoy the Perseids, and so this annual sky show makes a wonderful activity for your whole family. The Sky Tour podcast offers great tips for when and where to see the shower's peak activity.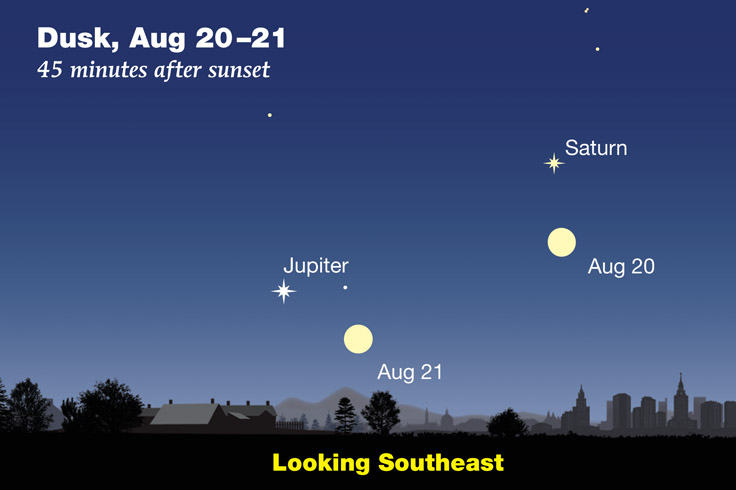 But August also marks the arrival of planetary royalty in the evening sky. You'll find Jupiter and Saturn shining low in the southeast as soon as it starts to get dark after sunset. Jupiter is quite a bit brighter, both because it's the bigger world and because it's a lot closer than Saturn both to the Sun and to Earth.
August is also a time when the constellation Scorpius is well placed for viewing after sunset. Perhaps more than in any other constellation, the stars of Scorpius really do look like their namesake. Antares is the Scorpion's heart, and to its upper right and lower left are two medium-bright stars representing its body. Less than one fist to Antares' upper right are three stars marking the head. Trailing from Antares to the lower left is a curving string of stars that form the Scorpion's tail.
Think of Sky Tour as your own personal guide to the nighttime sky! You can use it not only to learn how to identify key stars in Scorpius and neighboring Sagittarius, but also how to spot the elusive Corona Borealis, the Northern Crown, near the Big Dipper.
So download Sky Tour, and let your August sky adventure begin!