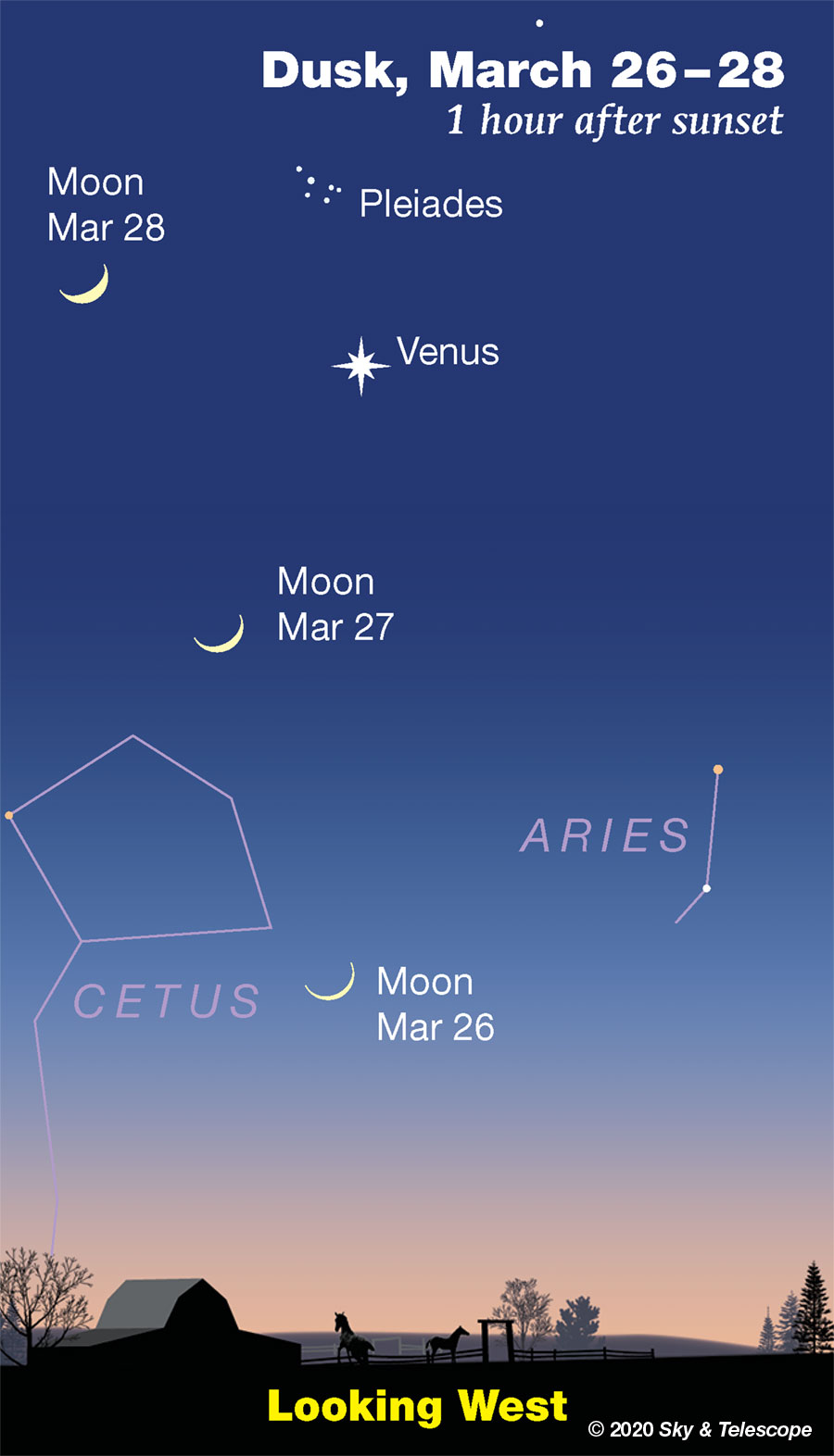 Friday, March 27
■ Venus and the waxing crescent Moon shine in the west during and after dusk, as shown above. The Moon and Venus are the two brightest celestial objects after the Sun. No matter how bad your light pollution, it's never a problem for these!
■ Cassiopeia, a signature fall-and-winter constellation, is retreating down after dark. Look for it fairly low in the north-northwest. It stands on end right after dark, and sinks lower as the hours pass.
But for skywatchers at mid-northern latitudes Cassiopeia is circumpolar, never going away completely. By about 1 a.m. it's at its lowest due north, lying not quite horizontal.
Saturday, March 28
■ The waxing crescent Moon shines some 8° left of Venus in twilight. As night deepens, you'll find them forming a triangle with the fingertip-sized Pleiades over them, as shown above.
Sunday, March 29
■ The Moon this evening shines a few degrees above Aldebaran and the Hyades. Lower right of the Moon shines brilliant Venus with the Pleiades glimmering close above. Off to the Moon's left is Orion.
Monday, March 30
■ The Moon, nearing first quarter, shines with the horn-tip stars of Taurus. It's close to the fainter of the two, Zeta Tauri. To its upper right is the brighter one, Beta Tauri or El Nath.
■ Castor and Pollux shine together very high toward the southwest after dark. Pollux, on the left, is slightly the brighter of these not-really-twins. And it's pale orange to Castor's white.

Draw a line from Castor through Pollux, follow it farther out by 26° (about 2½ fist-widths at arm's length), and you're at the dim head of Hydra, the Sea Serpent. In a dark sky the head of Hydra is a subtle but distinctive grouping, about the size of your thumb at arm's length. Binoculars show it easily through light pollution or moonlight.
Continue the line farther by a fist and a half and you hit Alphard, Hydra's orange heart, glowing at 2nd magnitude.
Another way to find the head of Hydra: It's almost midway from Procyon to Regulus.
Tuesday, March 31
■ First-quarter Moon (exactly so at 6:21 a.m. Wednesday morning EDT). The Moon is in the feet of Gemini. After dark you'll find Orion far below it, Procyon off to its left, and brighter Capella farther to its right. More or less above the Moon are Gemini's head stars, Pollux and Castor.
Wednesday, April 1
■ The Moon after dark shines high below Pollux. Farther lower left of the Moon is brighter Procyon. Far below Procyon is Sirius, the brightest star in the night.
Thursday, April 2
■ Look left of the Moon this evening for Pollux and Castor. Farther below the Moon are Procyon, the Little Dog Star, and farther down Sirius, the big Dog Star. The three form a tall, nearly vertical line.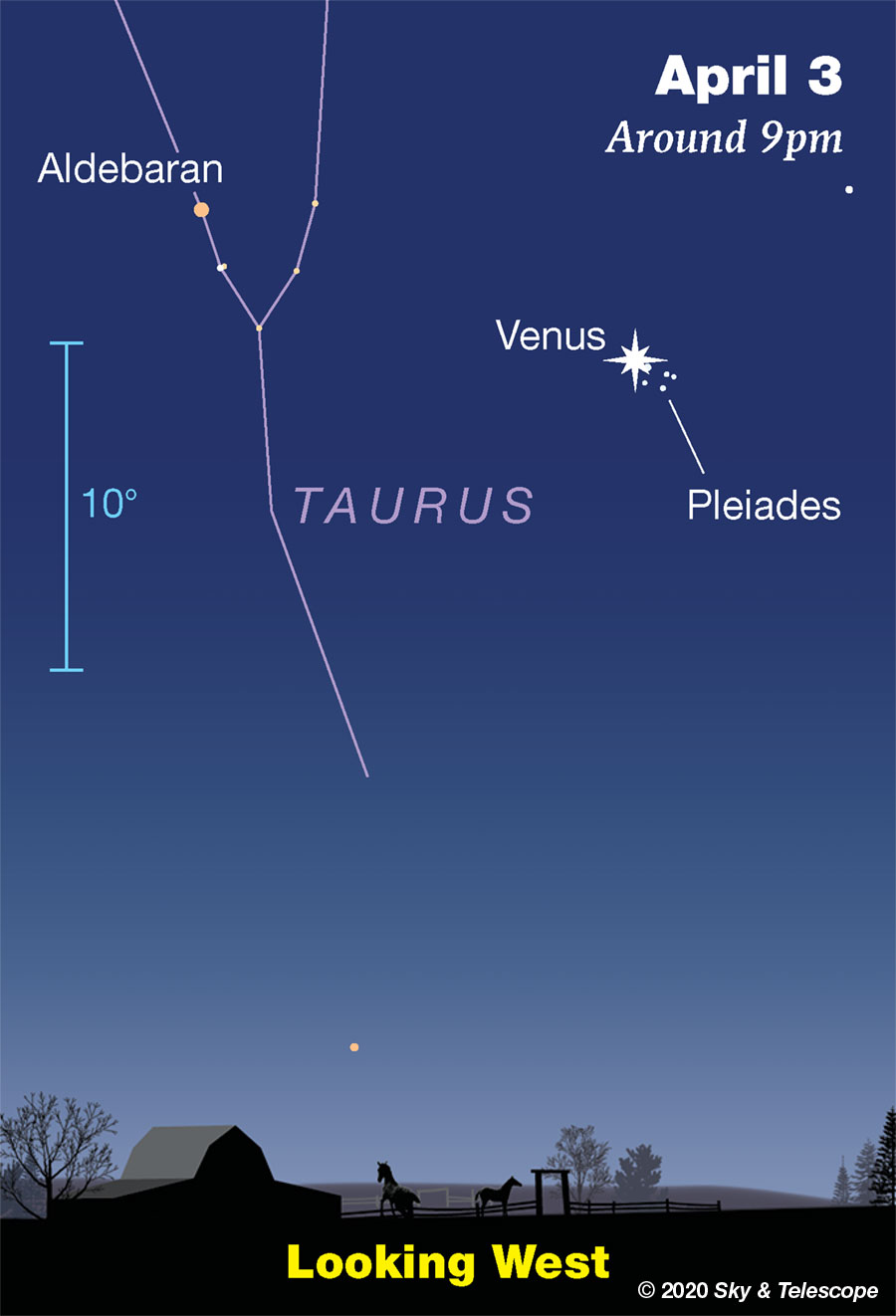 Friday, April 3
■ Venus this evening shines in the left edge of the Pleiades. How soon before the end of twilight can you first begin to see the little cluster? Bring out your telescope, binoculars, and/or long-focus camera!
Of course they're nowhere near each other, really. Venus this evening is 5.2 light-minutes from us, while the Pleiades are 440 light-years in the background. That's 45 million times farther away. To put that in perspective: If Venus were a dust speck floating three inches in front of your eye, the Pleiades stars would be 1,200 miles behind it, halfway across the continent: blue-white-hot marbles and peas, searingly brilliant, scattered in a volume of space about 30 miles wide.
Hiding among and around them would be scores of dimmer, yellow-hot BBs and mustard seeds, and roughly a thousand even dimmer, merely red-hot sand grains.
On average, each would be a few miles from its nearest neighbor.
Saturday, April 4
■ This evening look right or lower right of the Moon for Regulus, the leading star of Leo. They're about 5° apart for North America. Above the Moon by a similar distance or a bit more is Algieba, the second-brightest star after Regulus in the Sickle of Leo The Sickle, a backward question mark, forms the Lion's stick-figure's head, neck, chest, and front foot.
---
This Week's Planet Roundup
Mercury (magnitude +0.0) is having a poor apparition very low in the dawn. Use binoculars to look for it just above the east-southeast horizon about 30 minutes before sunrise. It's far to the lower left of Jupiter, by some 50° (about five fists at arm's length). Everything else in that area is much fainter.
Venus (magnitude –4.5, in western Taurus under the Pleiades) is the big, bright white "Evening Star" blazing high in the west during and after dusk. Venus doesn't set (in the west-northwest) until a good 2½ hours after complete dark.
Above Venus are the Pleiades, drawing closer to Venus by about 1° per day. On Friday evening April 3rd, Venus is right in the Pleiades' left edge!
In a telescope, Venus is a trace less than half lit and 25 arcseconds in diameter. It will continue to enlarge in size and wane in phase and will become a dramatically thin crescent in late May.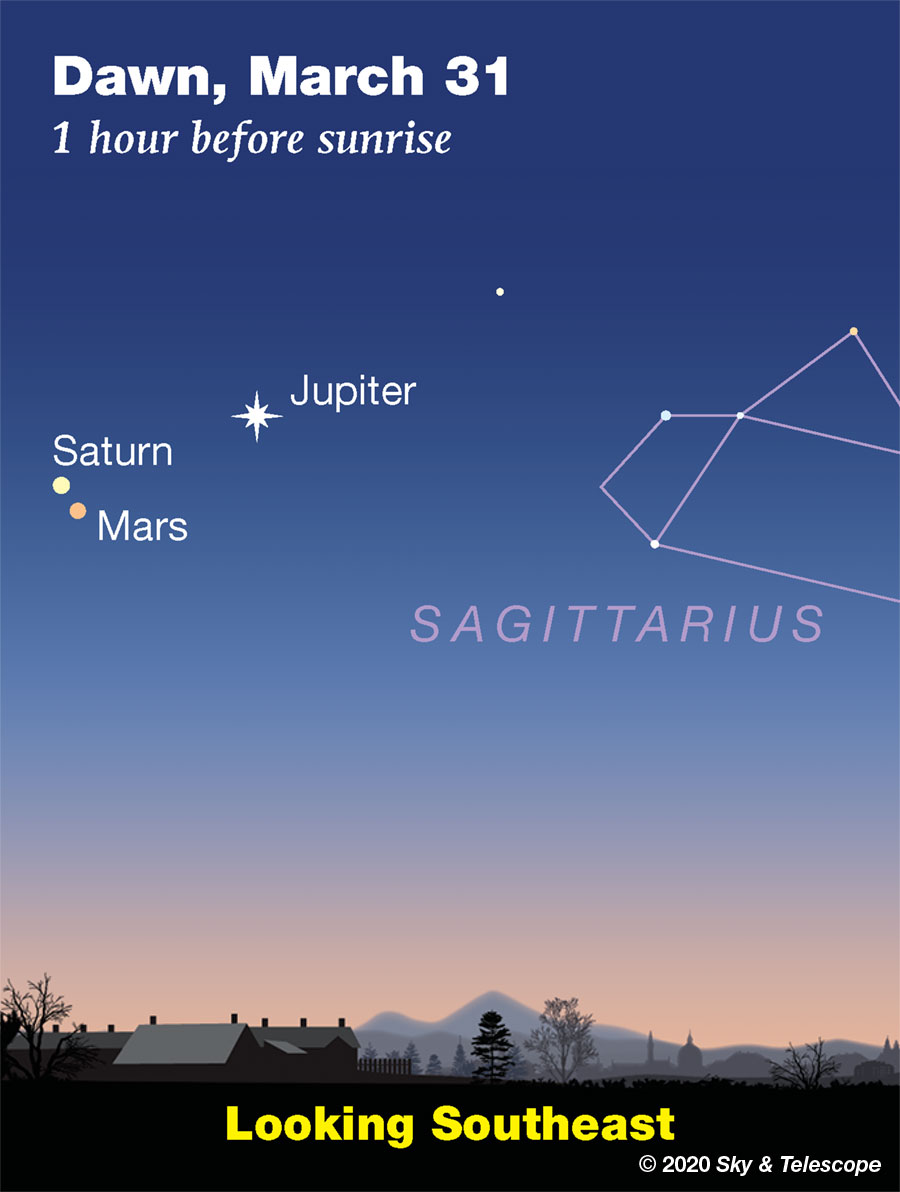 Mars, Jupiter, and Saturn (magnitudes, +0.8, – 2.1, and +0.7, respectively) are grouped low in the southeast as dawn begins. Jupiter is by far the brightest and catches your eye first. Saturn is about 6° lower left of Jupiter. Little Mars is near Saturn, passing 1° lower right of it at their conjunction on the morning of March 31st, as shown above.
Uranus (magnitude 5.8, in southwestern Aries) is disappearing in the western evening twilight.
Neptune is hidden deep in the glow of sunrise.
---
All descriptions that relate to your horizon — including the words up, down, right, and left — are written for the world's mid-northern latitudes. Descriptions that also depend on longitude (mainly Moon positions) are for North America.
Eastern Daylight Time (EDT) is Universal Time (UT, UTC, GMT, or Z time) minus 4 hours.
---
Want to become a better astronomer? Learn your way around the constellations. They're the key to locating everything fainter and deeper to hunt with binoculars or a telescope.
This is an outdoor nature hobby. For an easy-to-use constellation guide covering the whole evening sky, use the big monthly map in the center of each issue of Sky & Telescope, the essential guide to astronomy.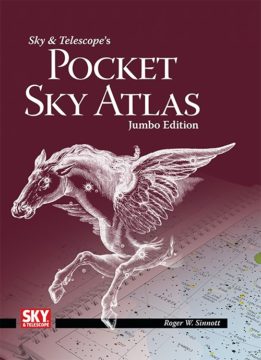 Once you get a telescope, to put it to good use you'll need a detailed, large-scale sky atlas (set of charts). The basic standard is the Pocket Sky Atlas (in either the original or Jumbo Edition), which shows stars to magnitude 7.6.
Next up is the larger and deeper Sky Atlas 2000.0, plotting stars to magnitude 8.5; nearly three times as many. The next up, once you know your way around, are the even larger Interstellarum atlas (stars to magnitude 9.5) and Uranometria 2000.0 (stars to magnitude 9.75). And read how to use sky charts with a telescope.
You'll also want a good deep-sky guidebook, such as Sky Atlas 2000.0 Companion by Strong and Sinnott, or the bigger Night Sky Observer's Guide by Kepple and Sanner.
Can a computerized telescope replace charts? Not for beginners, I don't think, and not on mounts and tripods that are less than top-quality mechanically (meaning heavy and expensive). And as Terence Dickinson and Alan Dyer say in their Backyard Astronomer's Guide, "A full appreciation of the universe cannot come without developing the skills to find things in the sky and understanding how the sky works. This knowledge comes only by spending time under the stars with star maps in hand."
---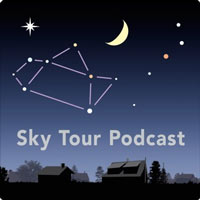 Audio sky tour. Out under the evening sky with your earbuds in place, listen to Kelly Beatty's monthly podcast tour of the heavens above. It's free.