Once you've seen two, a single won't do. Enjoy this selection of multiple deep-sky objects visible in the same field of view of your telescope.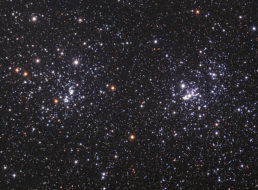 BOGO is all the rage these days. Buy-One-Get-One free. Whether it's chips or cosmic wonders, count me in. I love when multiple deep-sky objects pair up in the same field of view. Many of us have scoped the well-beaten path to the Double Cluster in Perseus or the M81 / M82 galaxy pair. So-called "two-in-the-view" sights are among the first we show off to the public.
There are lots of duos and even some trios and tetrads out there. Recognizing the pleasure and challenge of seeing paired deep-sky objects, the Astronomical League offers a Two In The View observing program with a list of 114 objects. Observe at least 100 groupings on the list and you'll receive a certificate for your efforts.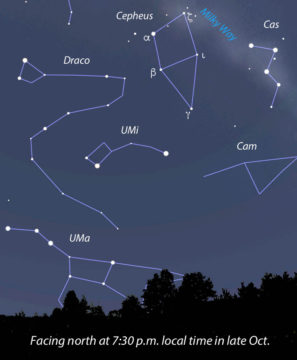 I thought it would be fun to apply the two-in-the-view idea to a single constellation and selected Cepheus as my target. It's high in the northern sky during early evening viewing hours and touched by the band of the Milky Way with a rich assortment of nebulae, star clusters, and galaxies.
I started out thinking I'd be observing duos, but deep-sky objects were so thick in places, 5 of the 10 selections became trios. I used a 15-inch telescope under rural Bortle Class 3 skies. All the featured objects fit within a 1° circle at my lowest magnification of 64×. North is up in all photos. In most cases, the two or three objects are unrelated and simply appear along similar lines of sight.
NGC 6939 and NGC 6946
There's no better place to begin than NGC 6946 and NGC 6939, a galaxy-cluster pair at the Cepheus–Cygnus border. NGC 6939 is an ancient open cluster more than 2 billion years old with about 300 members. At magnitude 7.8 it's a fine object in 6-inch and larger telescopes. I see an eye-catching dragonfly shape with a single, bright ~11-magnitude star at the west end of a starry "thorax" and "wings" extending north and south. You can't miss NGC 6946 40′ to the southeast. Fainter at magnitude 9.6, this 11.5′ × 9.8′ mottled puff of silky starlight has a broadly brighter core.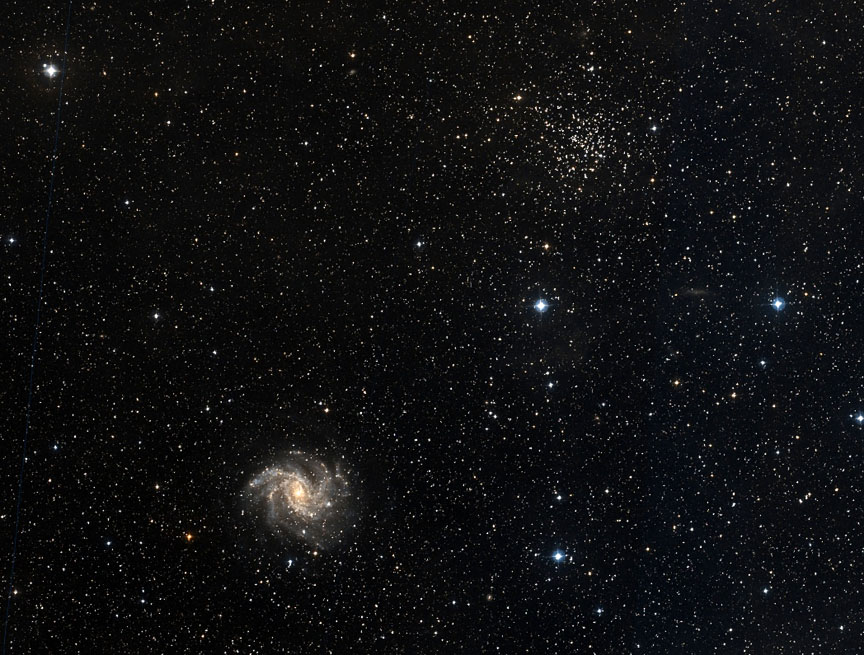 Low magnification only hints at the flocculent spiral arms so prominent in photos. But if you turn up the power to 150× or more, magic happens. With averted vision at 142× I could discern three spiral arms. The longest and most prominent extends east of the core, a second to the north and a third — the most difficult — tucked in closer to the nucleus to the southwest.
Delta (δ) Cephei, NGC 7281, and NGC 7261 // Minkowski 2-51 and NGC 7235
This is a rich and rewarding region. All five objects lie within a 2.5°-wide patch of sky extending east and south of the famous variable Delta (δ) Cephei. Its variable fame often overshadows the fact that it's a bright and easy double star with a golden primary accompanied by a pale blue-white, 6th-magnitude companion 41″ to the southwest.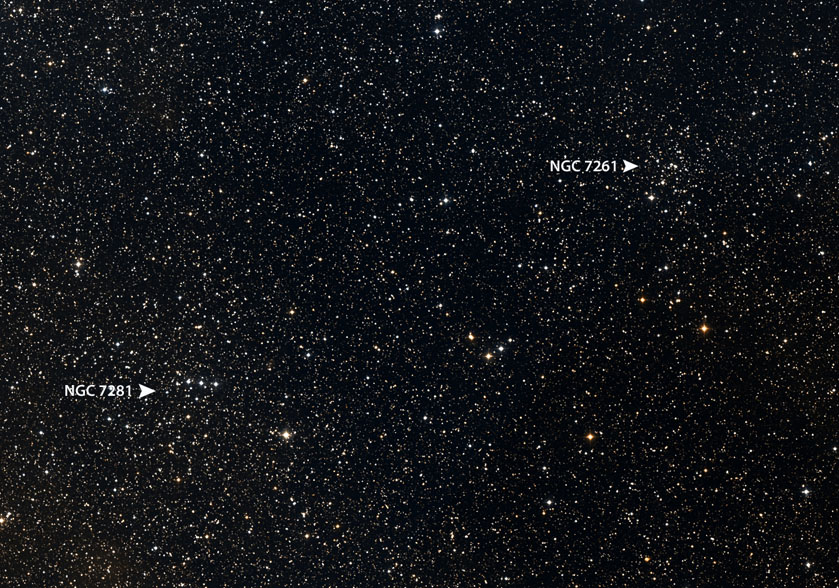 About 45′ southwest of Delta you'll spy two modest open clusters also separated by 45′  — NGC 7281 and NGC 7261. Both fit comfortably within my 64× field of view. NGC 7281 contains about 20 stars tucked into a loose 12′-wide heap. Three 10th-magnitude stars form a striking east-west alignment that resembles Orion's Belt in miniature. NGC 7261 to the northwest is about 6′ across with a roughly triangular shape and a magnitude of 8.4. It's a little more compact that its companion and stands out well from the busy background star field.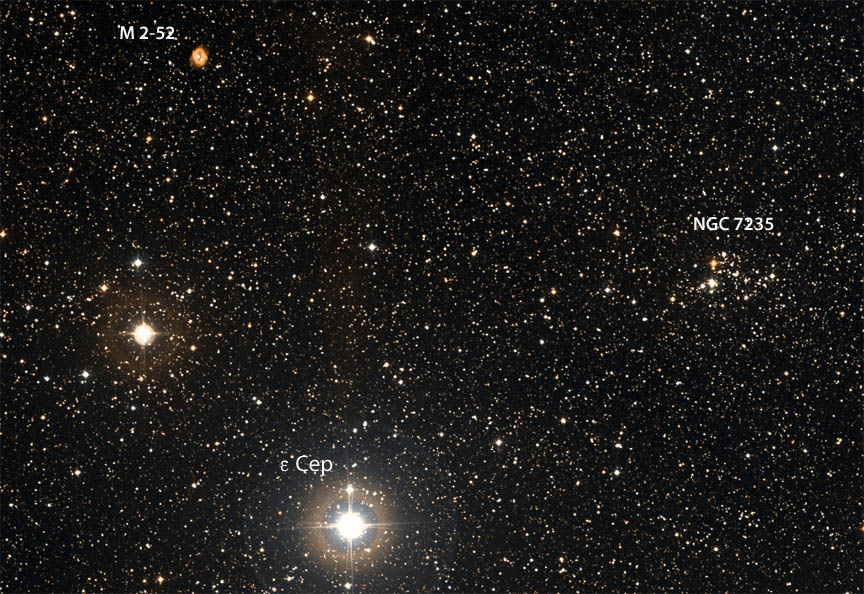 And 45′ southwest of the cluster lurks one of my favorite duos, Minkowski 2-51, a relatively bright planetary nebula, and the tiny but gorgeous open cluster NGC 7235.  I spotted the nebula, which measures 47″ × 38″, as a small, gray patch at 64× without the help of a nebular filter. Going to 142× I discerned a soft, round disk punctuated by two faint stars of magnitudes 14.5 and 15.5. Neither is the central star which glimmers at an impossible magnitude 20.4. Just 20′ southwest you can't miss NGC 7235, a pretty group of several dozen brighter stars shaped like a sideways letter Z that spans just 6′ with a total magnitude of 7.7. In their book Star Clusters, Archinal and Hynes list some 98 members for the cluster.
IC 1396, Trumpler 37, and Barnard 161 // Barnard 162 and Barnard 163
These five objects comprise a ridiculously rich mashup of emission nebulae, gloomy dust clouds, a huge open cluster, and a two stunning multiple stars that spill across 2° of sky. Arriving here, you'll first notice the open cluster Trumpler 37, which overfills the field of view at 1.5° across, with 50 member stars (it looks like many more), and a total magnitude of 3.5. The cluster is immersed in billows of faint emission nebulosity (IC 1396) dimly visible using an O III or UHC filter and low magnification. Together, they're make an overlapping two-for-one.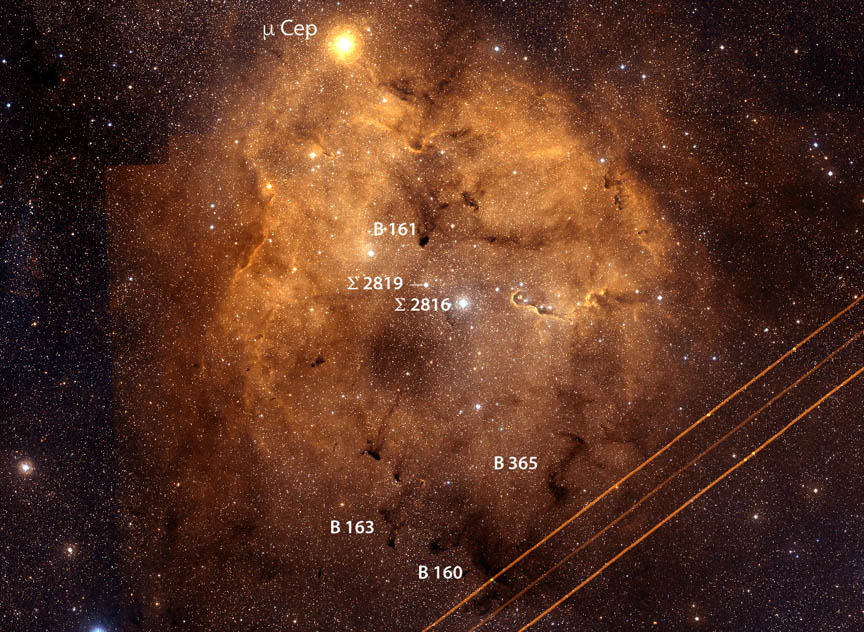 Radiation from the massive and brilliant triple star Σ2816 at the nebula's center sets the surrounding gases aglow in the same way the Trapezium illuminates the Orion Nebula. Magnitude-5.7 Σ2816 is flanked on either side by two 7.5-magnitude stars at distances of 12″ and 20″. Just 12′ northeast you can't miss Σ2819, a beautiful double in its own right composed of a magnitude-7.5 star and a magnitude-8.5 star separated by 13″. Together, these dual stellar jewels are a must-see sight in any telescope.
Several dark nebulae nibble around the nebula's edges — B365, B160, B163 —while B161 "pokes" a small hole near the center. B160 is the most obvious to me with a mottled, dark texture and fat extension reaching to the east toward the lower contrast B163. Together these make a nice two-in-the-view dark nebulae pair separated by less than ½°. I also glimpsed B161 with averted vision as a small, starless area inside the nebula due north of Σ2819.
NGC 7510, King 19, and IC 1470 // Basel 3 and Sharpless 2-157
NGC 7510 always makes me smile. It looks like a two strands of geese winging southwest to warmer climes. This compact, rich cluster is a real standout, and you can't beat its unusual, elongated shape. Shining at magnitude 7.9, the groups hosts 75 birds, er stars, packed into a tight 7′ airspace. It's paired with King 19, a small, looser group of fainter stars 5′ across with a magnitude of 9.2. I counted from 15–20 stars but other sources give 50. I think these discrepancies arise because it can be difficult in rich fields to know where a cluster begins and ends as outliers can be mistaken for field stars.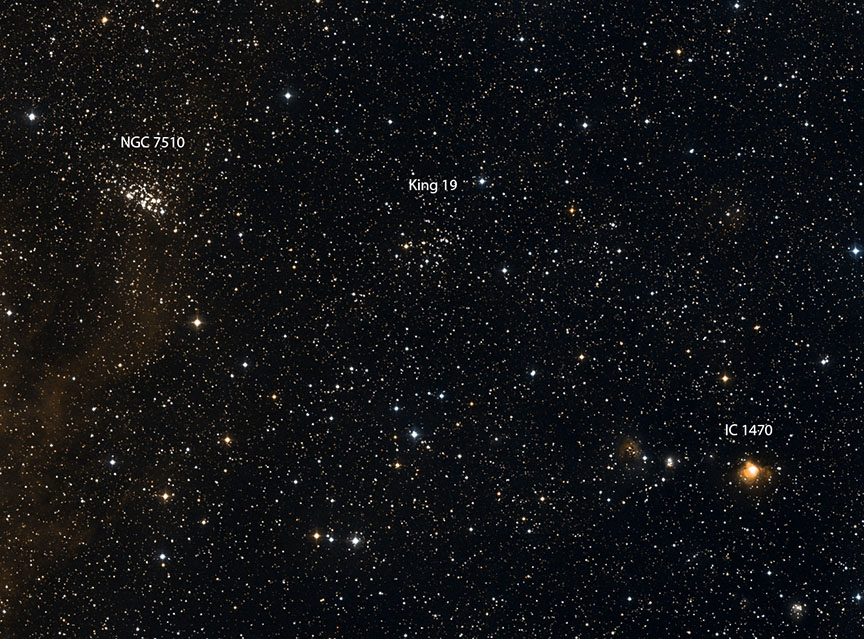 The two clusters are joined by IC 1470, a small, bright and often overlooked emission nebula within the western edge of the 1° field. At first glance, it was just a minute blob of haze involved with an 11th-magnitude star, but when I increased the power to 142× I could see a comet lookalike with a brighter head centered on the star and a short, broad tail to the southwest. Emission nebulae are enhanced to varying degrees by nebular filters. Other observers report that a UHC filter works better on IC 1470 than an O III. I went black coffee and used neither.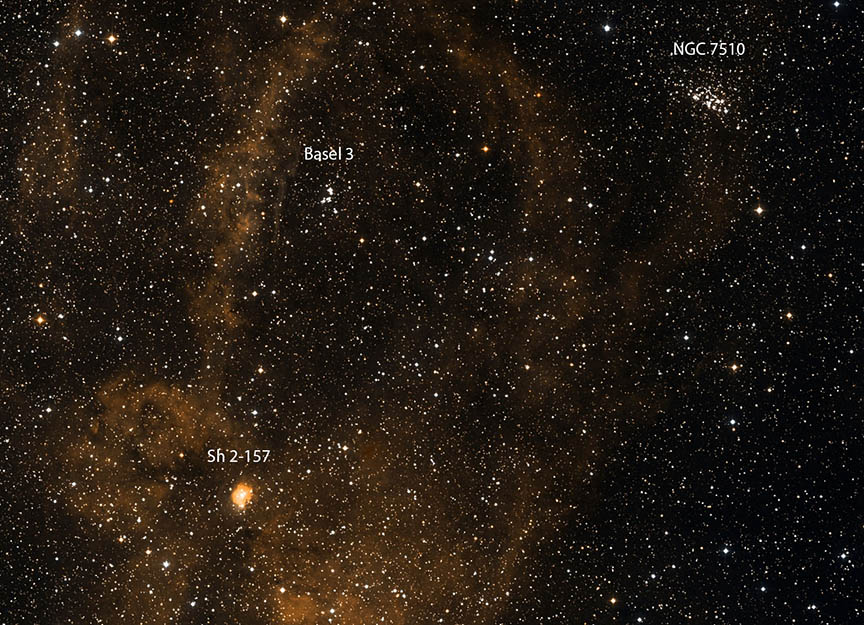 A half-degree east of NGC 7510 you'll bump into another open cluster, Basel 3. Nothing fancy, just a small, loose group of a dozen ~11–12th-magnitude stars but nicely paired with another emission nebula, Sharpless 2-157, located just across the border in Cassiopeia. I saw a shapeless haze fuzzing up a 10th-magnitude star at 142×.
NGC 7380 / Sharpless 2-142, King 18, and Sharpless 2-148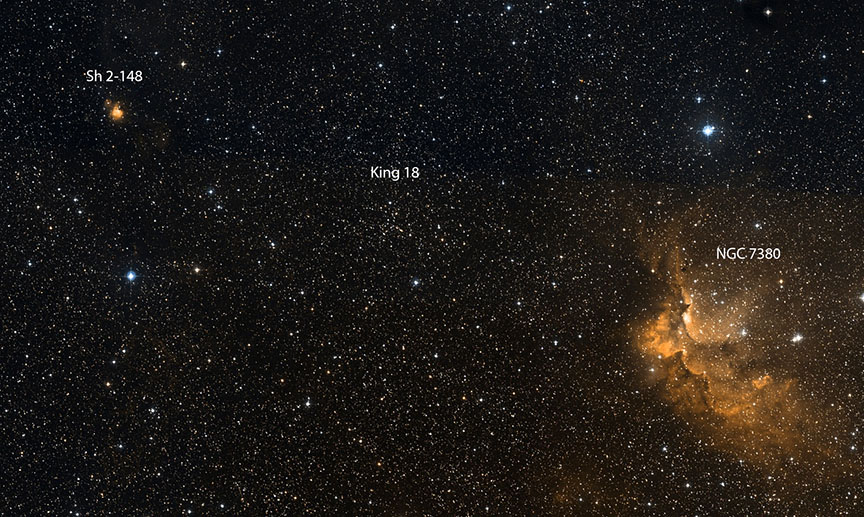 It's so hard to pick a favorite star cluster. Just when you think you've got one, NGC 7380 comes along. Not only is it rich, with some 125 members, but the brightest ones form a Hyades-like outline, and the whole works is steeped in the emission nebula Sh 2-142, which shows up beautifully with an O III filter. Use low power for a great view, plus you'll see that the nebula (with a filter) extends faintly beyond the cluster to the southwest. NGC 7380 stands in fine contrast to the minimalist King 18 cluster 40′ to the east. I saw a 5′-wide bunch with about 20 stars that stands out well from the background. Keep moving east another 30′ and you'll come upon a gathering of small emission nebulae, each with its own Sharpless catalog number. I saw only Sh 2-148 as a small, but easy nebulous knot around a 13th-magnitude star.
NGC 7129, NGC 7133, and NGC 7142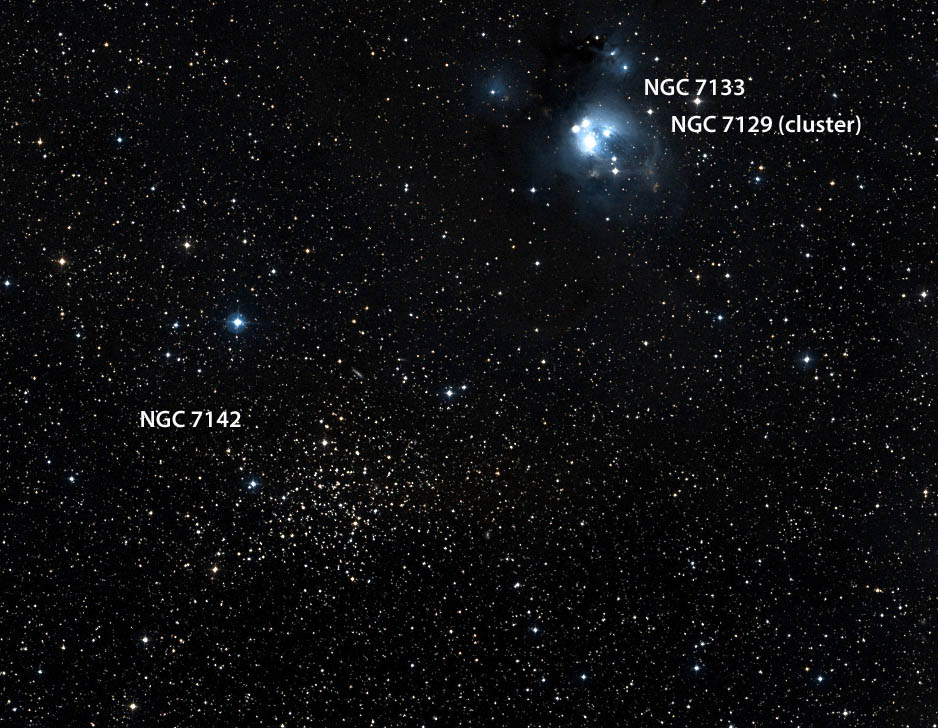 NGC 7133 is a reflection nebula swaddling NGC 7129, a sparse but compact group of half-a-dozen bright 9th- and 10th-magnitude stars, all of it easily seen at a glance at low power. It's paired with the faint but incredibly rich open cluster NGC 7142 20′ to the southeast. I saw more than 100 stars here using 142×, many fainter than magnitude 12, giving the cluster a twinkly snowflake appearance. Absolutely beautiful! The combination of faint and rich with bright and sparse makes for a very appealing contrast, each helping to define the other.
NGC 7762 and Berkeley 59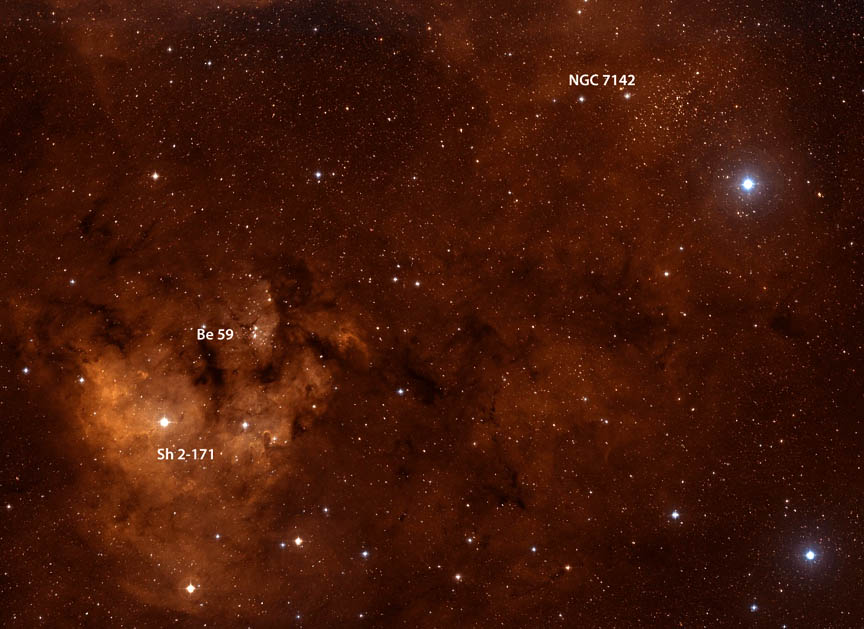 NGC 7762, a 10th-magnitude cluster, has a most interesting form, consisting of faint, rich strands of stars that look like the spreading filaments of a fiber optic lamp. What a contrast to its mate, Berkeley 59, a little over 1° to the southeast. Be59 is a dense gathering 10′ across with several 11th-magnitude stars in a tight knot at its core. There are 40 stars here in all with an estimated (my own) magnitude of 9.5. The cluster is a true baby, born less than a million years ago, and like the Trapezium, embedded in a large emission-reflection nebula, this one called Sharpless 2-171. Despite using filters, I couldn't be confident of seeing a trace of it.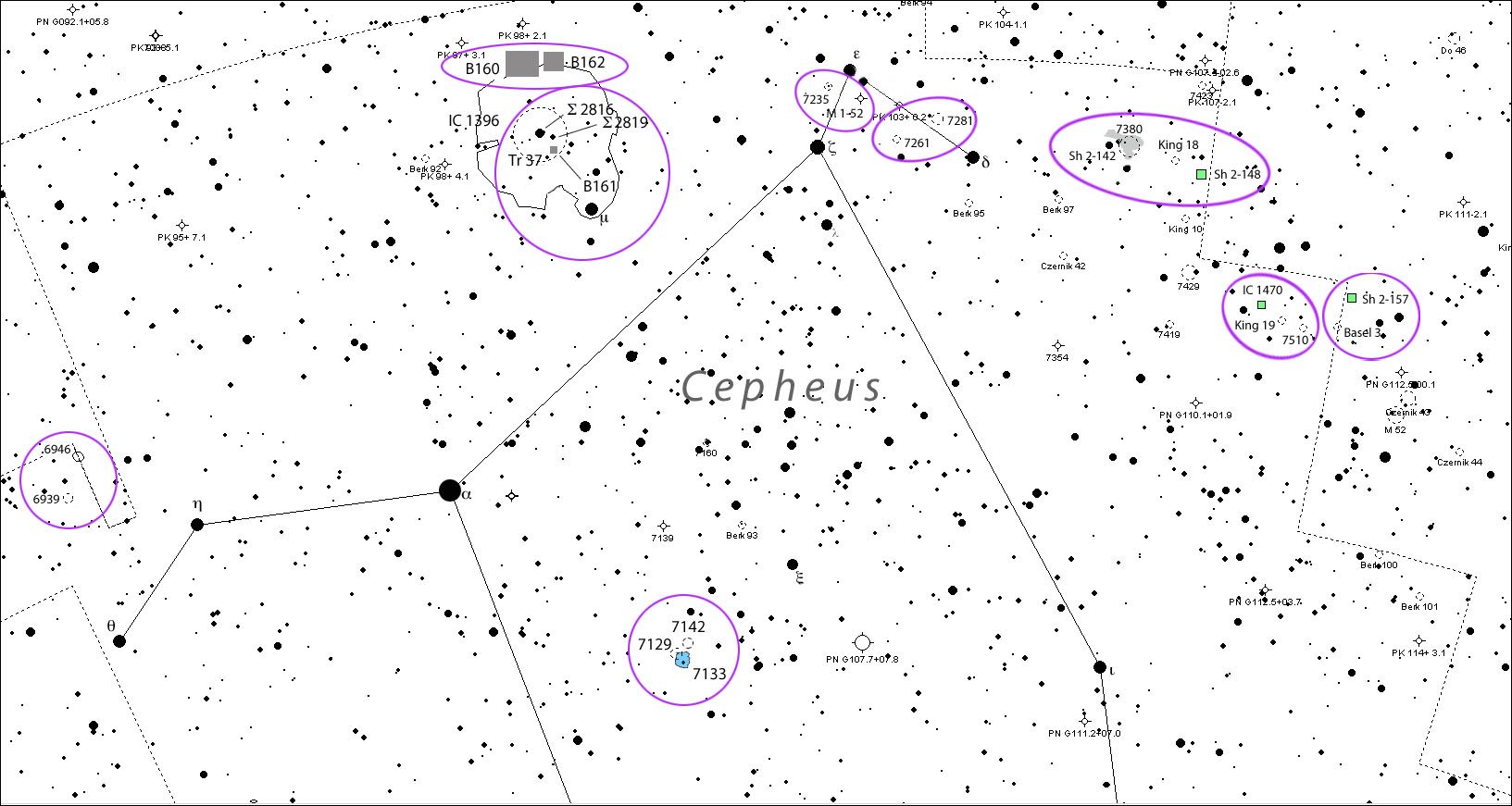 Although I used a 15-inch for my observations, many are visible in 8-inch telescopes and some in smaller instruments. As soon as the Moon departs the evening sky later this week, these dynamic duos — and trios! — await your gaze.