We take a dip in one of summer's finest nebulae and explore everything from spooky Bok globules to the tornadic Hourglass Nebula. Don't forget your snorkel, er, telescope!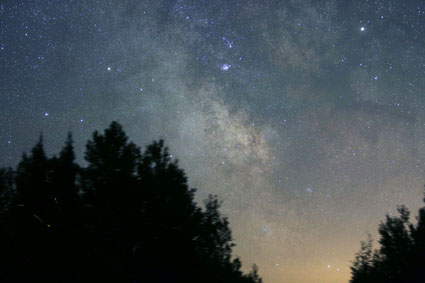 Sometimes a single deep-sky object becomes your whole universe. So it was for me when I took several deep wades in the Lagoon Nebula earlier this month. Located just above the Teapot in Sagittarius, the nebula is dimly visible without optical aid from the outer suburbs. Drive out to the country and you can't miss it — an obvious fuzzy knot punctuated by 5th-magnitude 9 Sagittarii that rises like a curl of steam from the spout of the Teapot.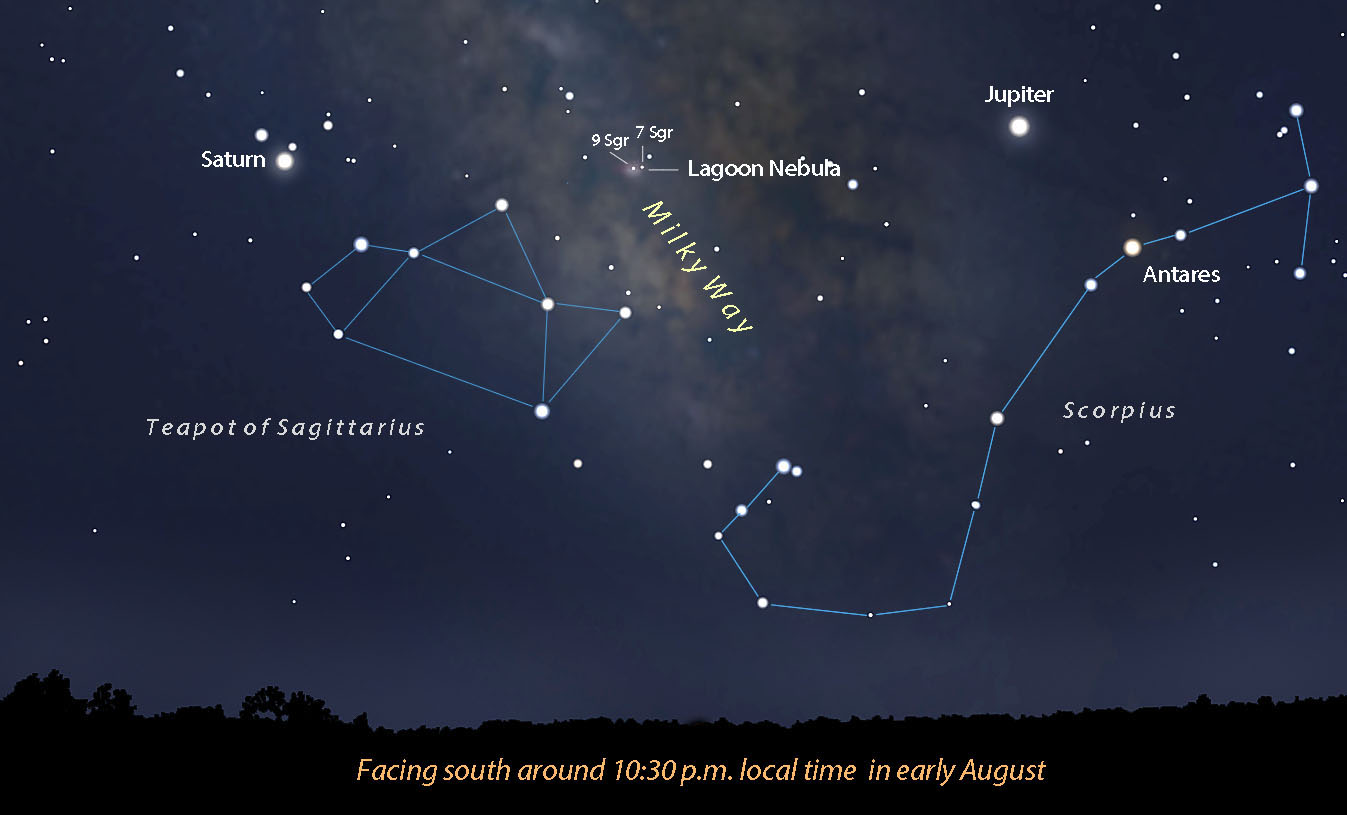 Like the Orion Nebula, the Lagoon, or M8, is a gem in binoculars. Under a dark sky in 10×50s I can clearly discern its oval shape as well as the dark gap — the lagoon — dividing the nebula in two with the brighter half centered on 9 Sgr. Binoculars also reveal the open cluster NGC 6530, embedded within the nebula, as a brighter condensation in the cloud's eastern half. M8 measures three full Moons wide by 1.3 deep. Its true dimensions are 110 light-years across by 50 light-years wide, big enough to reach from Earth all the way to Alkaid, the star at the end of the Big Dipper's handle.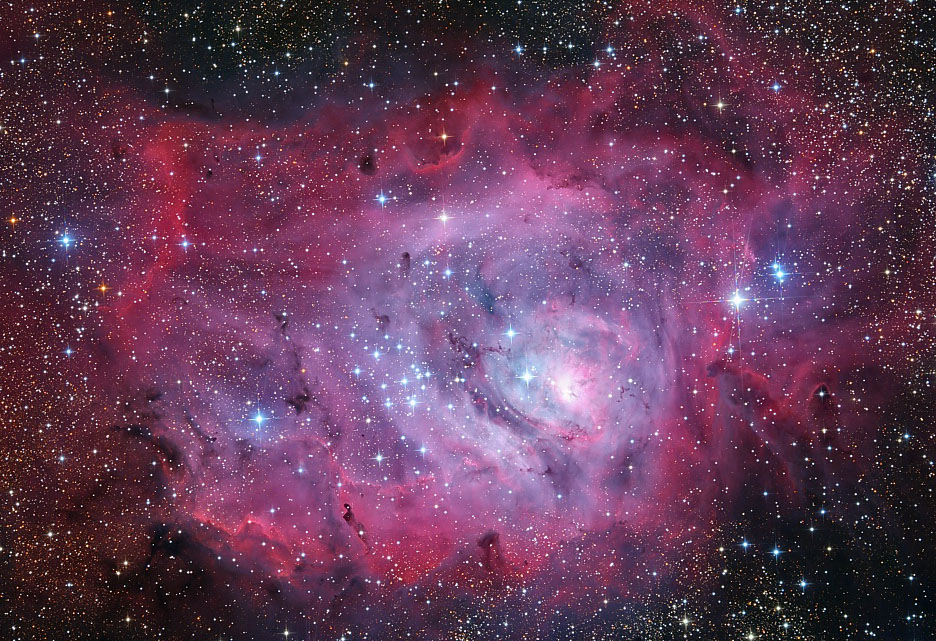 Orion and M8 share another trait. Both are in the business of making stars. Gravity's potterlike hands are molding clumps of gas and dust into brand new suns of every size and color from within its colorful clouds. Some are bright and easy to see like those in NGC 6530, but many are still hidden within the lagoon and other midnight-dark clouds are silhouetted against the bright nebula. Millions of years from now, the whole fuzzy mass will be converted into a shimmering star cluster. We see the nebula during its teenage years, halfway along the long journey to clusterhood.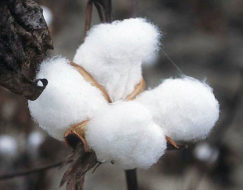 A 4-inch scope will show a gray cotton ball of nebulosity slashed by a dark lane running southwest to northeast. The open cluster NGC 6530, located immediately east of the lane, looks like a dew-bejeweled spiderweb suspended between 7 Sgr and 7th-magnitude HD 165052. I counted about 35 members in a 10′ area in my 15-inch Dob at 64×; eight or nine of them shine between magnitude 7.5 and 9.5 and are easily visible in the smallest telescopes. The cluster's brightest stars are young hot O-types only a few million years old and responsible for illuminating the nebula east of the lagoon.
The thumb-shaped patch west of the dark lagoon glows brightest thanks to 9 Sagittarii, an extremely close pair of massive O-type stars responsible for ionizing much of the nebula. The binary shines at magnitude 5.9, and the primary component is 55 times more massive than the Sun and 562,000 times as luminous. Just thinking about it gives me a sunburn.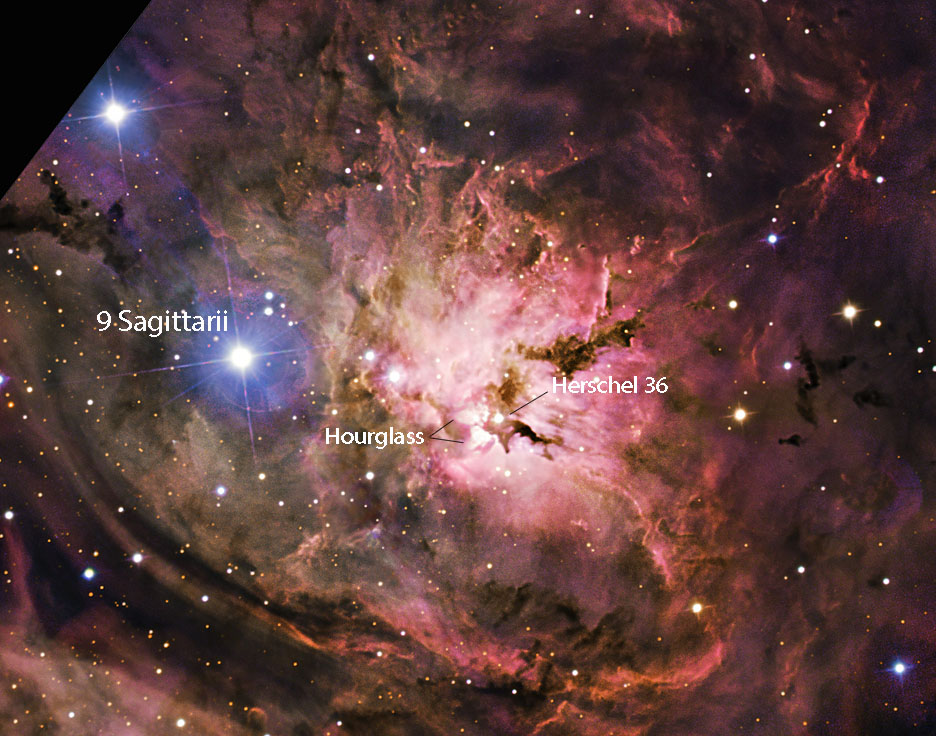 In your telescope you'll notice that the "thumb" concentrates into a tiny bright core about 30″ across. This special spot is known as the Hourglass Nebula, the brightest bit of M8. Fierce radiation from the supergiant star Herschel 36, a 9.5-magnitude star located immediately to the west of the Hourglass, both illuminates and whips its gases into strange spiral shapes.
To best appreciate this diminutive knot switch to high magnification. In the 15-inch at 245× and 357× the Hourglass looks like two tiny fans of dense nebulosity touching at their apexes. The southern fan is a little brighter, broader, and better defined than the northern half. Where the two meet I detected a small, diffuse brightening.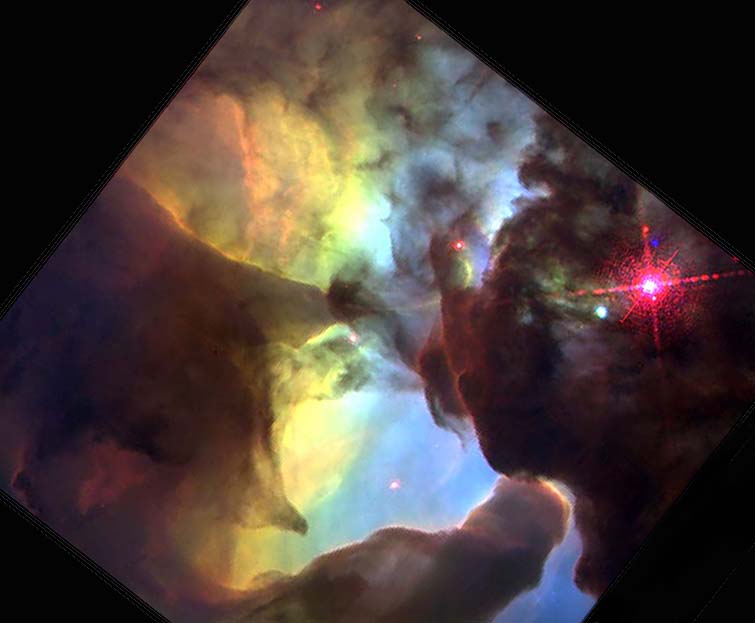 Herschel 36 is surrounded by a small, dark nebula faintly visible with averted vision. The most obvious part, which helps to define the shape of the hourglass figure, looks like black eyeliner running along the western edge of the nebula. Hands down, an absolutely fascinating area worth repeated visits.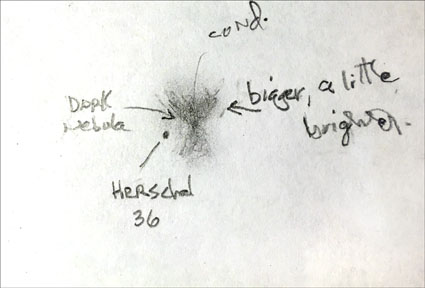 Because M8 is an emission nebula it responds well to emission filters, especially an O III. An O III filter coupled with my 64× eyepiece doubles the nebula's size, overfilling the 1° field of view.
That's not all. By brightening the nebula with respect to the background sky, a filter better reveals the multiple dark nebular blots called Bok globules silhouetted against the misty backdrop. Each shelters birthing suns like the seeds of an apple hidden under flesh and red skin. The most prominent of these dark protuberances were catalogued by American astronomer E. E. Barnard early last century — Barnard 88 (B88), Barnard 89 (B89), and Barnard 296 (B296).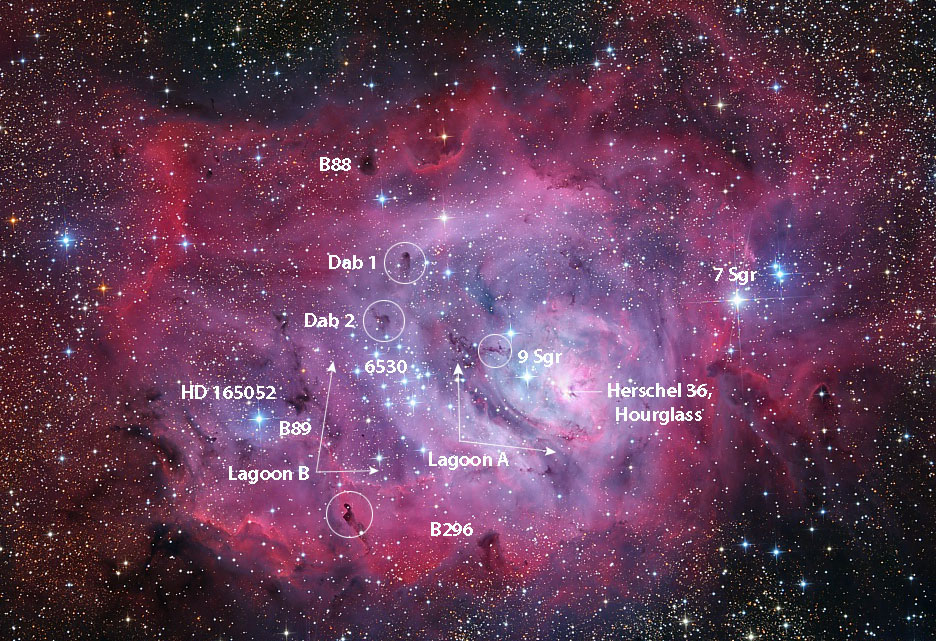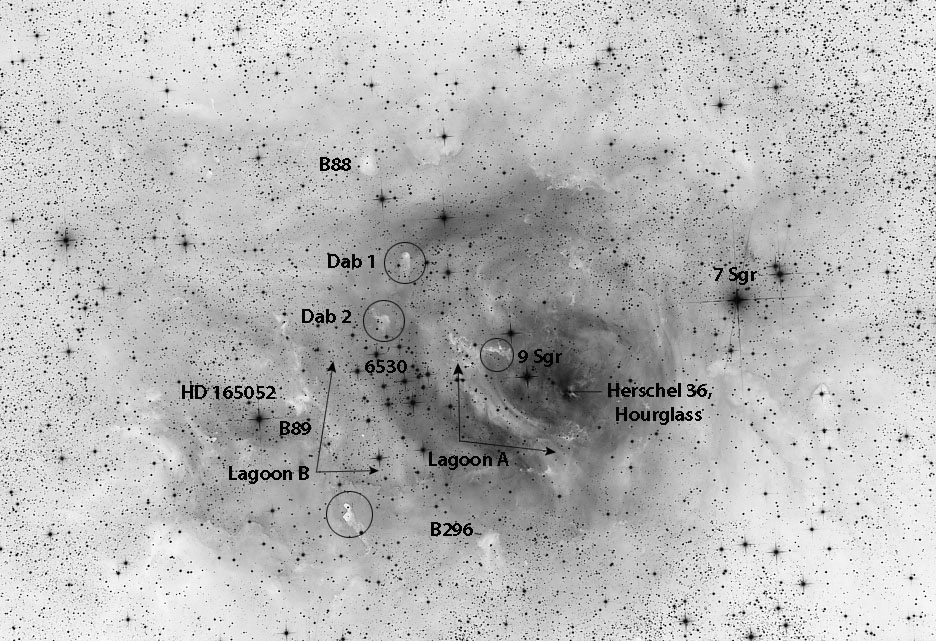 All are visible in my 15-inch at low magnification (64×), but I recommend a medium power of around 125–150× to darken the sky a bit along with an O III or similar filter. B89 is especially dark and dense and stands out well against the brighter backdrop of the nebula. Indeed, Barnard listed its opacity as 5 on a scale of 1–6, with 1 the least opaque and 6 the most.
I instantly spotted B89 at low power with the O III filter as a 1.5′ dark smear west-northwest of 7th-magnitude HD 165052. Careful study with averted vision brought out its dual-lobed nature. About 10′ due north of B89 a less opaque, unnumbered dark cloud also popped into view after determined use of averted vision.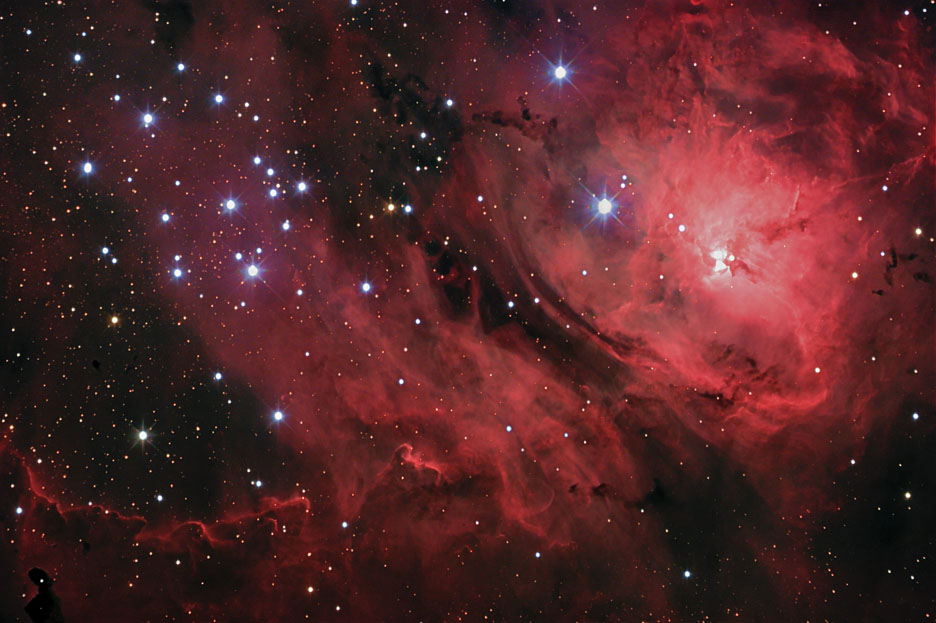 B88 takes a bite out of the nebula's northern border and although prominent in photographs it's a bugger to see because the bright nebulosity thins out here, providing less contrast. With a bit of effort I caught glimpses of this 3′ long "dark comet." On the opposite side of the nebula you can't miss B296, a triangular indentation along its southern edge easy to spot at low magnification. The northernmost section of the triangle is most opaque — Barnard gave it a 5.
A more diffuse, arc-shaped region of dark nebulosity runs up the eastern side of the star cluster to form a second easily visible, though lower in contrast, dark lane concentric with the primary lagoon. The main lagoon is very dark and sinuous, especially the southern half. A less opaque, more diffuse extension unwinds to the north. Together they form a striking spiral like a negative image of galactic spiral arms.
While I enjoyed viewing all of M8 goblin globules my favorites were two puffs I nicknamed Dab 1 and Dab 2 located 9′ and 1′ north of the star cluster, respectively. With averted vision they were absolutely breathtaking — puffs of darkness (one shaped like a comet) that resembled clouds silhouetted against a glowing aurora. I also circled additional dark nebulae on the photo visible through my scope. You may see more or fewer depending on the size of your telescope and the altitude of the Lagoon from your site. This I can vouch for: There's so much here to explore it will become your universe for a night, too.
For a sense of what it might be like to visit M8 up close, treat yourself to this short NASA video. For more detailed physical information about the Lagoon Nebula I recommend reading The Lagoon Nebula and its Vicinity by N. F. H. Tothill et al. Click here to see individual photos of the 300-plus dark nebulae in Barnard's Catalog.