Searching for that perfect astronomy-themed gift for a friend or loved one? Look no further, we've got you covered, with globes, atlases, calendars, and much more!
Top 5 Editors' Picks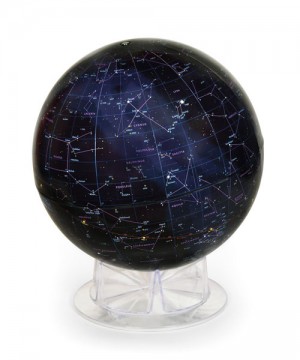 This 12-inch freestanding globe allows you to explore the stars with an "inside-out" perspective that closely matches what you see in the night sky.
This globe isn't just beautiful; it's incredibly detailed, plotting 2,934 stars down to magnitude 5.5, with more than 300 common star names, 550 Bayer star designations, and double and variable stars indicated. You'll find deep-sky objects, too, from the Messier and Caldwell catalogs.
Created by Sky & Telescope and manufactured by Replogle, you won't find anything quite like this globe anywhere else.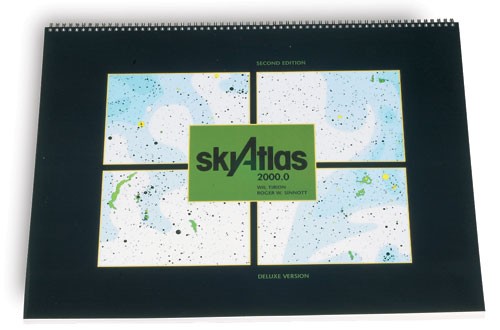 Associate Editor JR writes: "Every amateur astronomer has a "go-to" atlas, and the laminated version of Sky Atlas 2000.0 is mine – it goes everywhere my scope goes. I prefer to use these high-contrast, black-and-white charts out in the field so I can keep my red light use to a minimum, and the large scale makes it easy to see where I am at a glance. The charts go to magnitude 8.5, which gives me enough signposts to find my way to pretty much any target I seek.
"The atlas's laminated pages are designed to be durable and dew resistant, but that plastic coating offers another benefit: I can write directly on the smooth pages with white wax china marker, which makes it even easier to keep track during complicated star hops. A napkin cleans my scribbled notes right off.
"The atlas comes with a transparent sheet for assistance in gauging RA and Dec. More importantly, the sheet has a circle mimicking the field of view of a Telrad finder, making it even easier to match the eyepiece view to what's on the page."
3. Moon & Mars Globes ($99.99 each)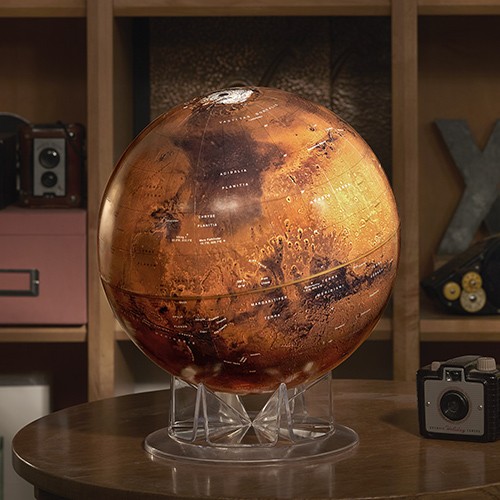 Have you wanted to step foot on Mars since you were little? Do you gaze at the Moon through your telescope and marvel at its craters and maria?
Now you can hold these worlds in your hands, examining their details as photographed from orbit at high resolution. Find the rover landing sites, trace the path taken by Mark Watney in The Martian (yes, we've done that), or help make sense of the view you're seeing through your telescope.
These 12-inch globes make perfect additions to any study or observatory.
The RASC Observer's Handbook 2019 provides an extensive listing of sky events throughout the year. It's a must have to plan your observing sessions and make sure you never miss an astronomical event.
The Observer's Handbook is a 352-page guide published annually since 1907 by The Royal Astronomical Society of Canada. With more than 75 contributors, the Observer's Handbook is regarded as the standard North American reference for data on the sky. This year, RASC has published a USA Edition, using American cities for examples of sunrise and moonrise, solar ephemeris, etc.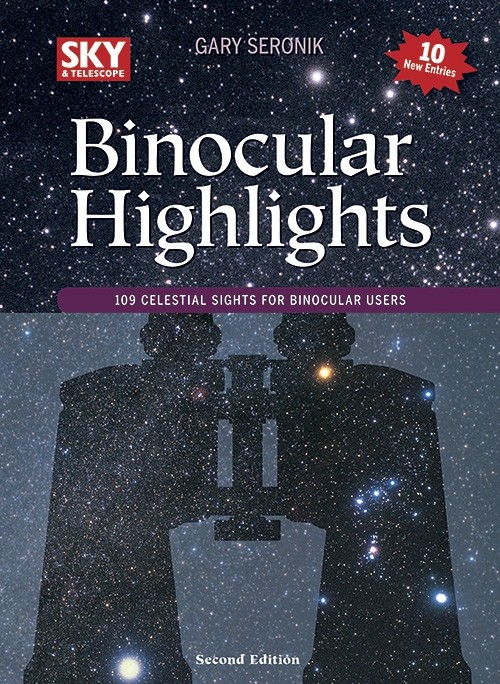 News Editor Monica Young writes, "You know what they say: The best first telescope is a pair of binoculars. The reason? Binoculars give the beginner the chance to explore the night sky in more detail without losing yourself among the thousands of scattered stars. Even for the veteran observer, binoculars offer you a chance to discover jewels you might miss in the narrower fields of view that telescopes offer.
"Binocular Highlights, the second edition of a long-time favorite, will guide you to those celestial jewels. I find it easy to select targets for the night, as the book is conveniently divided by season, and easy-to-use charts guide me to each object. Author Gary Seronik fills out each entry with additional advice, such as what is ok to see from light-polluted skies (such as those of my backyard) and what is better seen from darker locations.
"On a related note, the book is compact enough that it becomes an easy carry-on — along with your binos — for any trip."
Make sure you take advantage of our Black Friday and Cyber Monday deals!
Stocking Stuffers
These smaller and affordably priced products are incredibly useful — and beautiful — items for the astronomy enthusiast in your life.
Visit ShopatSky for more gift ideas!