PURCHASE PRINT ISSUE | PURCHASE DIGITAL ISSUE | DOWNLOAD BACK ISSUES | SUBSCRIBE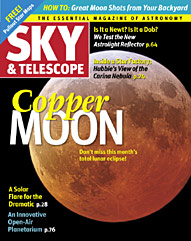 | | |
| --- | --- |
| | TABLE OF CONTENTS |
Spectrum
Denying Doomsday By Richard Tresch Fienberg
Letters
News Notes
A Galaxy Core's Shadow Play, Volcanic Vents on Mars?, and more . . .
Mission Update
By Jonathan McDowell
50 & 25 Years Ago
By Leif J. Robinson
Carina's Stellar Cauldron
With its latest, 400-megapixel mosaic, the Hubble Space Telescope weaves a grand tapestry of starbirth in the sprawling Carina Nebula. By Ray Villard
Hinode Reveals the Sun
Japan's newest Sun-watching satellite is providing dazzling close-ups of flares and other magnetic activity. By Monica Bobra
Beyond the Printed Page: Hinode's Solar Movies
read now
Rambling Through the Skies: Diamond in the Sky
Twinkle, twinkle, little star. How we've imagined what you are. By E. C. Krupp
Northern Hemisphere's Sky
The Double Allure of Ophiuchus By Fred Schaaf
Northern Binocular Highlight
The Fox's Coathanger By Gary Seronik
Southern Binocular Highlight
Pole Position By Les Dalrymple
Southern Hemisphere's Sky
South of Scorpius By Greg Bryant
Sun, Moon, and Planets
Jupiter at Dusk, Mars at Dawn By Fred Schaaf
read now
Exploring the Moon
Secrets of Descartes and Ina By Charles A. Wood
Celestial Calendar
A Lunar Eclipse in the Dawn By Alan MacRobert
Celestial Calendar
Dark Nights for the Perseids By Alan MacRobert
Deep-Sky Wonders
Return of the Hero By Sue French
Targets
In Caroline Herschel's Footsteps By Michael Hoskin
Beyond the Printed Page: Follow Along In Caroline Herschel's Footsteps
S&T Test Report: A Modernized Classic
Can a venerable Newtonian reflector on a newly designed altazimuth mount deliver the observing goods? We find out. By Gary Seronik
New Product Showcase
SBIG for Macs, Remote Control with a Cell Phone, and more . . .
Books & Beyond
Where'd All This Come From?, What Will Happen To It All?, and more . . .
Astronomy Online
Dragging the Stars Around By Stuart J. Goldman
read now
The Astronomy Scene
An Open-Air Planetarium By David Schlom
Star Trails
Visions of Lynette By David H. Levy
Event Calendar
Hobby Q&A
Did the Greeks name a constellation after Achilles?, Is a CCD camera 10 times better than a digital SLR?, and more . . .
Astrophotography
Good Moons from Bad Locations By Alan Friedman
Gallery
Astrophotos from Our Readers
Index to Advertisers
Focal Point
We Are Stardust: Spread the Word By Daniel Hudon