Dark Oceans and Into Thin Air: Oh The Places Astronomers Go

As seen within Earth's abyssal oceans, sunlight isn't a requirement for life. Turns out the solar system contains multiple potential locations where distinct alien lifeforms might flourish. Caleb Scharf, astronomer, astrobiologist, and author of our December issue cover story, takes you to those fascinating worlds. Dark oceans aren't the only places you'll find astronomers going. Astronomy has long migrated from civilization into the most remote locations on the globe. Author Tom Gale takes you there, too: into the thin mountain air where telescopes image the cosmos at their best. For more astronomy destinations, check out the December issue, where Sue French guides a tour through Cassiopeia, Charles Wood shows you how to find the oldest lunar basins, and much more.
Feature Articles
A Universe of Dark Oceans
The icy bodies of the outer solar system might be teeming with life.
By Caleb Scharf 
Reviving Astronomy in a Small Nation
After a tumultuous period when interest in astronomy virtually disappeared, the flame of astronomy has reignited in Nicaragua.
By Julio Vannini

Into Thin Air
Astronomers' continual quest for optimal seeing conditions has
ensured that leading observatories get built on ever-higher
mountaintops.
By Tom Gale

Visual Guide to the Cassiopeia A Supernova Remnant
Long thought unobservable, this important object displays
surprising detail through medium to large backyard telescopes.
By Howard Banich

Digging into PixInsight
Get more out of your astrophotos with this powerful software.
By Ron Wodaski

Beyond the Printed Page
Sky & Telescope 2016 and 2017 Eclipse Tours
Viewing a total solar eclipse tops an astronomer's bucket list, and you won't want to miss out on these.
Laniakea: Our Home Supercluster by Camille M. Carlisle
Find videos exploring our local cosmic structure.
Quark Nova Spotted in Cas A? by Shannon Hall
Two elements within supernova remnant Cassiopeia A hint at a second explosion.
Lunar Librations by Sean Walker
Librations and other lunar data for December 2014.
ALSO IN THIS ISSUE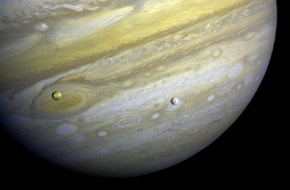 Jupiter Comes into Its Own
The King of Planets rises high before midnight in late December.
By Fred Schaaf
The Starry Heavens
Clusters and nebulae abound in compact Cassiopeia.
By Sue French

Celestron Package: A Lot for a Little
An ensemble of Celestron equipment provides excellent visual and photographic performance.
By Rod Mollise

Table of Contents
See what else December's issue has to offer.