Purchase Print Issue | Purchase Digital Issue | Download Back Issues | Subscribe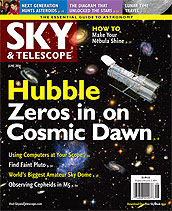 Looking back to cosmic dawn became possible with the advent of Hubble Space Telescope's 600-hour observing project - enjoy the ride as one of humanity's finest telescopes travels through time to learn about galaxy formation in the early universe. Let Hubble's journey serve as your inspiration for projects you can take on from your backyard. Take a peek at the globular cluster M5 and you'll find stunningly bright variable stars, or look to the Moon to do a little time travel of your own through 4.5 billion years of lunar history.
| | |
| --- | --- |
| | FEATURED ARTICLES |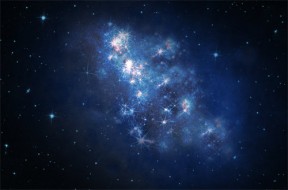 Staring Back to Cosmic Dawn
Hubble's single largest observing program is detecting the earliest galaxies, finding the most distant supernovae, and revealing the fireworks-like peak of star formation at cosmic high noon.
By Sandra M. Faber, Henry C. Ferguson, David C. Koo, Joel R. Primack & Trudy Bell
From Space to School
An international collaboration puts asteroid hunting in the hands of students.
By Lynne F. Zielinski & J. Patrick Miller
The H-R Diagram's 100th Anniversary
This year we celebrate the centennial of one of astronomy's cornerstone achievements.
By Jay M. Pasachoff
A Unique Amateur Planetarium
Ten years of dogged work brought forth this amateur astronomer's dream.
By Ron Legro & Avi Lank
M5 Surprise
The great globular cluster sports two stunningly bright variable stars.
By Howard Banich
Wired Astronomy
Initially a novelty item for amateur astronomers, computers are now almost as important as telescopes.
By Rod Mollise
Split-Star Processing with Images Plus
Reveal more nebulosity in dense star fields with this clever technique.
By Blair MacDonald
| | |
| --- | --- |
| | BEYOND THE PRINTED PAGE |
An Image Gallery of the Cosmic Dawn by Robert Naeye
Come see an additional image gallery for our cover story on the early universe.
Big Bang News by Camille Carlisle
Read the full story on what new results are saying about inflation's role in cosmology.
Learn to Star Hop by Monica Young
View a new simulation of a star sloshing before its ultimate demise.
Lunar Librations by Sean Walker
Librations and other lunar data for June 2014.
| | |
| --- | --- |
| | ALSO IN THIS ISSUE |

Saturn & Mars Rule the Night
Only two planets are visible during most of the night in June.
By Fred Schaaf
Pluto is for the Persistent
The brightest Kuiper Belt object? It's 14th magnitude in Sagittarius.
By Alan MacRobert
Lunar Time Travel
Observe 4.5 billion years of lunar history.
By Charles Wood
Table of Contents
See what else June's issue has to offer.