PURCHASE PRINT ISSUE | PURCHASE DIGITAL ISSUE | DOWNLOAD BACK ISSUES | SUBSCRIBE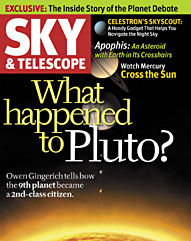 | | |
| --- | --- |
| | TABLE OF CONTENTS |
Spectrum
Pluto Doesn't Care By Richard Tresch Fienberg
Letters
News Notes
A Trip Through a Star, Hot, Heavy, and Highly Eccentric, and more. . .
Mission Update
By Jonathan McDowell
50 & 25 Years Ago
By Leif J. Robinson
Spotlight On . . . The Perseus Double Cluster
One of the night sky's most photogenic objects refuses to yield all its secrets. By Kenneth James
The Most Dangerous Asteroid Ever Found
Astronomers worry that the recently discovered asteroid Apophis could crash into Earth later this century. By Daniel D. Durda
Losing It in Prague: The Inside Story of Pluto's Demotion
A retrospective on the raucous process by which the world's astronomers defined the word "planet." By Owen Gingerich
read now
Rambling Through the Skies: The Transit Business
Mercury has a head for business and a bod for speed. By E. C. Krupp
Northern Hemisphere's Sky
Sauntering Among the Stars By Fred Schaaf
Northern Binocular Highlight
Star-Mist Cluster NGC 7789 By Gary Seronik
Southern Binocular Highlight
The Queen of Globulars By Les Dalrymple
Southern Hemisphere's Sky
Renamed and Reborn By Greg Bryant
Sun, Moon, and Planets
A Transit of Mercury, and More By Fred Schaaf
read now
Exploring the Moon
Imbrium Mayhem By Charles A. Wood
Celestial Calendar
The November 8–9 Transit of Mercury By Alan MacRobert
Celestial Calendar
Leonid Meteors: A Last Hurrah? By Joe Rao
Celestial Calendar
A Binocular Comet for Fall By Greg Bryant
Eye on the Sky
The Sound of Silence By Stephen James O'Meara
Deep-Sky Wonders
Sovereign Splendors By Sue French
S&T Test Report:
Celestron's SkyScout
A hand-held gizmo that identifies celestial objects? Luke Skywalker probably owns one, and now, thanks to Celestron, so can you. By Dennis di Cicco
New Product Showcase
"IS" Astrographs, Heavy-Duty Scope Covers, Megapixel CCD Camera, and more . . .
Books & Beyond
An Astrobiological Twist on Taxonomy, America's Astronomy King, and more . . .
Astronomy Online
Singularity Sensation By Stuart J. Goldman
The Astronomy Scene
A New Vision for an Old Society By Pamela L. Gay
Event Calendar
Star Trails
Falling Free By David H. Levy
Hobby Q&A
Where can I find a small, portable sidereal clock? Would any constellations be recognizable from another star? and more . . .
read now
Astrophotography
Going Deep with a DSLR By Chuck Vaughn
Gallery
Index to Advertisers
Focal Point
When to Say When By Garth Sundem