SUBSCRIBE TODAY | ISSUE INDEX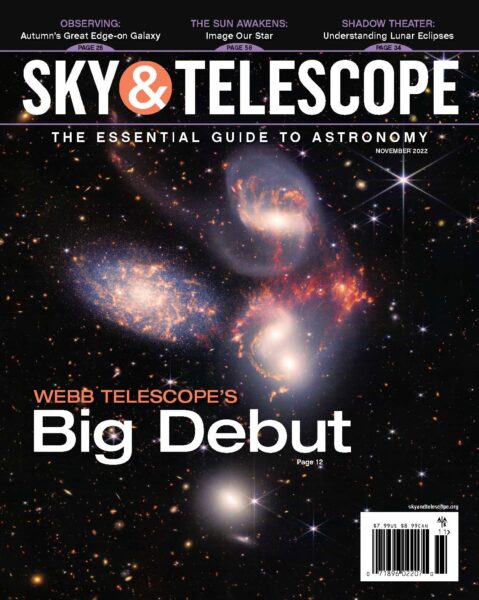 James Webb Space Telescope, Black Holes, and Lunar Eclipses
In the November 2022 issue of Sky & Telescope, we take an in-depth look at the first images from the James Webb Space Telescope and what they mean for astronomy going forward. If you're interested in hunting down your own deep-sky bounty, the edge-on spiral galaxy NGC 891 and its neighbors are excellent targets for late fall. The Sun is another excellent target as the solar cycle continues to increase toward maximum. Catch a few sunspots and solar flares with our guide to imaging the Sun this month. Finally, don't miss the last lunar eclipse of 2022. This month's eclipse also happens to coincide with a lunar occultation of Uranus!
FEATURE ARTICLES:
The first data from the James Webb Space Telescope demonstrate unprecedented capabilities.
By Monica Young
The Search for Middle-weight Black Holes
Elusive intermediate-mass black holes hold the key to understanding their supermassive siblings.
By Jenny Greene
Cosmic Cataclysm in South America
Evidence of an ancient aerial explosion points to an ongoing danger.
By Peter H. Schultz and Thomas A. Dobbins
The Great Edge-On Galaxy of Autumn
Spend some time with the splendid NGC 891 and its neighbors.
By Howard Banich
Celestial geometry and Earth's atmosphere combine to create a spectacular sight.
By Anthony Mallama
As the solar cycle ramps up, it's a great time to photograph our star.
By Sean Walker
Beyond the Printed Page:
Join the Deepskyhunters' online forum and help track down hitherto unknown deep-sky objects.
Learn more about the asteroid that almost swallowed a spacecraft whole.
Check out Anthony Mallama's technical paper on a model that can predict the dimming and color of lunar eclipses.
See the latest planetary nebulae candidates and contribute your observations or discoveries.
ALSO IN THIS ISSUE:
Algol is much more than the star of a mythical tall tale.
By Fred Schaaf
November's total lunar eclipse will be widely visible across the Americas.
By Bob King
Seeing the True Colors of Mars
A lesson for astronomers from a chemist.
By Thomas A. Dobbins
Off the Beaten Track in Perseus
Two open clusters in southern Perseus are modest but worthy targets.
By Ken Hewitt-White
Table of Contents
See what else November's issue has to offer.