SUBSCRIBE TODAY | ISSUE INDEX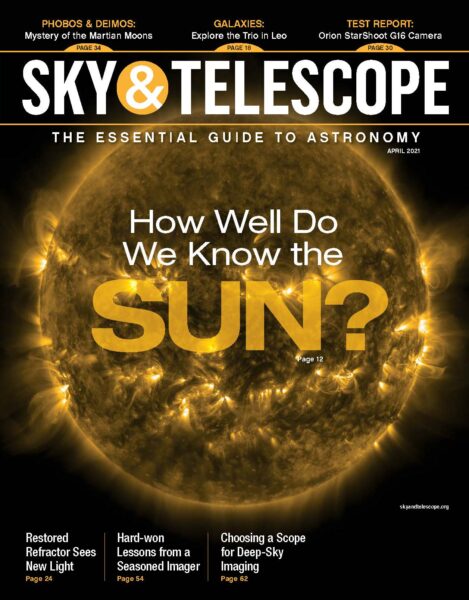 The Sun, the Leo Triplet, and the Martian Moons
In the April 2021 issue of Sky & Telescope, we're taking a closer look at the Sun and discussing the solar abundance problem that has two rival groups of astronomers up in arms. Meanwhile, one stalwart astronomer protected and renovated a historic observatory in Seattle, Washington, to teach future generations about astronomy in the early 1900s. In its over-a-century of operation, the telescope at the Theodore Jacobson Observatory has likely seen many spectacular sights, and now thanks to Ana Larson and colleagues, it will see many more. The April sky offers plenty of celestial delights, among them the galaxies of the Leo Triplet. They're magnificent even in small telescopes, but Howard Banich breaks out the big scopes to sketch the details of M65, M66, and NGC 3628. To figure out the origin of the Martian moons, even big telescopes won't suffice — we'll need a mission that touches the surface of Phobos and returns a sample to Earth.
FEATURE ARTICLES:
Even though the Sun is our nearest star, we may not understand it as well as we thought.
By Colin Stuart
A compact collection of galaxies warrants not only observing but also sketching.
By Howard James Banich
Resurrecting a Classic Refractor
It took an astronomer who refused to give up on herself to save a historic observatory for a new generation.
By M. Nicole Nazzaro
The Mystery of the Martian Moons
Planetary scientists may soon discover how the Red Planet acquired its two potato-shaped companions.
By Javier Barbuzano
Here's a clever way to compare features in deep-sky imaging scopes before making a purchase.
By Oleg Bouevitch
Beyond the Printed Page:
Observing Resource: Aladin Lite
Use Aladin visualize your targets and calculate their distances.
Visit the historic observatory written about in "Resurrecting a Classic Refractor" once it's open again.
Read detailed descriptions of several variable galaxies written by German astronomer and author Wolfgang Steinicke.
Learn more about the myth surrounding Pollux and Castor.
ALSO IN THIS ISSUE:
Pollux and Castor's April Prominence
The most famous two-star pattern in the heavens deserves a second look.
By Fred Schaaf
Solar Cycle 25: Full Speed Ahead
Sunspots are beginning to appear on the solar disk after a prolonged lull.
By Bob King  
Why are some craters filled with smooth lavas and others aren't?
By Charles Wood
I Wish I'd Known Then What I Know Now
Learn from an experienced astrophotographer's early mistakes.
By Ron Brecher
Table of Contents
See what else April's issue has to offer.