SUBSCRIBE TODAY | ISSUE INDEX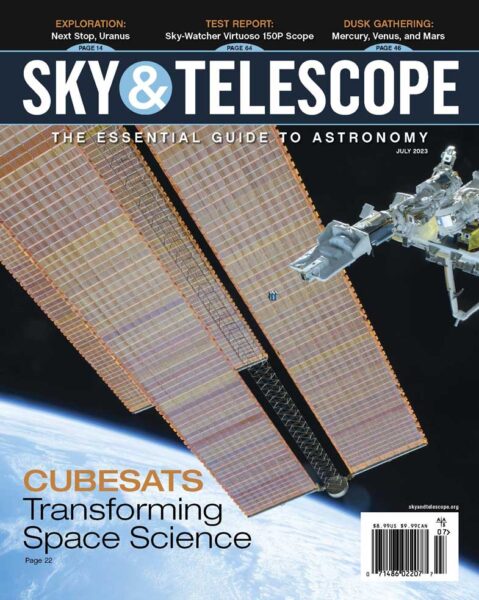 CubeSats, Apodizing Masks, and Driveway Planetaries
In the July 2023 issue of Sky & Telescope, we're learning about astronomers who are sending out a veritable swarm of satellites to study our solar system. These briefcase-size craft are less expensive than the full-size versions, enabling students to send their own satellites into space. While these little spacecraft allow us to investigate our home planet and the Moon, astronomers are petitioning to send a flagship mission much farther than that, to study Uranus and its moons. Also in this issue, we're breaking out the telescopes to snare a few planetary nebulae from our urban and suburban driveways. Then, we test out a simple design for apodizing masks that can be made at home using basic tools and supplies.
FEATURE ARTICLES:
Planetary scientists want their next flagship mission to target one of the ice giants in the outer solar system.
By Emily Lakdawalla
Briefcase-size craft have become game-changers in space exploration.
By Alastair Isaacs
Follow this guide to learn how to snag a clutch of planetary nebulae under city skies.
By Don Ferguson
One hundred years ago astronomers thought large, cool stars were destined to become stars like the Sun.
By Ken Croswell
One-Dimensional Apodizing Mask
Try this simple mask design to see uneven double stars.
By Sordini & Harold Suiter
Beyond the Printed Page:
Read all about the first sighting of active volcanism on Venus.
See Uranus's rings through the eyes of JWST.
Sign up for alerts from the American Association of Variable Star Observers.
Create your own one-dimensional apodizing mask for hunting down uneven double stars.
ALSO IN THIS ISSUE:
Visit one of the most striking zodiacal constellations.
By Fred Schaaf
Distant Pluto Beckons at Opposition
July is the best time to challenge yourself by trying to catch this famous but faint dwarf planet.
By Bob King
Will observers be treated to an atmospheric display this apparition?
By Thomas A. Dobbins and Charles A. Wood
A superb binocular target, the beloved Coathanger also invites telescopic inspection.
By Ken Hewitt-White
Table of Contents
See what else July's issue has to offer.