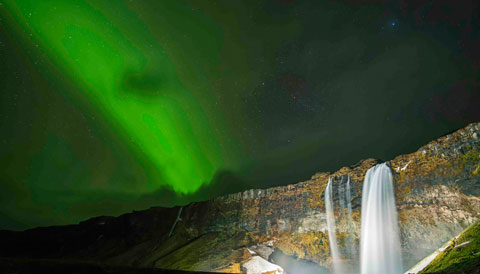 Have you ever seen the aurora borealis? When it really gets going, it's a breathtaking sight. The sky can go from no trace of the aurora to all green in minutes.
This happened to our Sky & Telescope group last October. We'd driven out of the capital city of Reykjavík ("Smoky Bay") to a distant mountainside at night. When we first arrived, there was "nothing doing," as our Icelandic guide put it. But within minutes, as if tipped off by our guide, the sky to the north began to shimmer. Soon silky shreds of aurora tinted a pale green began to spread across the sky.
A half hour later, our entire northern view was rippling, brightening, changing shape. Gasps went up continuously from members of our group, many of whom had cameras at the ready on tripods. Their photos teased out hints of pink, crimson, and lavender in the tongues of faux flame leaping overhead.
You can have the same opportunity this October. We have chosen the dates of S&T's 4th annual Iceland aurora tour to maximize our chances of viewing the spectacular northern lights. Our group will arrive not long after the equinox, when auroras tend to be strongest, and the moon will be new so its light won't be a distraction. Plus, we're still close in time to the solar maximum, which brings out the best auroras. And Iceland sits right along the auroral oval, a girdle around the Far North where the northern lights are most common.
Finally, our travel partner Spears Travel has arranged the trip so that guests will have multiple chances to get far away from any light pollution and into the deep natural dark of rural Iceland. Bring your red flashlight!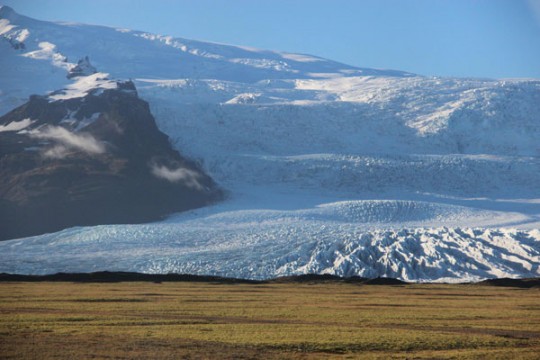 And that's just the nighttime activity. During the day - when auroras do happen, by the way, we just can't see them - our group will be treated to a first-rate tour of this fascinating country. Iceland is not far from the U.S. or mainland Europe, but it might as well be a world away.
The landscape is stunning, with rugged mountains, tumbling glaciers, and moss-draped lava fields stretching as far as the eye can see. Towering waterfalls, bubbling mud pits, bursting geysers - our group will see all of them, even as we enjoy the fruits of a fully modern nation with mouthwatering food and a vibrant culture born of a thousand years of Norse occupation. Based in Reykjavík, we'll venture out to the site of the world's first parliament, to captivating small towns along the coast, and to historic and natural sites within the famous Golden Circle.
Want to join us?
For details, see the full itinerary.
If you're ready to book it, please do so here.