Sky & Telescope's latest tour to catch the aurorae was a fun-filled adventure in the northern reaches of Finland.
What do the words "Finnish Lapland" conjure? For some, it might be reindeer and their patient Saami keepers. For others, it could be long cross-country skiing treks across the taiga. Maybe some think of Santa Claus and his busy elves. Or possibly it's the sound of eager huskies barking, chomping at the bit to hit the sledding trails. But by far the most evocative image must be that of the shimmering northern lights, dancing overhead in arcs and curtains of green and red and possibly even purple.
On Sky & Telescope's latest tour with Collette, a six-day foray into Finland, participants placed a big satisfactory check mark next to each of the items above.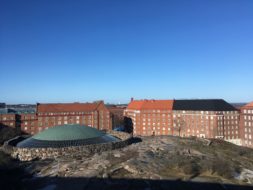 The tour started in Finland's elegant capital city, Helsinki, with a welcome dinner at a top-notch restaurant inside a converted, candlelit courtyard. It was stylishly surreal. The next morning, our bubbly local bus guide took us on an informative bus ride through the city. We drove through the downtown harbor and marketplace and disembarked at Helsinki Cathedral, an iconic landmark. Have you seen the movie Reds? It, like so many other movies set in Russia and the Soviet Union, was filmed in and around Senate Square (at the foot of the cathedral's imposing stairs) during the Cold War years. After another pit stop at the new public library, Oodi, we continued on to the Sibelius Monument, a modern sculpture by Eila Hiltunen in honor of Finland's greatest composer, Jean Sibelius. Our guide played the final few rousing minutes of Sibelius's Finlandia — a tune played far more often than the national anthem and that produces goosebumps in all Finns (including this half-Finn here). We concluded our tour at Temppeliaukion kirkko, an amazing structure blasted right out of a mass of granite — the walls bear the marks of the drills and the dynamite that carved it out.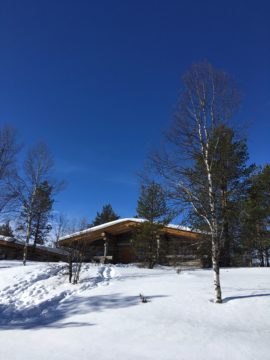 The morning after we boarded a plane for Ivalo, and from there we embarked on our Lapland adventure in the company of our tour guide, the fabulous and enthusiastic Abby. Upon arrival, we were bused out to Kakslauttanen Arctic Resort, where we dispersed to our log cabins. After unpacking and investigating sauna possibilities, we had the afternoon off to explore the grounds of the resort before dinner.
Anticipation of seeing the aurorae gained momentum as we were coached out to a dark location in the Urho Kekkonen National Park. Unfortunately, the dark location was very dark due to drifting clouds, but that didn't dampen Abby's spirits. On the contrary — she saw this as a challenge for all of us to explore our skills in observing what she called "blind aurorae." Growing up in the northern United States, Abby had developed several methods for spotting aurorae through thin clouds, including digital photography and averted vision. We huddled in the car park and squinted and looked sideways and some even lay on the ground. Yes, that would be on the snow. Many had set up photographic equipment. Through rifts in the cloud cover, we thought we could see hints of arcs of light. Exclamations of "I think I see it!" and "Yes, there's something now!" and "I'm sure I can see something forming!" wafted up from various clusters of aurora-hunters. Our sightings were confirmed, to many gasps of oohs and aahs, in images some of the photographers captured. We wanted to see more!
But as the cloud cover thickened, we realized with resignation that it was time to go back to the hotel. And to bed. But Abby had a plan in place. She would set her alarm for every 45 minutes, and if she spotted auroral activity, she would knock on doors that had our name badges hanging outside. Seeing the clouds gathering overhead, we went to bed, badges on doors, not really expecting to be woken up. Several hours later, just as I was drifting off to sleep, there was a pounding on my door. I sat up, startled, not sure of what was going on. Then I remembered. The northern lights! That must've been Abby's signal! (As it turned out, Abby had caught a nasty bug on her flight over, and was doing very poorly, but two alert young ladies in the group took it upon themselves to monitor the situation and rouse the sleepyheads — thank you, Allyson and Lindsey!)
Pulling boots on and donning a coat over my pajamas, I stepped outside to find many from our group wandering the paths that connected our cabins. Everyone was looking up. I, too looked up, and gasped. What a sight! These weren't the stunning green curtains that sometimes fill half the sky, but were a ghostly milky-green collection of shape-shifting clouds, pulsating overhead. Sometimes they raced across patches of sky. Sometimes they puffed and billowed. But they were there.
We must have spent nearly an hour outdoors, in the darkness, admiring the caprices of the aurorae, and reluctantly returned to our cabins when the activity subsided. It didn't recede entirely, but my legs were freezing (remember the pajamas) and I wanted to get some rest before all the activities planned for the following day.
After breakfast the next morning, a jolly bunch of tour participants trekked over to Santa's lair, guided by one of his industrious elves. I firmly believe that some asked Santa for a northern lights display, because that evening . . . Well, more on that later.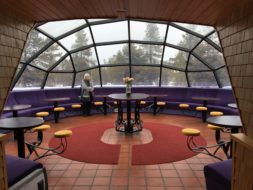 In the afternoon we congregated in the Igloo Bar that abutted the main lobby of the hotel for a Happy Hour of Science. During our informal chitchat session, I was impressed to hear how many had tried the sauna and rolled in the snow afterward! We learned about each other, our shared passion for all things astronomical, and discussed the science of the northern lights. After dinner, we donned full-body parkas in preparation for the reindeer sleigh ride in our continuing hunt for aurorae. Making swishing noises, we crunched across the icy snow to our Saami guides and their charges. We stepped into the sleighs, in twos, and headed off into the darkness. What a magical moment — all we could hear was the wind soughing in the distance, reindeer hooves picking their way across the trails, and the sleighs slicing through the icy snow. Looking up, we could see there wasn't a cloud in the sky, and the stars emerged in all their glory. After some 20 mesmerizing minutes, we arrived at a kota, a Saami dwelling consisting of a conical framework of poles covered in reindeer hides, and warmed up by a roaring fire, sipping hot juice. We had a few moments to ask our Saami guides questions, which they patiently answered. Getting back into our sleighs we returned toward the hotel area, when lo and behold, the skies filled with two shimmering green arcs stretching from horizon to horizon. Shouts of "Aurorae" and "To your left" wafted up from various sleighs above the sounds of hooves. It's impossible to describe that moment of sheer wonder, sitting snugly in a sleigh pulled by a reindeer in the middle of the night in wintry Lapland, listening to those unique sounds, and witnessing physics happening right in front of our eyes.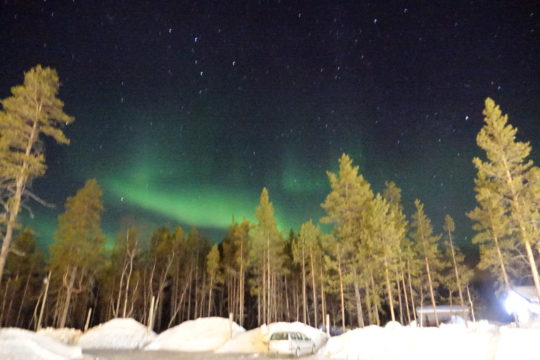 After long goodbyes to our Saami guides and our dutiful reindeer, we headed back to discard our parkas when the skies suddenly exploded with gleaming green curtains, tinges of red at the top and patches of purple at the bottom. Many of us were rendered helpless at the sight, exclaiming our appreciation, but thankfully a few were quick-minded enough to snap some shots. We all admired the photos the next day, which brought back memories of a most magical night.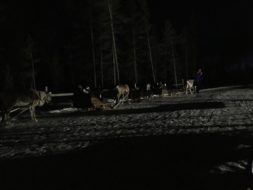 The next morning started vigorously with a husky sledding expedition (I'm still catching my breath). Boy, do those dogs have energy! Again in twos, but now with one standing behind on the sled runners and the other seated, we blasted onto the icy trails. Upon our return, a head count reassured us that none of our group had been whisked away into the wilderness. Another Happy Hour of Science followed individual afternoon activities, and then for those of us who had not upgraded to the combined cabin-plus-igloo accommodations, it was move-in time to our igloo. The igloo field at Kakslauttanen is quite a sight: a collection of glass bubbles scattered as far as the eye can see. Snug in our igloos after dinner, we eagerly awaited another light show. And waited. And waited some more. And struggled to stay awake. But we were determined to catch one more peek at the aurorae, if only they'd show up. Eventually we were rewarded with the ghostly milky-green shape-shifting spectacle of a couple of nights back, as well as an ethereal arc that shimmered above the horizon.
It was time to pack up and go back to Helsinki, and from there, back home. I'm sure everyone boarded their flights with their heads filled with the sights and sounds of Finnish Lapland — including being marvelously shepherded along for all our activities by the indomitable Abby (she remained rather ill throughout the tour but never once abandoned us — thank you, Abby!). For my part, I'm very much looking forward to another opportunity to visit the Saami and witness their guovssahas. Will you join me on our next trip to the land of the "lights you can hear?"
---
Find more astro-tour possibilities with Sky & Telescope!