Astronomers poring through two decades of archival and survey observations have discovered what looks like a pair of supermassive black holes closing in for a merger.
When galaxies merge, astronomers expect the supermassive black holes lurking in the galaxies' cores to form their own dancing duos. Theorists predict that these black holes inspiral and coalesce, and such mergers undoubtedly play a role in building up the beefiest black holes (we're talking billions of solar masses).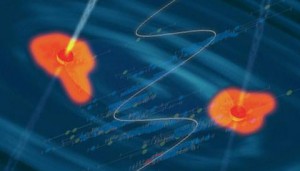 Yet despite their theoretical abundance, black hole binaries have proven difficult to find. Astronomers have found plenty of circumstantial evidence for black hole pairs in galactic centers, but often the evidence can be interpreted in many ways, or the pair is too far apart to conclusively qualify as a merger-bound binary.
The best candidate so far has been OJ 287, which puts on a pair of optical outbursts every 12 years. These flares stand out even against the violent variability typical of blazars, quasars that point their jets right at us as OJ 287 does. OJ 287 shows up in photographic plates as far back as 1887, as seen in the Harvard College Observatory's archive, Jonathan Grindlay (Harvard-Smithsonian Center for Astrophysics) reported on January 7th at the winter American Astronomical Society meeting. Astronomers have speculated that the double-peaked outbursts might come from a supermassive black hole punching through the accretion disk around a second black hole of comparable size.
Now an even better candidate might join the very short list of known black hole binaries. Matthew Graham (Caltech) and colleagues announced their discovery of the closest-hugging black hole binary candidate yet on January 7th in Nature and at the AAS meeting.
Black Hole Binary in a Haystack
The source, PG 1302–102, is a "vanilla" quasar, lacking the ferocious Earth-pointing jet that can block the view of black hole dynamics. Oddly enough, it pulsates with a period of about 5 years. The team found the source within the data pouring out of the Catalina Real-time Transient Survey (CRTS), which uses three ground-based telescopes to monitor about 80% of the night sky.
PG 1302–102 is actually one of 20 periodic sources that the team found essentially on a whim. They were aiming to study quasar variability: quasars are notoriously variable at all wavelengths, but randomly so — usually, there's no regularity to the peaks and dips in brightness. Yet when the team ran algorithms to check a sample of 247,000 quasars for regular pulsations in brightness, these 20 popped up.
Statistically, the team would only have seen 1 periodic source if it were a fluke, so seeing 20 gives them confidence that the periodic phenomenon is real. The discovery rate (20 out of 247,000) is also close to that expected by theorists for binary black holes separated by less than a tenth of a light-year, as this one seems to be.
PG 1302–102 is the "best-looking" of the bunch, which is why the astronomers are presenting it first. But study coauthor S. George Djorgovski (Caltech) says they're working on the rest. "Studying the full sample would give us more confidence than any individual case."
Astronomers still don't have a good handle on what happens in the final few light-years of a black hole merger (a conundrum called the "final parsec problem"), but PG 1302–102's (purported) black holes will likely merge in a few hundred thousand to a couple million years. The elliptical galaxy they sit in has also long shown signs of being the product of a merger; it's hard to say exactly how long ago it formed, but probably a few hundred million years ago.
The team thinks most of the 20 sources it found are black hole duos en route to merging. Given the span of time CRTS has observed, the other 19 should also have periods on the order of a few years and will likely have similar separations. The exact distances between the leviathans depend on what the black hole masses are. The team can't separate those out, but they can estimate a combined mass for PG 1302–102's pair of a few hundred million solar masses.
Black hole binaries are a potential source of gravitational waves, ripples in spacetime creating by accelerating masses. Astronomers have not yet directly detected gravitational waves, although they've seen indirect evidence of them. But PG 1302–102's gravitational waves would have too low a frequency for ground- or space-based instruments to detect them. And even studies using pulsar timing arrays — which look for spacetime ripples by watching for hiccups in the neutron stars' lighthouse-like pulses — aren't currently sensitive enough. Although the gravitational wave frequency would be on the order of 10 nanohertz, which is where PTAs are most sensitive, PG 1302–102 is too far away and its binary isn't massive enough for detection as an individual source, explains researcher Alberto Sesana (Max Planck Institute for Gravitational Physics, Germany). The system would need to be at least 10 times more massive for next-gen PTA studies — possible, given the error bars, but a stretch. Instead, this source is likely one of several thousand that contribute to the expected "gravitational wave background" (like the cosmic microwave background, but in gravitational radiation).
Even watching for the period to shorten with time as the black holes inspiral is beyond human timescales, says Scott Hughes (MIT). Assuming for simplicity's sake that both black holes are the same mass, it would take 18,500 years for the period to shrink by 100 days. "A bit long for a PhD thesis, I'm afraid!" he says.
You can read more about the science behind the discovery in Caltech's press release.
Web editor Monica Young contributed to the reporting of this news blog.
Reference: M. J. Graham et al. "A possible close supermassive black-hole binary in a quasar with optical periodicity." Nature. Published online January 7, 2015.
For more information on black holes, enter your email to join the Sky & Telescope newsletter and download your FREE Black Holes eBook.