Saturday, April 29, 2023, is Astronomy Day! Here are some easy ways you can explore the sky.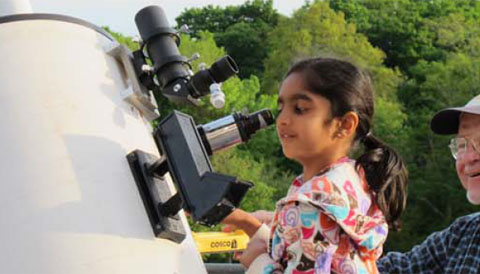 This Saturday, we're celebrating Astronomy Day in what for many clubs and organizations marks a return to large, in-person events.
Twice a year, the astronomical community congregates on Astronomy Day. In 1973, Doug Berger, then president of the Astronomical Association of Northern California, founded the event as a way of engaging local communities in the science and hobby of astronomy — he wanted to "bring astronomy to the people." What started as one day in the springtime has since expanded to become a biannual occurrence. (Promoted by the Astronomical League, Fall Astronomy Day was introduced in 2007.)
International Astronomy Day is traditionally scheduled for a Saturday between mid-April and mid-May that is closest to or before the first-quarter Moon. This year, Astronomy Day falls on Saturday, April 30th, when the Moon will be just one day past first quarter.
How Can I Participate?
To celebrate the day, many science museums and planetariums host special programs and exhibits. If you live within driving distance of an observatory, see if they offer open houses to the general public. Local astronomy clubs participate by organizing star parties in the evening.
You can also start observing during the day! Many clubs will set up solar scopes — if you're lucky, you might catch a glimpse of sunspots. (But remember, protect your eyes and don't look at the Sun directly.)
Bear in mind that some clubs and associations may organize events on days other than Saturday to best suit their schedules. Remember to also check your local news outlets — your neighborhood park might have a fun program in store for you.
If you're not a member of an astronomy club, browse through our clubs directory to find one near you. You can also search for observatories, planetariums, and science museums.
We've also listed a selection of events below, aimed at all ages. (If you know of other events, list them in the comments and we'll add them to this post as we're able!)
Astronomy Day Events
British Columbia Simon Fraser University's Rendezvous and International Astronomy Day, Saturday, May 13, 2023, 11:00 a.m.–3:00 p.m., SFU's Burnaby Mountain Campus, Burnaby
United States
Arkansas Central Arkansas Astronomical Society's National Astronomy Day, Saturday, April 29, 2023, Visitor Center, 2:00 p.m. - 10:30 p.m., Pinnacle Mountain State Park, 11901 Pinnacle Valley Road, Little Rock
Colorado Western Colorado Astronomy Club Public Observing Night, Saturday, April 29, 2023, 9:00–11:00 p.m., Highland State Park
Illinois Northwest Suburban Astronomers' Astronomy Day, Saturday, April 29, 2023, 5:00–9:00 p.m., Harper College, Algonquin Road Building Z, Palatine
Kentucky West Kentucky Amateur Astronomers Astronomy Day, Saturday, April 29, 2023, 10:00 a.m.–2:00 p.m, Golden Pond Planetarium and Observatory, 238 Visitor Center Drive, Land Between The Lakes
Louisiana Highland Road Park Observatory's International Astronomy Day, Saturday, April 29, 2023, 3:00–11:00 p.m., Baton Rouge
Massachusetts, Springfield Museum's Annual Astronomy Day, Saturday, April 29, 2023, 10:00 a.m.–5:00 p.m., 21 Edwards Street, Springfield
New Mexico Rio Rancho Astronomical Society's National Astronomy Day, Saturday, April 29, 2023, begins 5:00 p.m., Rainbow Park Observatory, 301 Southern Blvd, Rio Rancho
New York Astronomy Day 2023, Saturday, April 29, 2023, 11:00 a.m.–3:00 p.m. and 8:00-10:00 p.m., Vanderbilt Museum, 180 Little Neck Road, Centerport
Pennsylvania Astronomy Day at the North Museum, Saturday, May 11, 2019, 7:00 a.m.–9:00 p.m., North Museum of Nature and Science, 400 College Avenue, Lancaster
Virginia Northern Virginia Astronomy Club, Saturday, May 13, 2023, 6:00–11:00 p.m., C. M. Crockett Park, 10066 Rogues Road, Midland
Canada
Alberta Royal Astronomical Society of Canada Edmonton Centre International Astronomy Day, Saturday, April 29, 2023, 1:00 p.m. to midnight, Edmonton Centre
Need Help Planning?
To help organizations and individuals plan programs, the Astronomical League and Sky & Telescope partnered to write the Astronomy Day Handbook. Written by David H. Levy and updated by Gary Tomlinson, the guide offers suggestions for conducting large and small programs.
Also available for printing and handing out is the Astronomical League's The ABCs of Stargazing sheet, which can help you explain the basics of our hobby to newcomers.
Consider distributing the Good Outdoor Neighbor Lighting flyer, an information sheet on light pollution and how we can work together to minimize it, at your event as well.