Jupiter is at opposition on August 19th. If we take the long view — 12 years long — we can watch Jupiter's oppositions as it passes through the zodiac constellations.
Jupiter will be at opposition on August 19th among the dim stars of the constellation Aquarius. When at opposition Jupiter appears directly opposite the Sun as seen by us on Earth — which means it'll be at its biggest and brightest of the year. (Saturn came to opposition on August 2nd.)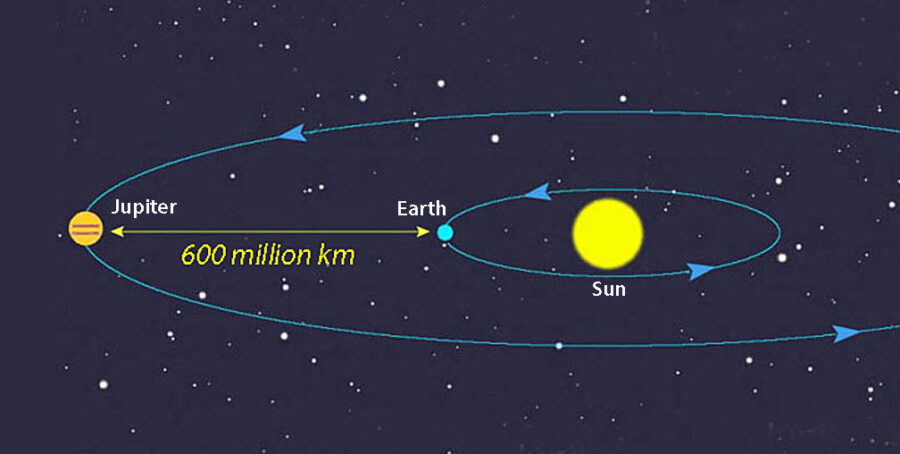 At times like these, it's interesting to think about what's actually happening. After all, everything in space is moving all the time, so there's more going on than Jupiter crossing an invisible finish line. Jupiter is on average five times farther from the Sun than Earth, and it takes much longer to complete an orbit than our planet does, 12 years to our 1 year. So, another way to think of opposition is that Earth is catching up with and speeding past Jupiter, like runners on an enormous race track. Put another way, we reach opposition with Jupiter as we pass it by.
Since Jupiter moves through 1/12 of its orbit per year, it takes a year, plus time for the 1/12 of an orbit Jupiter has moved, for us to catch back up with it. This means we reach opposition with Jupiter about every thirteen months.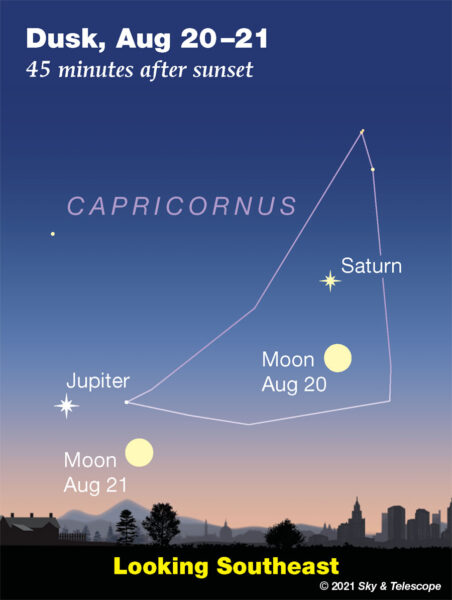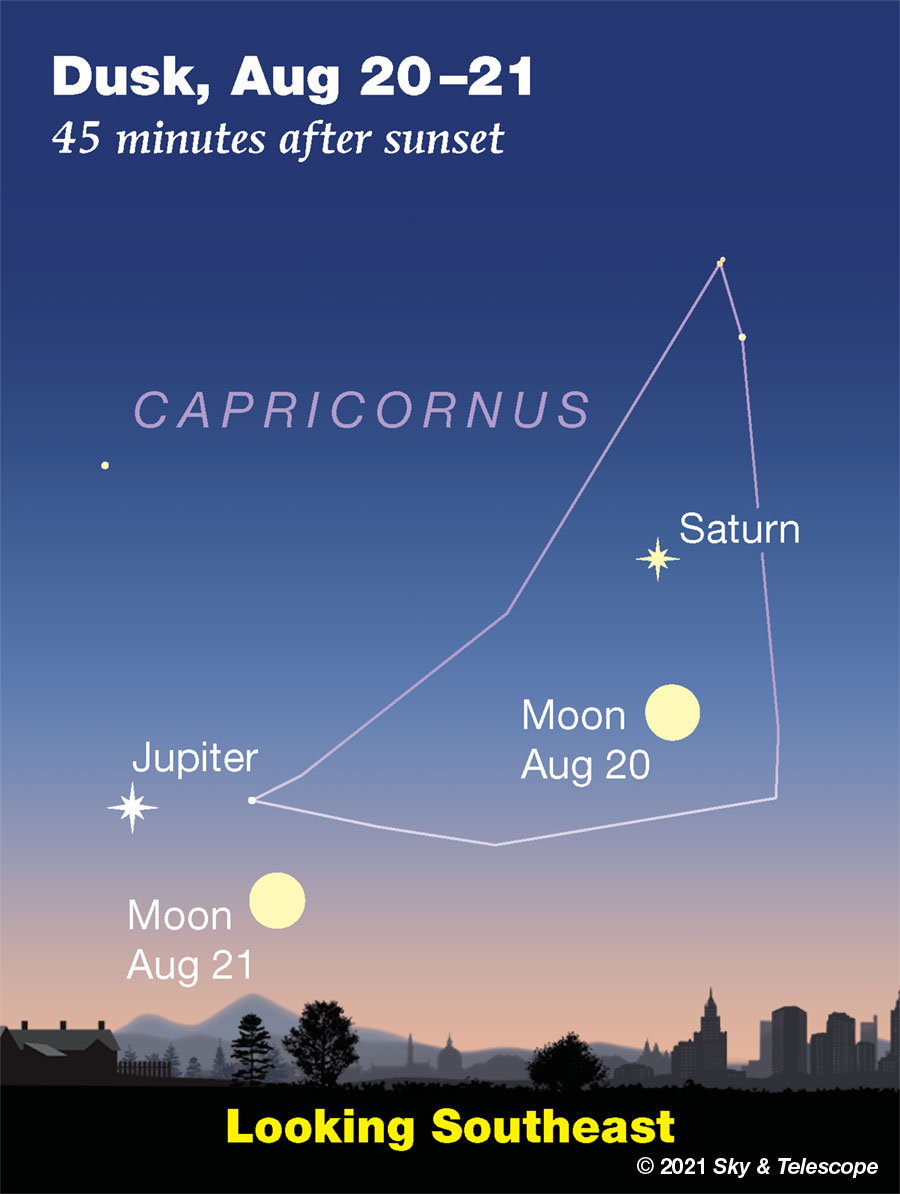 This pattern gives us a chance to use Jupiter as our guide for a 12-year observing project. I know this sounds a little absurd but all you need to do is remember to look up. Let's start this week.
Jupiter is bright and easy to find, except when it's near conjunction and is either too close to the Sun to see or is tough to spot through the bright sunlight. So, let's keep an eye on it as much as we can. As the leaves change and fall, as the snow piles up, melts, and the leaves come back, let's watch Jupiter. As neighborhood kids laugh one day and learn to drive the next, and as a little more gray creeps onto our heads, we can watch whenever we have a chance. Where is Jupiter? What stars are nearby? What deep sky objects?
Through the Zodiac
These are the next 12 oppositions and the constellations Jupiter will be in for each one:
August 20, 2021: Aquarius
September 26, 2022: Pisces
November 1, 2023: Aries
December 6, 2024: Taurus
January 9, 2026: Gemini
February 10, 2027: Leo
March 13, 2028: Virgo
April 13, 2029: Virgo
May 14, 2030: Libra
June 16, 2031: Ophiuchus
July 20, 2032: Sagittarius
August 25, 2033: Back in Aquarius
As time goes on, we can see and imagine Jupiter's moons and striped clouds sweeping through the stars. As the year goes on, our view of the solar system — and on the galaxy — changes, pointing in different directions, in the same way that we see Orion and Auriga in winter, and Aquila and Delphinus in summer.
When Jupiter comes back to Aquarius in August of 2033, we'll have watched it through an entire one of its years. Can you imagine where we'll be then? Who will win those World Series? What diseases will we cure? Will crews make it to Mars? Will we finally get those flying cars?
During all that time, we'll have seen Jupiter move eastward among the background stars of all of the zodiac constellations, by about one constellation per opposition. (You'll notice in Cancer, Scorpius and Capricornus are missing from the list. Jupiter crosses them, but not near an opposition. Also, Virgo is the largest zodiac constellation, so it takes longer to cross.)
If we have more time, we can try the same thing with Saturn. It takes about 29 years to take the same path through the stars. Each opposition is separated by a year plus about two weeks. Watching Uranus through its 81-year orbit would be remarkable, a lifetime of sky-watching.
To do the same with Neptune (165 years), Pluto (238 years), or more distant objects, we'd need some help from an immortality potion. But just imagine where humanity will be in that distant future if we were to start watching today.
It seems like an enormous commitment, but let's give this a try. I hope you'll add Jupiter to your list and start this week!
---