Jupiter comes to opposition on August 20th, when it will shine brighter and closer than at any other time this year. With nights starting earlier and cooler temperatures arriving, there's no better time to make the most of the planet.
Roughly every 13 months Earth comes from behind and passes Jupiter in a planetary horse race that's been going on for billions of years. And the prize? Spectacular views of the solar system's largest planet from dusk till dawn.
On August 20th, the Earth and Jupiter will line up on the same side of the Sun, when they'll be closest for the year. Separated by just 600 million kilometers, Jupiter will gleam at magnitude –2.9, with a pleasingly plump diameter of 49.1″. The two are only slightly more distant than they'll be in September 2022 at perihelic opposition.
Jupiter already dominates the evening sky, poking out from between tree branches and catching your eye even when you're not looking. It's still paired with Saturn like last year but the planets are farther apart, residing on either side of Capricornus and separated by about 18°. Speedier Jupiter continues to outpace Saturn. Next year they'll only be distant neighbors. On the night of August 21–22, the full Moon and Jupiter will line up in conjunction 5° apart — an eye-grabber even for city dwellers.
Jovian Shadow-casting
If you've wondered if Jupiter casts a shadow similar to Venus, the answer is yes! J. C. Duncan of Lowell Observatory reported seeing "a rectangular patch of light on the floor" through the slit of the dome housing 24-inch Clark telescope in November 1905. He observed the light on several occasions and once saw his shadow "cast by the planet on the snow outside."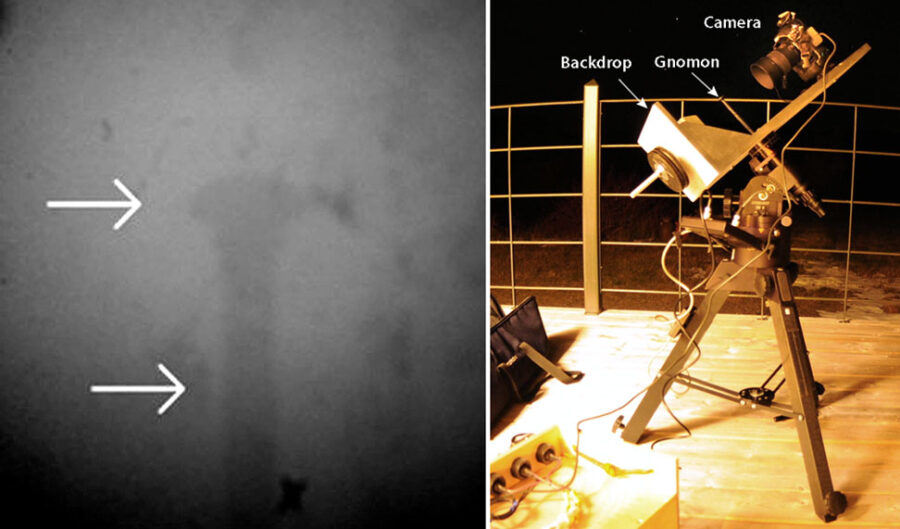 More recently, Canadian amateur Laurent Joli-Coeur successfully photographed the shadow of a gnomon cast by Jupiter's light in November 2011. To keep the shadow from smearing during the 5-minute time exposure at ISO 1600 he tracked it using an equatorial mount. For an extra challenge, observers under exceptionally dark skies can attempt to see Jupiter shadows by naked eye alone.
A pair of 10× binoculars will show Jupiter's round shape and the four bright Galilean moons depending on which happen to be in view at the time of observation. The more strung out they are, the more likely you'll see all four. To check on visibility, use the Sky & Telescope Jupiter's Moons tool. On the evening of August 24–25, they'll be a tiny, well-spaced string of lights with Callisto, Europa, and Io east of the planet and Ganymede to the west between 11 p.m. and 3 a.m. Eastern Time.
Delving with the Telescope
Small telescopes will clearly show all the Galilean ducklings and their meanders around mother hen Jupiter. Slightly larger instruments, in the 4- to 6-inch range, will reveal the shadows the moons cast when they transit in front of the planet, as well as their disappearance and reappearance at the limb before and after they're occulted by Jupiter. Ganymede, the largest moon, casts the inkiest, easiest-to-see shadow, while Europa, the smallest, takes more concentration. It's a pinprick compared to Ganymede's pinhead.
Jupiter also casts a shadow. When a moon slips into the gloom, it temporarily disappears in eclipse. The aforementioned Jupiter's Moons tool will alert you to all Jovian moon events. For $2.99 you can download the Sky & Telescope app JupiterMoons (for iOS) or pick up the free Moons of Jupiter for Android. The moons have also been eclipsing and occulting each other in a series of mutual events this year and will continue to do so into November. See here for more details.
Jupiter's disk is a riot of subtle details. The gas giant has no solid surface — it's covered in clouds blown into parallel stripes by powerful winds called jets. Rising clouds are made of ammonia ice and define the pale white zones. Sinking clouds form the darker belts tinted various shades of brown, rust, and red from sulfur, carbon, and other compounds.
This season the North Equatorial Belt (NEB) sports a thin but prominent southern border with a dark red color. It will probably be the first dark band you'll see when you bring Jupiter to focus in the eyepiece. The South Equatorial Belt (SEB) is broader but not quite as dark and prominent. Between them lies the yellow-hued Equatorial Zone (EZ).
On August 6th this year I could hardly believe my eyes while observing the planet through a 24-inch Dob on a night of excellent seeing. The NEB appeared deep rusty-red, while the Great Red Spot (GRS) — the planet's best known and longest-lived storm — was a farm-raised-salmon pink. I noted a narrow, white gap between the Spot's northern border and the inner edge of the peapod-like Red Spot Hollow, where the GRS has "resided" for the past few years.
Festoons shaped like curled wave tops extended into the EZ from the southern edge of the NEB. Additional gray bands — the South Temperate Belt (STB), North Temperate Belt (NTB), and others nearer the planet's polar regions — were also in view. Use high magnification to look for several small, dark ovals, called barges, immediately north of the NEB in the North Tropical Zone (NTZ). They resemble the moons' shadows but are slightly elongated and not quite as dark.
Advanced observers can use Stellarium or other star-charting software to go deep and spot a 5th Jovian moon, 14.8-magnitude Himalia, which orbits the planet every 248 days at an average distance of ~11.4 million kilometers. The best time to scratch out this speck is around the time of maximum elongation, when Himalia stands about 54′ from Jupiter, just beyond the reach of Jove's worst glare. But since that's still a ways off, and the moon will slowly fade after opposition, seize the opportunity now if you have a 10-inch or larger instrument.
Jupiter is generous. With its moons, storms, and clouds it provides live demonstrations of many scientific concepts. You'll often hear people say that bigger isn't necessarily better, but in the case of the fifth planet I beg to differ.
---
If you're interested in reading more about Jupiter's opposition and the positions of its moons, as well as other celestial events this month, click here to purchase a copy of the August 2021 issue of Sky & Telescope.
---
---