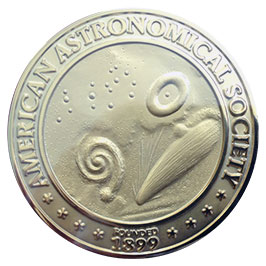 Amateurs have always made important contributions to the astronomical sciences. They still do, thanks to their dedication and cleverness as well as access to sensitive CCD cameras, computerized telescopes, powerful software, and vast repositories of online data. Whether working on their own or in collaboration with professionals, amateur astronomers have done such fine scientific work that they deserve a medal.
Fortunately, such a medal exists! The Chambliss Amateur Achievement Award, given by the American Astronomical Society (AAS), recognizes excellence in astronomical research by an amateur — that is, a person not employed in the field of astronomy in a professional capacity — and who is resident in North America. The award is named for the U.S. astronomer who conceived it, Carlson Chambliss, and consists of a silver medal.
The AAS invites nominations for the Chambliss Amateur Achievement Award by June 30th. If you think you're a good candidate for the award, you don't need to find someone to nominate you — you can nominate yourself! Go to the AAS Prize Nominations page to learn more about the process, gather your materials following the Prize Nomination Checklist, then submit your nomination via the online form.
The list of past winners is impressive:

That said, there have been years when the AAS didn't award a Chambliss medal — not because amateurs didn't do outstanding work, but because we didn't receive any nominations! So if you think your own research deserves a medal, or if you know of someone else who deserves one, please submit a nomination by June 30th!