The digital archive of Sky & Telescope magazine is an essential resource for astronomers at any level. And this weekend only, get $25 off.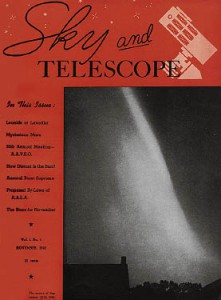 About once a week, I pop a disk from the Sky & Telescope Seven-Decade Collection into my laptop. I'm usually looking for something specific: a Questar ad from the 1950s or what astronomers were saying about Hubble just before it launched. But sometimes I just type in a word or two, such as "black holes," and see what comes up. The results never disappoint.
Here are some examples from recent perusings:
The amusingly practical values of moonlight (S&T: Nov. 1941, p. 17), among them "the creation of tides . . . Service of the phases as a lunar calendar . . . The direct service of the Moon's light in illuminating the harvest fields, countryside, and polar nights."
Bart J. Bok explained in July 1963 (back when Sky & Telescope subscriptions cost just $5 a year!) how radio and optical astronomers were working closely to understand the Milky Way's spiral structure and the Sun's place in it. The discussion is fascinating in part because some if it is wrong: for example, studies at the time suggested that the Sun lies 10,000 parsecs (32,000 light-years) from the galactic center. A few holdouts had it right — in fact, older estimates were closer to the correct value of about 8,000 parsecs.
Amidst the changing times of March 1989, Stephen James O'Meara wrote a column on Women in Astronomy, highlighting prominent amateurs such as Denise Sabatini, Deborah Moran, Lauri Kunkel, and Deborah Byrd. Their profiles are fascinating and worth a read.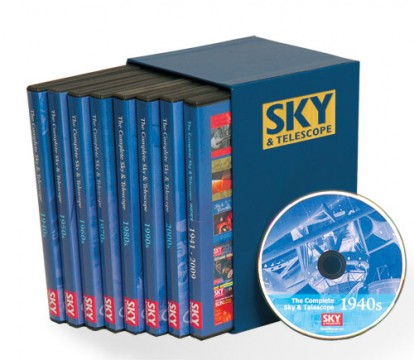 There are many more examples to be found in reliving astronomy's history, each (even the ads) fascinating in its own way. And to keep your bookshelves free of clutter, we offer the entire archive as a DVD/CD digital collection. The Seven-Decade Collection ($249.99) covers November 1941 through December 2009, and later years are available individually as CD compilations (between $4.99 and $19.95).
And this weekend only, we're celebrating "Christmas in July" with $25 off any order over $50 (discount applied automatically at checkout). So come celebrate with us!