After a 10-day lockdown to cooperate with a criminal investigation, Sunspot Solar Observatory is back to looking at the Sun.
Update:
Child pornography was at the root of the observatory closure, BuzzFeed News reported on September 19th. According to a federal search warrant, the FBI had been monitoring devices on the observatory's network that were being used to download and distribute child porn. The investigation zeroed in on a janitor, whose increasingly erratic behavior prompted the evacuation. No charges have yet been filed.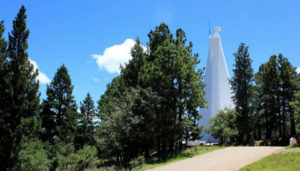 After a mysterious ten-day-long closure, Sunspot Solar Observatory in New Mexico is now apparently safe and open for business.
"There's no panic," says observatory director James McAteer, a solar physicist at New Mexico State University in Las Cruces. "We're ready to get started so we can start doing great science again."
On September 6th, the Association of Universities for Research in Astronomy (AURA) ushered all staff and residents off the telescope site and yellow police tape appeared across the access road. The sudden closure and subsequent silence from the observatory prompted plenty of online speculation, ranging from Russian hackers to — of course — an alien incursion.
Turns out, the evacuation was more down to earth. The decision to close was taken "as a precautionary measure while addressing a security issue," said AURA in a statement on September 16th.
AURA, which manages the telescope site, had been working with law enforcement in an investigation of possible criminal activity on the mountain. Due to the logistics of keeping everyone safe at the remote facility, AURA decided to evacuate the roughly dozen people who live and work at the site. They have since decided that there is no risk, so the observatory re-opened on September 17th.
"Sunspot Solar Observatory is open again and operating normally," said AURA Corporate Communications Coordinator Shari Lifson in an email. "I have no further statements at this time." The FBI field office in Albuquerque, which has been running the investigation, did not immediately respond to a request for comment.
"We're just trying to transition to normalcy," says Heidi Sanchez, the Education and Public Outreach Coordinator at Sunspot.
The observatory sits atop Sacramento Peak, about 165 miles south of Albuquerque in the Lincoln National Forest. Despite its name, Sunspot does more than just look at sunspots. "We're trying to do more long-term monitoring," McAteer explains. Instruments attached to the telescope provide imaging, spectroscopy, and polarimetery of various shenanigans on the Sun's surface such as spots and flares.
Each morning starts with a team powwow to figure out where on the Sun the telescope should point that day. Sunspots and flares have become a rarity as solar minimum approaches. "Our favorite target recently has been solar filaments," says McAteer.
The observatory also often works with other telescopes to provide another set of eyes on the Sun. Sunspot will coordinate with the Parker Solar Probe, for example. The recently launched NASA probe will spend the next seven years snuggling up to the Sun, eventually orbiting at a harrowing distance of just 6.1 million kilometers (3.8 million miles).
This brouhaha isn't the first time that AURA has had to evacuate the mountain. A couple of years ago, a major snowstorm took down the observatory's electrical grid, prompting the agency to move staff, residents, and visitors to safety. This appears to be the first time in recent memory, however, that potential criminal activity has shut down the site.
While the recent investigation put a temporary damper on Sunspot's mission, there is a potential upside. "We're just a small observatory that most people didn't know existed," says outreach coordinator Sanchez. "Now everybody knows about us."