Remote locations, rainy weather, and even a pandemic couldn't keep diehard observers from viewing December 14th's total solar eclipse.
After July 2019's total solar eclipse, widely viewed under fortuitously favorable skies across central Chile and Argentina, legions of "eclipsophiles" looked forward to the next opportunity to stand in the Moon's shadow: December 14, 2020. The path would again cross South America — but this time at the height of austral summer, with generally favorable weather predictions. Thousands of trips were booked for cruises and land tours in anticipation.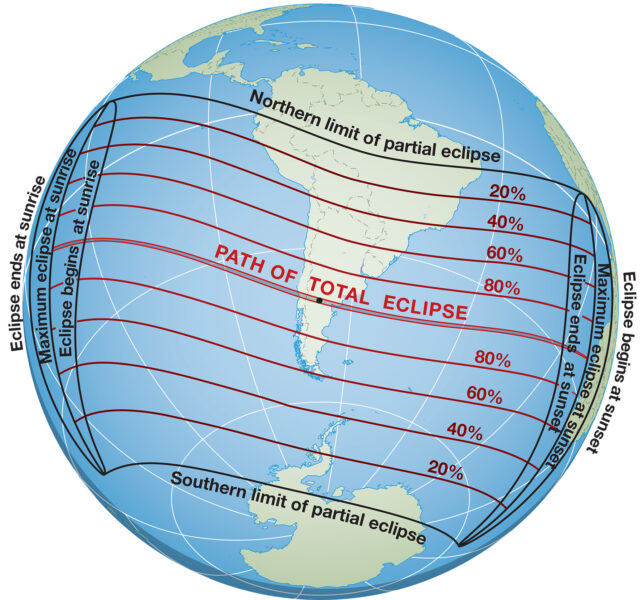 And then COVID-19 arrived, forcing the cancellation of virtually all of those group expeditions (including Sky & Telescope's). But eclipse-chasers are a determined lot, and yesterday's total solar eclipse proved how resourceful they can be just to get views of this celestial spectacle.
In Chile, pandemic-related travel restrictions eased in late November, allowing international flights to resume and tourists to enter the country under certain conditions. Many eclipse-chasers booked last-minute flights and headed for viewing sites in Pucón and Villarrica, nestled in the Andean foothills well to the south of Santiago. Meanwhile, Argentina's more restrictive travel ban still allowed a few creative observers to make their way to the eastern (leeward) side of the Andes, which statistically offered the most-promising skies.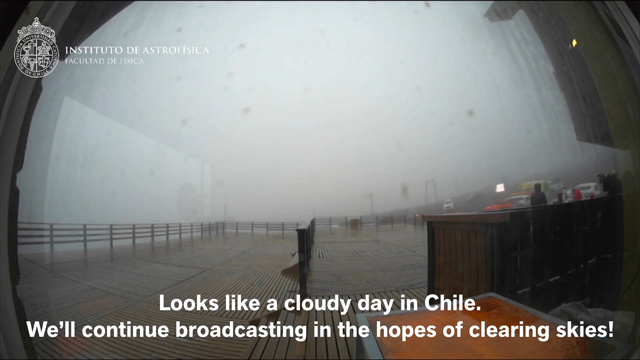 However, Mother Nature dished up a strong storm front that lashed southern Chile on eclipse day and sent hopeful observers scrambling for better conditions. Few succeeded. Alan Sliski, who traveled with a Williams College research team to Villarrica, wasn't one of them. "The weather forecast was not good, so we drove to the Chilean border crossing with Argentina but got rained out. It was partly sunny in Pucón by the time we got back."
Faced with a dire forecast, a small multinational group coordinated by TEI Tours and Travel scrambled to charter a pair of Cessna Citation business jets at the regional airport of Temuco. They intercepted the Moon's umbra off the Chilean coast and managed to glimpse totality despite the Sun being nearly overhead. "The Citations have windows that are curved, slightly rising toward the ceiling," explain passengers Alson Wong and Robert Stephens. "By lying on our backs and looking straight up, we could see the Sun well clear of the top of the windows."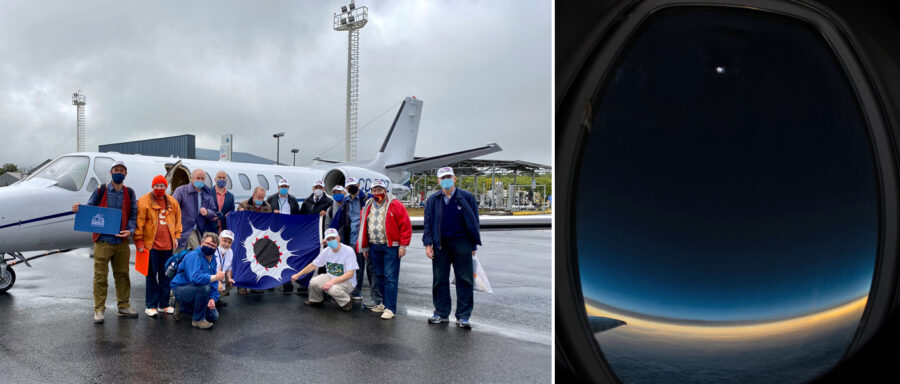 Clear(er) Skies in Argentina
Meanwhile, the weather was somewhat better across south-central Argentina, with generally clear skies but very strong winds. From the planned site for Sky & Telescope's tour, a private ranch northeast of San Martín de Los Andes, local coordinator Santiago Uburu reported cloud-free skies for his "unbelievable" first view of totality.
Somewhat farther east, British-based tour leader Nick James reports, "We had a fantastic view from the Astro-Trails site near Piedra del Aguila. It was very windy but the sky was pretty clear except for some thin clouds which blew quickly across at 2nd contact."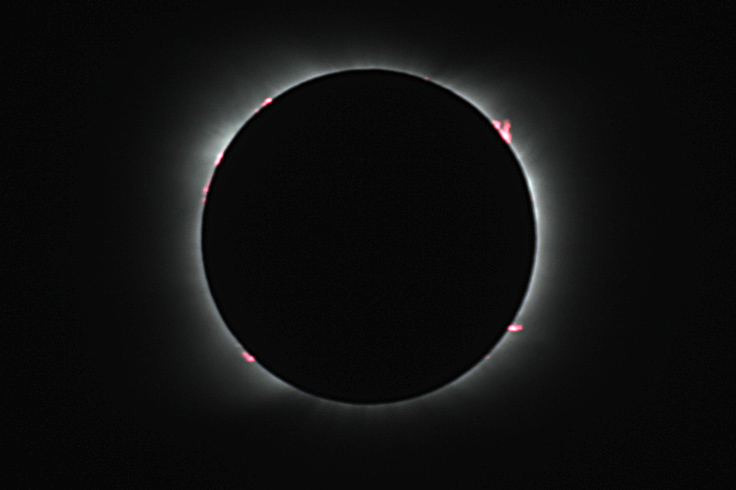 A group with Colorado-based Sirius Travel were in the same general area, and tour leader Vicky Sahami says strong winds consistently blew at about 40 mph. Even so, she says, "We saw the planets beautifully including Jupiter and Saturn in close proximity to each other east of the Sun, Mercury close in and Venus was to the west. We saw spectacular shadow bands both before and after totality racing across the open dirt." In fact, other observers report seeing shadow bands projected onto the thin clouds streaming overhead.
A number of organizations scrambled to offer live viewing during the eclipse. One particularly sad webcast from Villarrica showed gray skies and rain during the entire event — though it did get dark during totality. A well-produced webcast by CosmoSapiens offered multiple telescopic views of the entire eclipse from sites in Argentina.

Next Totality: December 2021
Over the past two decades, total solar eclipses have been evenly distributed, more or less, between the Northern and Southern hemispheres. That said, recently the region in and around South America has been favored, with the Moon's shadow racing across Chile and Argentina in 2019, again in 2020, and one more time next December 4th.
But getting to the path of totality next year will be challenging — the only landfall is Antarctica and the tiny South Orkney Islands in the Scotia Sea. (Yes, if you insist, it's possible to view totality from Antarctica.) Plenty of cruise ships ply these waters during that time of year, though weather prospects along the track aren't particularly favorable.
If you've always wanted to visit this part of the world, a total solar eclipse can certainly be a good excuse to do so! Sky & Telescope has two offerings that I'll mention here briefly.
If you enjoy cruising, then I invite you to climb aboard the ms Roald Amundsen for an amazing 2½-week cruise. We'll view the solar eclipse just after dawn from near the rugged, inhospitable South Orkney Islands. This is an "expedition" ship, equipped to glide closely along the Antarctic Peninsula and, yes, to allow its passengers to set foot on the world's most extreme continent.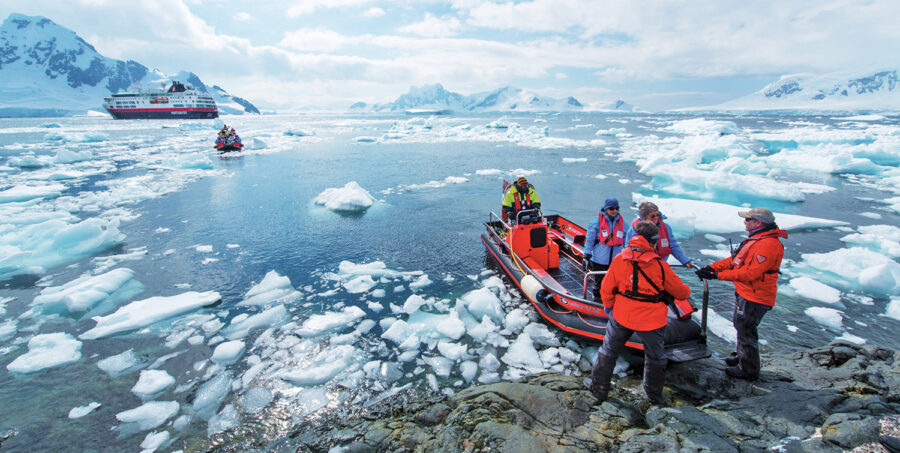 Or, if you absolutely, positively must see totality, then please check out our week-long tour of Chilean Patagonia that culminates with eclipse viewing at 38,000 feet aboard a chartered jet. All you have to do is get yourself to and from Santiago, and we'll take care of the rest.
Honestly, watching a total solar eclipse via webcasts is OK — it's better than nothing. But any eclipsophile will tell you that staring at a computer or smartphone screen is just a pale substitute for the real thing. And I'll wager that, given the extended travel hiatus imposed on everyone since February, next year's total solar eclipse will be a very popular destination. I, for one, can't wait to be in the Moon's shadow once again and to reacquaint myself with all the celestial delights of the southern sky.