I've read that the full Moon has a magnitude of about -13 and an albedo of about 3%. That implies that if the lunar disk reflected 100% of sunlight it would appear more than 30 times as bright, or about magnitude -17. But since it has the same angular diameter as the Sun, shouldn't a perfectly reflecting full Moon be just as bright as the Sun?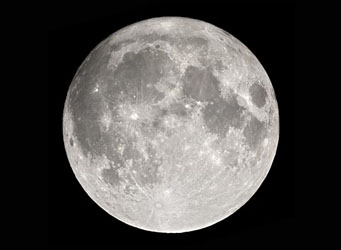 There's no single value for the Moon's albedo (reflectivity). The bright highlands have a range of 11-18%, whereas the dark maria are 7-10%. And the lunar surface looks more reflective at full Moon (12.5% overall) than it does at other phases. Jeff Medkeff has written an excellent summary (http://jeff.medkeff.com/astro/lunar/) of the problems astronomers face in defining and measuring the Moon's reflectivity.
But even if the lunar soil were perfectly white, the Moon wouldn't be as bright as the Sun (magnitude -27). That's because sunlight striking the Moon is reflected in all directions instead of straight back to us on Earth. If a 2,160-mile-wide flat mirror were placed on the Moon to redirect sunlight toward you on Earth, then the Moon would look as bright as the Sun!
— Roger W. Sinnott