At the end of the 20th century, the universe seemed to face two possible fates: either it contained enough matter that gravity would ultimately force a re-collapse, or at the very least, its expansion would slow. But Hubble Space Telescope's observations Typa Ia supernovae in distant galaxies turned that view upside down, showing instead that the universe's expansion is accelerating. Cosmologists have since invoked the concept of dark energy to explain the accelerated expansion, but the nature of dark energy remains one of the most pressing questions facing modern cosmology.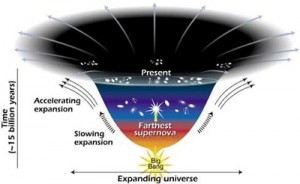 One thing we do know about dark energy: there's a lot of it. From measurements of the cosmic microwave background, scientists have determined that dark energy constitutes 68% of the universe's energy density.
Whatever dark energy is, it must permeate space with a negative pressure to cause the universe's expansion. A proposed form of dark energy known as the cosmological constant suggests its constant energy density fills all of space equally. This model borrows its name from the term that Einstein initially included in his equations of general relativity. It was intended to counteract gravity and create a static rather than expanding universe. Later called Einstein's "biggest blunder", the term by itself doesn't represent a physical model, but it could be that the cosmological constant is simply the energy of empty space, the so-called vacuum energy predicted by quantum theory. As the universe's expansion creates more space, more dark energy comes into existence.
Another leading model is quintessence, named after the fifth and highest element in ancient philosophy that was supposed to permeate all of nature and compose the celestial spheres. Quintessence is theorized to be a new type of energy field or fluid in space, or perhaps a fifth fundamental force. Unlike the cosmological constant (which, as the name suggests, remains constant over time), quintessence would be dynamic, changing over time. It could even switch from an attractive force to a repulsive one (or vice versa). While quintessence and other dynamic models of dark energy are intriguing possibilities, current observations haven't been able to show that dark energy changes with time, with a constant equation of state w = -1, though errors on these measurements are still large.
Cosmologists have also considered modifying our current theory of gravity, but a new theory would not only have to explain accelerated expansion, but all other gravitational interactions with equal or better accuracy than Einstein's extremely accurate general theory of relativity.