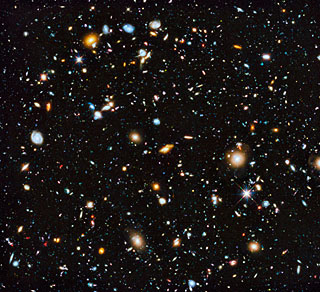 Astronomers can use the Hubble Space Telescope to view galaxies near the edge of the observable universe (the region of space from which light has had a chance to reach us within the last 13.77 billion years). By examining a very tiny portion of the sky, counting up the number of visible galaxies in the universe in that specific region, and then multiplying that number to account for all the regions of the sky, astronomers estimate the number of galaxies in the universe. The best estimate from a 1999 study set that number at about 125 billion galaxies, and a 2013 study indicated that there are 225 billion galaxies in the observable universe. In 2016, that number was upped to 2 trillion, in large part because a new analysis included all the tiny, fluffy galaxies in the early universe.
It's important to understand that the number of galaxies in the universe hasn't multiplied by a factor of 10 in the past decade—these estimates represent the number of galaxies we infer given the power of our current telescopes, our observing time, and the wavelength of light we are observing. If we had larger telescopes and more observing time, we would be able to detect even fainter galaxies. Because of the finite age of the universe, even with the most powerful telescopes we could ever create, we would eventually run out of galaxies to count in the observable universe.
Counting Galaxies in the Universe By Their Dark Matter Halos
There is no hard-set limit on the smallest number of stars that can make up a galaxy (dwarf galaxies might host as few as a thousand stars, whereas star clusters orbiting galaxies can contain more than a million). The distinction lies in dark matter halos: galaxies and dwarf galaxies have them, while star clusters do not.
So to estimate how many galaxies we could theoretically observe, we would want to know the number of dark matter halos in the observable universe, and the probability that any halo with a certain mass would form stars, explains Henry Ferguson (Space Telescope Science Institute). Currently, there is no consensus on these values, but estimating the galactic population with this method could result in a number much higher than 225 billion.
Did you know that a supermassive black hole lurks in almost every large galaxy? Learn more about the billions of behemoths that exist in our observable universe in Sky & Telescope's free Black Holes ebook. Enter your email to join the Sky & Telescope newsletter and download the ebook for FREE.