Calling all crescent lovers! Here's a chance to set a new personal record by seeing one of the oldest moons ever.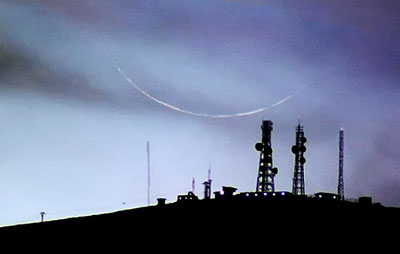 I like late sunrises. They take the sting out of getting up early to witness a morning-sky event. And we get some of the latest ones just before daylight-saving time ends on November 3rd. This coming weekend we can take advantage of the oversleeping Sun to spot a beautiful crescent Moon at dawn on Saturday October 26th.
The Moon, less than two days before new, shines from Virgo in a black sky as soon as 6 a.m. local time. By 6:30 to 7 a.m. it should be a mouthwatering sight — knife-edged, filled out with earthshine, and easy to spot above a tree line or building. You may even be able to see Mars, now recently returned to the morning sky. Look for a dim 1.8-magnitude orange spark 5° lower right of the Moon.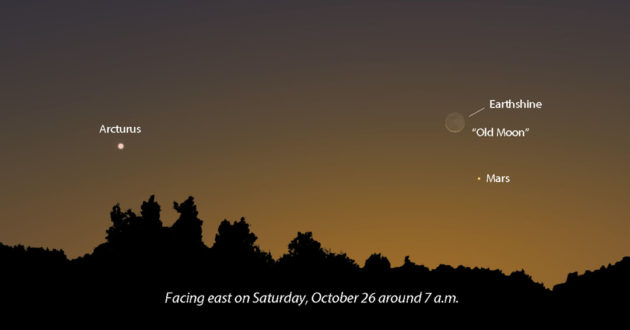 For many, Saturday's crescent will be satisfaction enough. But for those wanting a further challenge and a chance to see an incredible sight we turn to Sunday morning (October 27th), when the sliver of the Moon will be approximately 16.5 hours from new phase (3:38 UT October 28th) as viewed from the Eastern Time Zone; 15.5 hours from the Central Time Zone; 14.5 hours from the Mountain Time Zone; and 13.5 hours for Pacific Coast viewers. Skywatchers in eastern South America, Europe, and Africa will have an easier go at it with the Moon's age ranging from –17.5 hours for the Atlantic Time Zone to –20.5 hours for western Europe.
The record for the youngest Moon sighted with the naked eye goes to amateur astronomer Steven James O'Meara who nabbed a 15 hour-32 minute crescent in May 1990. Mohsen G. Mirsaeed of Tehran, Iran, broke the record for youngest Moon ever seen with optical aid on September 7, 2002. Observing from a mountain site using giant 40×150 binoculars he held a razor slice of crescent in view for one minute. At the time, the Moon was just 11 hours and 40 minutes past new and 7.5° from the Sun.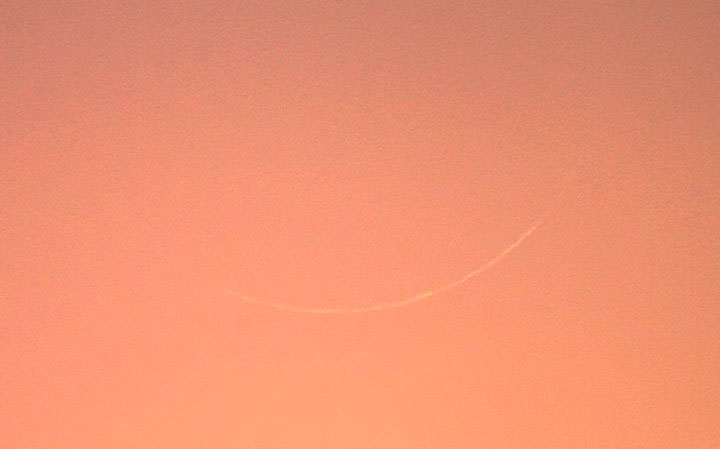 Both these sightings were made of the evening waxing Moon. Interestingly, it appears that this record may not have been duplicated with the morning waning Moon, though both offer equal opportunities. A possible record was recently set by avid moonwatcher Ali Ebrahimi Seraji of Parand, Iran, along with Mohammad Hosseain Almasi and Sara T. Zare, when they observed and photographed a crescent that was 16 hours and 28 minutes before new (or –16 hours-28 minutes old) at 5:28 UT on September 28, 2019. Similar viewing circumstances will prevail again for the Western Hemisphere on Sunday October 27th, when the old Moon stands almost directly above the Sun as it rises from mid-northern latitudes. If you've ever wanted a great opportunity to see one of the oldest crescents ever this is your chance.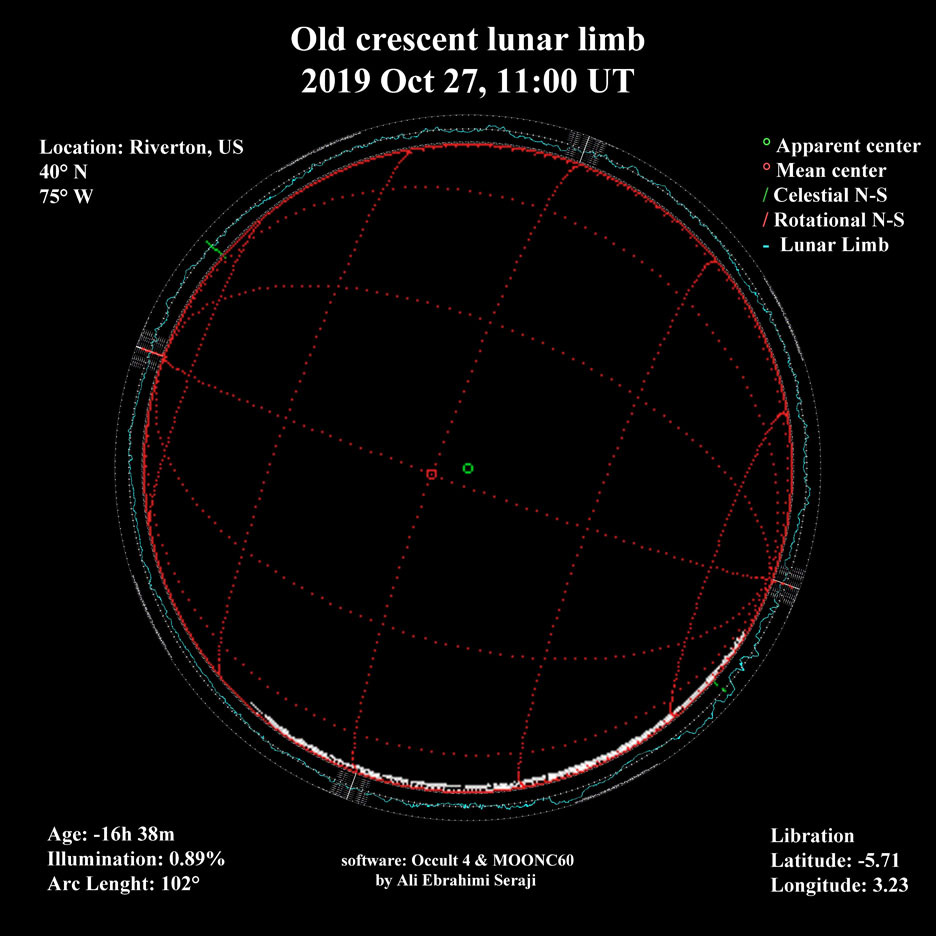 Several factors affect record-crescent-viewing attempts, foremost being the angle the Moon makes to the horizon. When it's shallow, as it is every fall in the evening sky, the Moon closely hugs the horizon despite its nightly increasing separation from the Sun. But the opposite situation prevails in the morning sky, with the ecliptic — and the Moon's path — tilted at a steep angle to the eastern horizon. The steeper path puts the Moon more directly above the Sun, increasing its altitude and visibility even when its apparent separation is small.
Northern Hemisphere observers get another bump in lunar elevation when the Moon lies north of the ecliptic, further increasing its angle to the horizon. This weekend it's pitched more than 4° in that direction. Perigee and apogee also vary the Moon's travels and appearance at crescent phase. While a perigee moon hurries toward the Sun faster than an apogee one, perigee also increases the Moon's apparent size, making the edgy crescent larger and easier to see. Perigee occurs on October 26th, another factor in our favor.
Let's Get Out There
Let's play this out. From Des Moines, Iowa, where the Sun rises at 7:40 a.m. local time (12:40 UT) Sunday morning, the crusty crescent stands 3° above the eastern horizon and 9° east of the Sun 30 minutes before sunup. Its age at the time will be –15 hours-28 minutes. I don't know about you, but I've never seen a shard so slight. My personal best is 21.5 hours.

A half hour before sunrise in Atlanta, Georgia, the Moon will be a tad lower at 2.5° and aged –16 hours-16 minutes. Denverites will see a similarly high Moon at –14 hours-45 minutes, while folks in Portland, Oregon, will glimpse a 0.5%-illuminated sliver 2.4° high, 8° from the Sun, and just 13 hours-25 minutes from new. The theoretical minimum separation of crescent visibility is 7.5°.
Of course, each hour that passes the Moon grows thinner, making it more difficult to see. New Yorkers have a relatively chunky 0.8%-illuminated crescent with a total magnitude of –4.3. But by the time the Moon rises for the West Coast it will have slimmed to 0.5% and faded to magnitude –3.6. Likewise the length of the crescent arc will gradually decrease.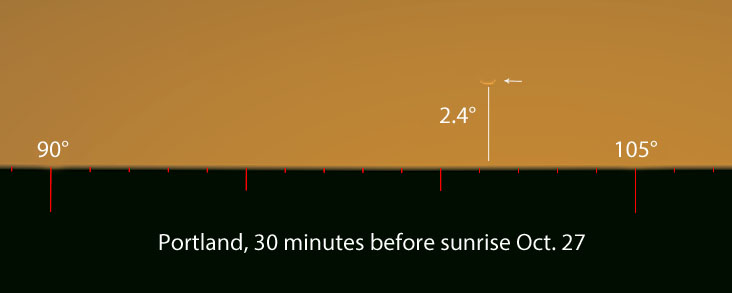 No matter where you are find your local sunrise time and don't forget binoculars! Use them to sweep along the eastern horizon perhaps as early as 45 minutes before sunrise up to within 15 minutes of the event. It goes without saying you'll need a wide-open section of horizon in the right direction, east to southeast. When you spot the the arc, keep it in view while lining it up with a local landmark. Then lower the glass and attempt to see it without optical aid.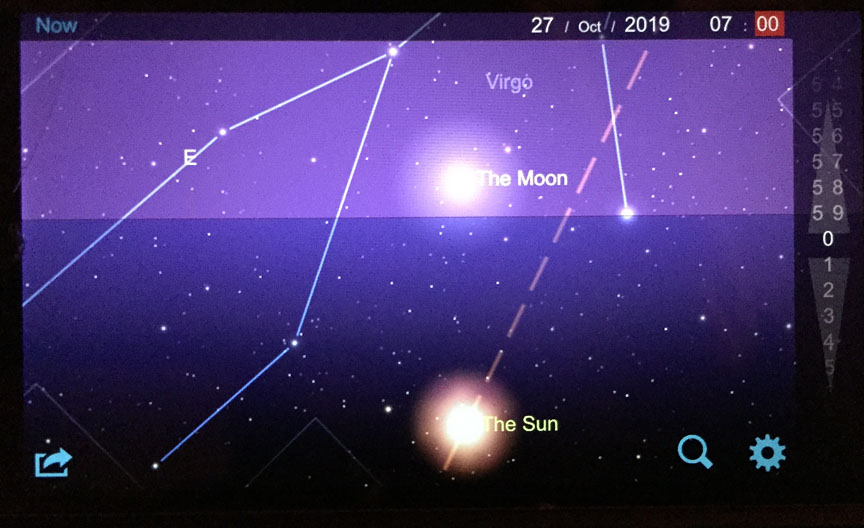 Knowing just where to look for the Moon can make a big difference. I use the free programs Stellarium and Carte du Ciel. Once you've set the day and time, pull up the bottom menu and select the ruler icon. That will display an azimuth grid across the horizon line: 90° = east, 180° south, and so on. You can also download the free Star Chart app for either Android or iPhone. When you arrive at your observing site, point the phone east and quickly see exactly where the Moon is.
Given the favorable circumstances of this event I have a hunch, assuming the weather doesn't upend our plans, that a few of us may set a personal observing record all while relishing one of the sky's most fragile and beautiful sights.