For your enjoyment, here's a diverse selection of double stars in Draco for small and medium telescopes.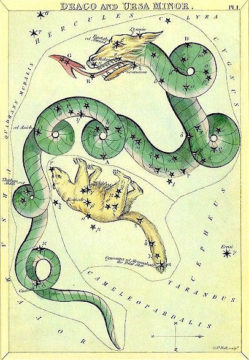 One thing about double stars. They're not compromised by a bright moon. No matter the lunar phase, these duos are ready to charm. With TV watchers focused on the final installment of the TV series Game of Thrones in the coming weeks, it seemed only fitting to sample the gem-like treasures of the sky dragon. Never mind Rhaegal, Drogon, and Viserion, give me ever-reliable Draco.
Unlike the televised dragons, Draco's been recognized since at least the 2nd century, when Ptolemy included it in his list of the 48 constellations. According to myth, the becoiled beast guarded the golden apples of the Hesperides. Hercules killed the dragon and stole the apples in the 11th of his 12 labors. Despite Draco's fatal end, the two remain constellation neighbors to this day, unlike Orion and the distant scorpion.
Draco winds and twists its way between the Dippers and across the northern sky nearly to Vega. Despite having no star brighter than magnitude 2.2 (Etamin), the constellation has always been easy to pick out because its many stars naturally form a snake-like figure. When I'm out with the public, one quick swish with the green laser light and most people have no trouble seeing the shape. The tail starts just off the Big Dipper's Pointer Stars and ends with the dragon's head — a quadrilateral asterism dubbed the Lozenge — 14° from Vega.
I used to think that the word draconian, an adjective meaning harsh or severe, had something to do with the evil mood of dragons. But it refers instead to Draco (a.k.a. Drakon), a 7th-century-BC Greek lawmaker who replaced the then-current oral code of law with one written on wooden tablets. Draco preferred harsh, unforgiving punishments. Steal an apple or cabbage and the penalty was death.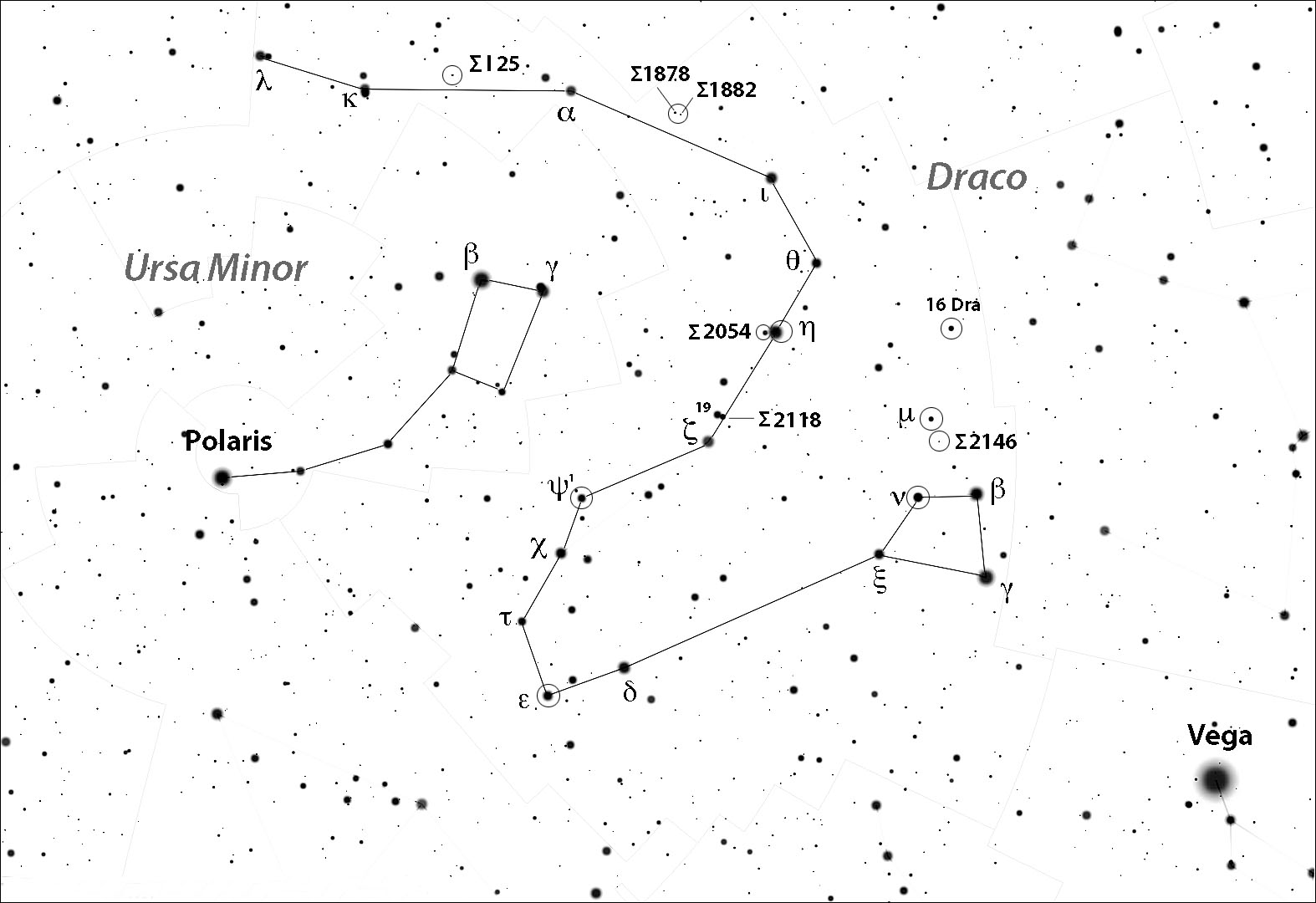 I promise no severe penalties for failing to split each of the double stars we're about to examine. In selecting a sweet set of pairs, I tried to pick those that closely followed the dragon's coils for a visceral experience of twisting and turning while working your way from one to the next. Since that would have eliminated several choice gems, I expanded the bounds a bit to include several additional pairs on either side of Draco's head. Imagine them engulfed in the dragon's flaming exhalations.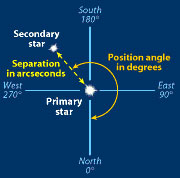 If you start at the tail, which stands highest above the horizon around 10 p.m. local time in mid-April, by the time you reach the Lozenge, all the featured stars will have risen high enough for a good view. As we move into May, the entire constellation becomes fair game at nightfall.
I used a 10-inch f/6 Dob with an acid-dew-etched primary mirror and tube lined with several unreachable spider webs. Contrast isn't great in this scope, but it's a decent star-splitter. Since none of the listed doubles are closer than 0.9″ (arcseconds), a 6-inch should be able to tackle most of these.
ΣI 25 — We begin with an easy, bright triple star near the end of Draco's tail, not far from the former polestar, Thuban. The 6.6-magnitude primary star glows with a reddish-orange hue and forms a triangle with its 7th- and 9th-magnitude companions. With separations of 3′ and 1.75′ (arcminutes), this trifecta of suns is easy to resolve in any scope or even a pair of 10× binoculars.
Σ1878 — I love the challenge of prying apart close, unequal doubles. With a separation of 4.1″ and a difference of three magnitudes between primary and secondary, you'll want to use 100× or higher for a clear view of this sweet pair.
Σ1882 — This pair sits in the same medium power field of view as Σ1878. Use low magnification for this duo, the components of which shine at magnitude 7 and 9, separated by 11.4″

.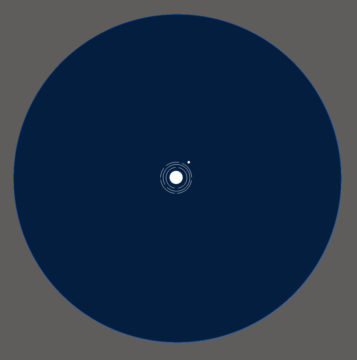 Eta (η) Draconis (OΣ312) — It's a demanding double! But if you hit it on a night of excellent seeing, the sight is unforgettable. At at glance, golden Eta (magnitude 2.8) seems to gleam alone. But parked just 4.4″ to its southeast and some 175 times fainter, the 8th-magnitude companion fights for its life in the glare of the primary. The contrast between the two is so extreme, I let out an involuntary wow when I finally coaxed this spark into view. Save Eta for a night when stars reveal delicate diffraction rings at high power. A magnification of 317× and a combination of averted and direct vision did the trick. Once seen and locked in the memory Eta gets easier next time around.
Σ2054 — Only 11′ from Eta and in the same medium power field of view, this pair of pearls is a beautiful sight. Although the tightest double on our list at 0.9″, I had no trouble at all separating the components with 317×. Magnitudes 6.2 and 7.1.
Σ2118 — These are twin 7th-magnitude beads separated by 1.0″. Another cozy couple similar to Σ2054 (above).
Psi1 (ψ1) Dra (Σ2241) — A beautiful, bright pair for low-power viewing. The 6th-magnitude secondary shines 30″ northeast of the 4.6-magniutde lemon-hued primary. The Washington Double Star Catalog lists two additional possible companions: magnitude 11 at 78″ in position angle (P.A.) 107°, and magnitude 13 at 106″ P.A. 66°.
Epsilon (ε) Dra (Σ2603) — An attractive unequal double (magnitudes 4 and 7) just 3.2″ apart. A close pair that's easy to resolve at 100× and up.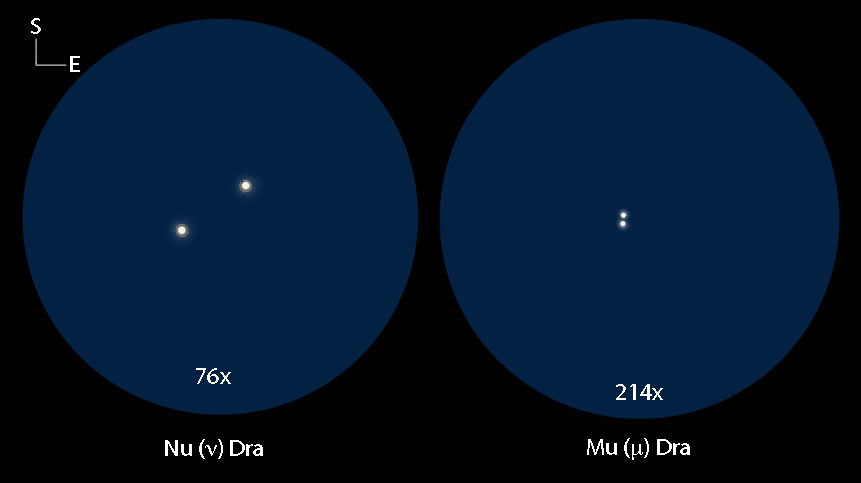 Nu (ν) Dra (ΣI 35) — I love these pure white, equally-bright stars in my binoculars. They really shine at low power through the scope, too. There's something mesmerizing about seeing two bright, equal stars paired.
Σ2146 — A duo with a mystery. Sources list it as a triple with a 7th-magnitude primary and two 9th-magnitude companions. I can easily see one companion located 89″ to the southwest, but found no trace of the other, supposedly 2.6″ away. Based on the visibility of similar pairs I should have easily spotted it. What do you see?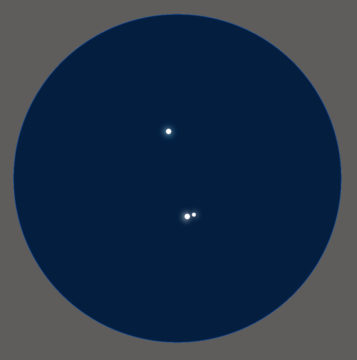 Mu (μ) Dra (Σ2130) — Another fine, equal double resembling Nu (ν) Dra but much more compact, with twin 6th-magnitude stars separated by 2.5″. At 254×, the split is comfortable, but I like the 76× view, where the two fiery lights nearly touch, better.
16, 17 Dra (Σ2078) — A fantastic triple star and personal favorite. 16 Dra and its B secondary nestle together at  3.1″, while the bright C companion scintillates 90″ to the pair's south. Binoculars easily cleave A from C, but you'll need a scope to see all three. All gleam pure white.
Separation in the table below is measured from the primary (A) star to the secondary. Position angle is the direction from the primary to the secondary. "Year" is the most recent year in which the measurements were made.
A Dozen Draco Doubles 

Star

R.A.         Dec.
   Magnitudes
Separation
P.A.
   Remarks
Year

ΣI 25

13h 14m

+67° 17'

6.6, 7.1, 8.9

179", 105"

296°, 223°

Ruddy primary

2015

Σ1878

14h 42m

+61° 16'

6.3, 9.2

4.1"

315°

Pretty pair at 100x and up

2015

Σ1882

14h 44m

+61° 06'

6.9, 9.2

11.4"

0°

Easy split

2017

Eta (η) Dra

16h 24m

+61° 31'

2.8, 8.2

4.4"

143°

Dramatic unequal pair!

2015

Σ2054

16h 24m

+61° 42'

6.2, 7.1

0.9"

351°

Beautiful, super-tight

2017

Σ2118

16h 56m

+65° 02'

7.1, 7.3

1.0"

66°

Close, equal duo

2017

Psi1 (ψ1) Dra
17h 42m

+72° 09'

4.6, 5.6

30.1"

14°

Gold primary, easy, bright

2017

Epsilon (ε) Dra

19h 48m

+70° 16'

4.0, 6.9

3.2"

21°

Gorgeous at 100× and up

2017

Nu (ν) Dra

17h 32m

+55° 11'

4.9, 4.9

62.1"

311°

Compelling in binoculars

2017

Mu (μ) Dra

17h 05m

+54° 28'

5.7, 5.7

2.5"

3°

Exquisite equals

2017

Σ2146

17h 13m

+54° 08'

6.9, 8.8, 8.9

2.6", 89.3"

224°, 235°

2nd companion easy split

2016

16, 17 Dra

16h 36m

+52° 55'

5.4, 6.4 / 5.5

3.1", 90"

105°, 193°

Dazzling triple — must see!

2017

Data are from Washington Double Star Catalog. Right ascension and declination are for equinox 2000.0