Mark the date: December 13th. That's the night the Geminid meteor shower peaks. Highlighted by the return of its parent asteroid 3200 Phaethon, this year's show promises to be one of the best ever.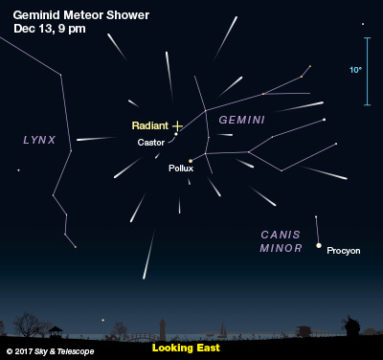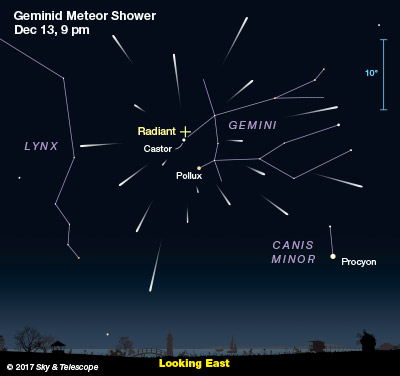 This is it, the shower we've been waiting for. Set aside some time Wednesday night December 13–14 for the Geminids. Not only is it the year's most prolific, with up to 120 meteors per hour visible from rural skies, the Moon is essentially out of the picture. Rising around 4:30 a.m. on the 14th, the waning crescent will shine just 3.5° north of the planet Jupiter in a frosting-on-the-cake conjunction to top off the big event.
The Geminid maximum also coincides with a bright return of its parent asteroid, 3200 Phaethon. On the night of maximum, Phaethon won't be very far away, clipping across neighboring Perseus at about 30″ a minute at its peak predicted magnitude of 10.7.
Set up the scope, spot papa, and then stretch out on the ground, suitably insulated from the cold with a blanket or sleeping bag, and witness his progeny put on a spectacular light show. For detailed maps of the asteroid's path, click here.
A word about that 120 per hour rate. That's the zenithal hourly rate, or ZHR, an idealized number based on observing under a pristine, moonless sky with the radiant at the zenith. Depending on the time you observe and local light pollution, counts will vary. At my observing site, which is handicapped by minor to moderate skyglow, I cut the rate in half to keep expectations realistic. A meteor a minute is certainly nothing to complain about.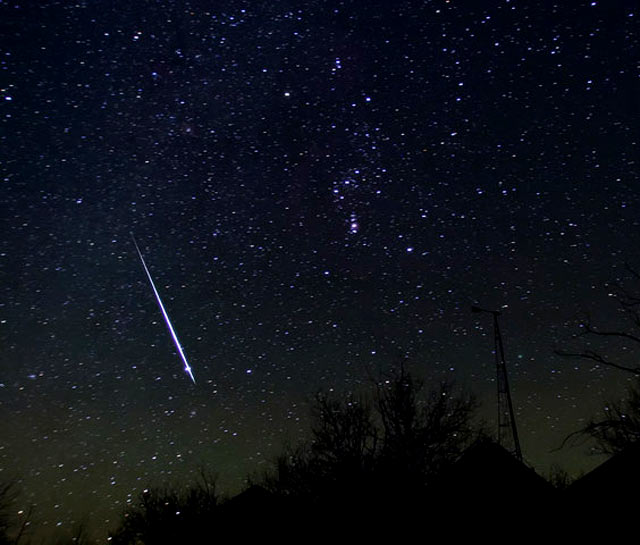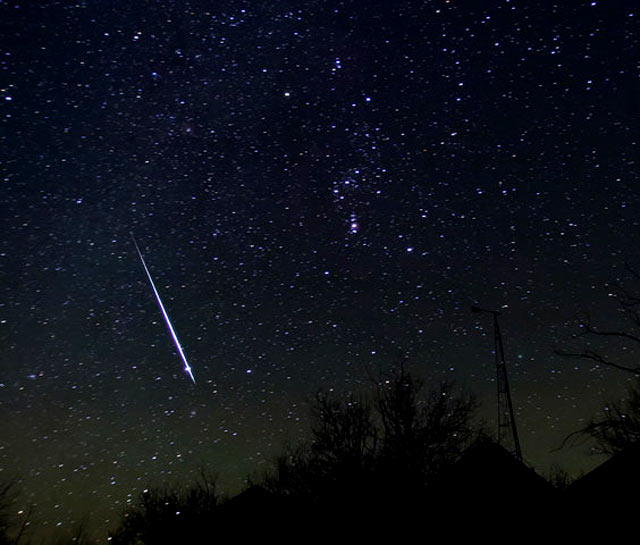 Most major showers peak in the early morning hours. While that's also true of the Geminids, the shower offers something others don't: an evening matinee. You can spot a modest number of meteors visible starting as early as 9 p.m. because the radiant already stands some 30° high in the eastern sky. True, a fair number of shower members are cut off by the horizon at that time, but more of us are likely to go out and share it with our children in the evening as opposed to waking before dawn. Since Geminids travel at moderate to slow speeds and approach us from a low angle at that hour, they can produce brilliant and long-lasting fireballs.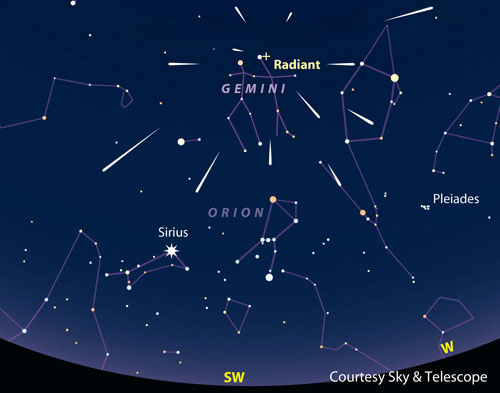 If you want to experience the full power of the shower, set your clock for 2 a.m., when the radiant will be practically overhead. Shower members appear to originate or radiate from near Castor and Pollux in Gemini, the Twins. It may seem weird that the radiant is a point in sky until you realize you're staring down the shower's vanishing point, where the incoming meteoroids appear to converge in the distance, exactly the way railroad tracks appear to meet at the horizon.
As Earth plunges headlong into the debris left by the asteroid, each crumb leaves a hot streak of ionized air in its wake we see as a meteor. Though they may appear anywhere in the sky, every fragment flies in parallel, like a squadron of B-52s on a bombing run. Only a skosh faster — about 35 kilometers a second.
Convergence makes it easy to distinguish a Geminid from a random or sporadic meteor. If you can trace the bright streak back to the Twins, you can confidently say you've witnessed a millimeter fragment of an asteroid burn up in the atmosphere. Farewell, spawn of Phaethon.
After getting washed out by last year's supermoon, we look forward with anticipation to a truly excellent show this year. Although northern hemisphere skywatchers are favored, the Geminids are also visible with reduced numbers from Down Under, where the radiant stands some 40° high from northern Australia around 2 a.m. local time. With near-peak numbers lasting about a day, the entire planet except for Antarctica, where the Sun now shines 24/7, will get a crack at the shower.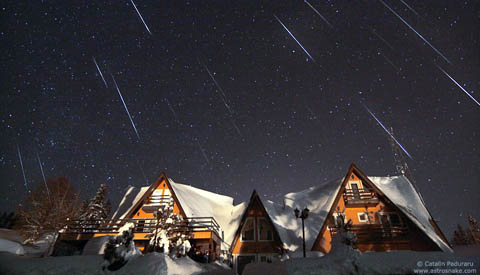 To summarize: If you're meteor-watching in the evening, head out around 9 p.m. local time or later and observe from a place as far from city lights as possible. Bring warm clothing and a blanket or sleeping bag for huddling and cuddling and face east. Then, just lie back and wait for the meteors to flare. Even 30 minutes of watching should net a few celestial sparks. If you want to catch the peak, plan on watching from about 1–3 a.m. facing south on Thursday morning the 14th. Even 3–5 a.m. works if you're keen on that conjunction.
Prospects for this year's Geminids are so good, only cloudy skies could muck it up. But that won't happen, right? If bad weather prevails, you can still watch the shower at Gianluca Masi's Virtual Telescope Project site live from Italy starting at 22:00 UT (5 p.m. EST) Dec. 13 and from Arizona at 10:00 UT (5 a.m. EST) on the 14th.