This month's Harvest Moon will be up early to light the night and act as a beacon for watching the annual fall bird migration through a small telescope.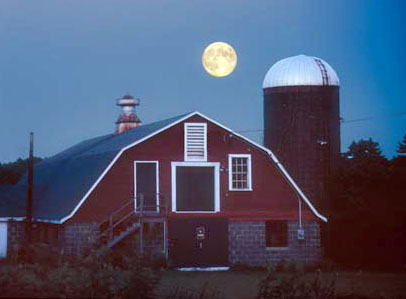 The Harvest Moon will be here soon. Rising the color of fall-ripened leaves, its light will spill across deserts, forests, oceans, and cities. On successive nights, the Moon will rise only 25–30 minutes later for observers at mid-northern latitudes and even less for northern European and Canadian locations. The short gap of time between successive moonrises gave farmers in the days before electricity extra light to harvest their crops, hence the name.
The Harvest Moon is the full Moon that occurs closest to the autumnal equinox, the beginning of autumn in the Northern Hemisphere. This year the equinox falls on September 22nd at 9:54 p.m. EDT / 6:54 p.m. PDT. Two nights later, at 10:52 p.m. EDT on the 24th, the Moon will be full.
As the Moon orbits the Earth, it moves eastward along the ecliptic, covering a apparent distance of one fist held at arm's length each night; it rises about 50 minutes later each day. You can follow its orbital travels by comparing the Moon's nightly position to a bright star or constellation.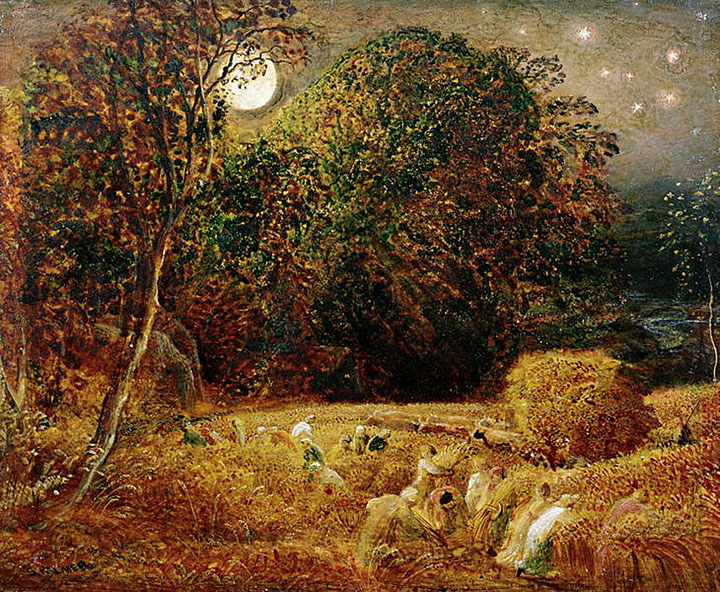 I should say 50 minutes is the usual gap between moonrises. But it can vary from 25 to 75 minutes depending upon the angle the ecliptic makes to the eastern horizon at rise time. In September the ecliptic meets the horizon at a shallow angle around the time of full Moon. As the Moon slides east, it also moves steadily northward this time of year.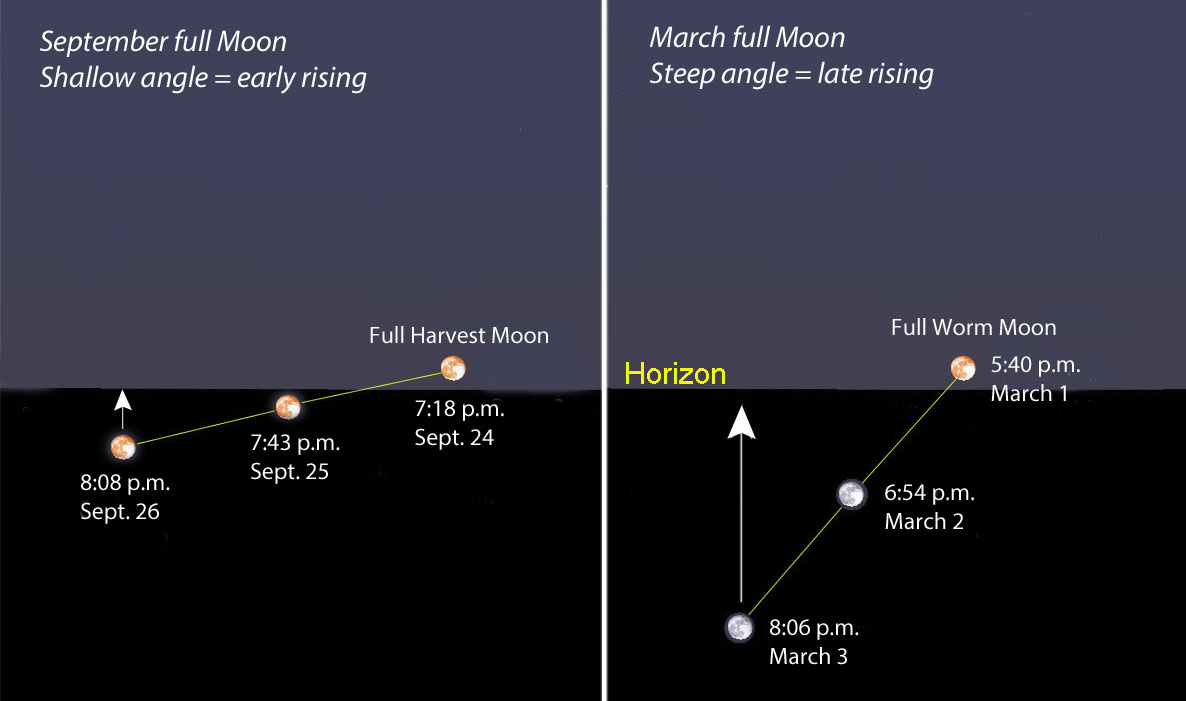 The northward motion partly cancels out the eastward motion, keeping the path of September's full Moon shallow with respect to the eastern horizon, with successive rise times separated by 20–30 minutes. Later this month, when the Moon whittles itself to a thin crescent in the morning sky, its path will cut a much steeper angle to the horizon, with rising times separated by up to 75 minutes.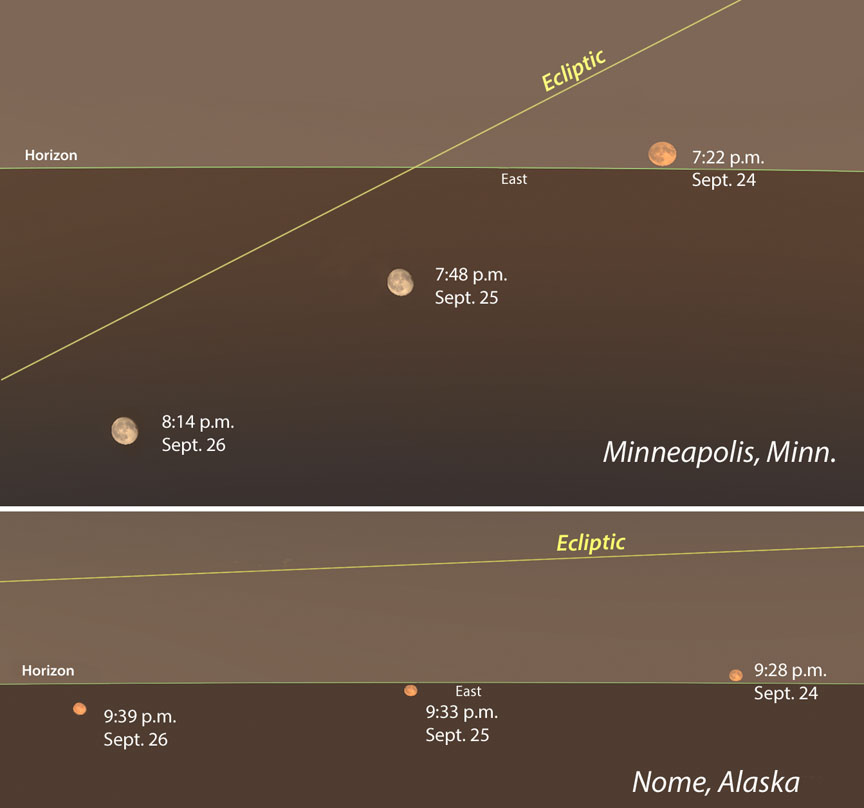 Successive "quick" moonrises at Harvest Moon keeps the bright, gorgeous lunar orb seemingly pinned to the twilight sky for several nights in a row. The Harvest Moon effect becomes more noticeable the further north you live, as its rising path is more nearly parallel to the horizon. From Aberdeen, Scotland (latitude 57° N) only 16 minutes separate successive moonrises from September 23rd through the 27th. For skywatchers in Nome, Alaska (64.5° N) that dwindles to just 5–7 minutes during the same interval, while in Barrow (71°N) the Moon has the audacity to rise 10–11 minutes earlier each night. Since fall is whaling season there, the extra light may still serve its ancient purpose.
I love a full Moon rising in the east at sunset. It's something to be enjoyed with the naked eye for its ever-changing colors and weird distortions introduced by atmospheric refraction and dispersion. Once the Moon has ascended a bit, I'd like to suggest a different way to observe it appropriate for the fall season — birdwatching. Like actors in a play against a white shadow screen, birds flutter in inky silhouette across the glaring lunar limelight, zipping over Copernicus and Tycho as they wing  south for the winter.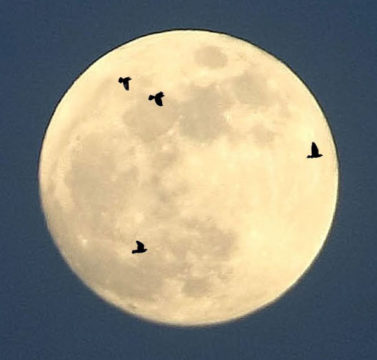 Many birds migrate at night, both to conserve energy and avoid predators. Identifying specific warblers, sparrows, vireos, orioles, and other species that fly across the moon may be next to impossible, but seeing them is easy and expert birders can make rough classifications.
Every fall, I use the full Moon to go bird hunting, taking time to see what flies by. I count birds in 5- or 10-minute intervals and multiply to arrive at an approximate hourly rate. Last fall, I counted bird silhouettes in the 5-minute interval between 10:57 and 11:02 p.m. one night. The total came to 16, which multiplied by 12 yielded an hourly count of 192 birds.
Most nighttime migrators begin their flight right after sunset and continue until about 2 a.m. Peak time is between 11 p.m. and and 1 a.m. Birds typically migrate at altitudes ranging from 1,500 to 5,000 feet, but on some nights, altitudes may range from 6,000 and 9,000 feet. I could tell the high ones from the low ones by their size and sharpness. Nearby birds flew by out of focus, while distant ones were very sharply defined and took longer to cross the moon.
Using data from 143 weather stations across North America, experts at the Cornell Lab of Ornithology counted an average of 4 billion birds heading south out of Canada to the U.S. in the fall and 4.7 billion leaving the U.S. for Mexico and points south. You can learn more about the study here.
Watching birds pass across the moon is a pleasant activity reminiscent of meteor shower watching. At first you see nothing, then suddenly a bird flies by. A minute later, two might wing by in tandem. Both activities keep us on our toes in anticipation of what the next moment might hold.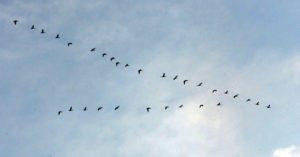 The best time to watch the nighttime avian exodus is around full Moon, when the big, round disk offers an ideal spotlight on the birds' behavior. It's a fine sight to see one of Earth's creatures streak across an alien landscape, and another instance of how a distant celestial body "illuminates" earthly activities in a unique way.