Exciting celestial events will happen during May, so download our narrated Sky Tour astronomy podcast to find out about this month's Eta Aquariid meteor shower and a total lunar eclipse.

This episode is sponsored by
Celestron
, manufacturer of high-quality telescopes and an industry leader in developing exciting optical products with revolutionary technologies.
Listen Here:
Podcast: Play in new window | Download
Subscribe: Apple Podcasts | Google Podcasts | Spotify | Stitcher | Email | RSS | More
As you'll learn in this month's Sky Tour astronomy podcast, May features the emergence of Mercury and Venus low in the west after sunset. In fact, this will be Mercury's best showing in the evening sky all year. Which nights will be best for spotting the elusive innermost planet? The graphic below offers a hint, but to get the very best time to look for it, download this month's Sky Tour astronomy podcast.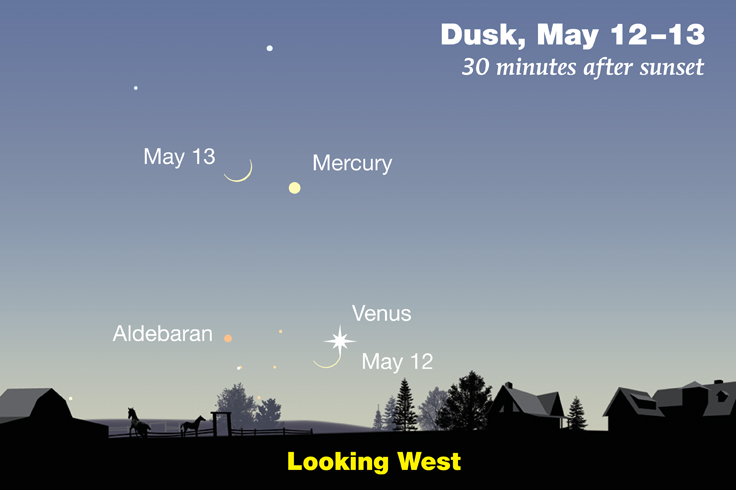 Early in the month, watch for the Eta Aquariid meteor shower before dawn. Each year about this time, Earth glides across Halley's orbit, and when that happens, we run into rocky grit shed by the comet centuries ago. The bits arrive at 66 kilometers per second — 148,000 miles per hour! The good news is that, when the shower peaks early on May 6th, moonlight won't be a problem at all.
Meanwhile, the full Moon that occurs on May 26th will be a special one. First, it occurs just 9 hours after the Moon reaches the point in its orbit closest to Earth, its perigee. In fact, on that day the Moon comes closer to Earth than at any other time all year. Tides will be especially strong that day. You're sure to hear this called a "super Moon," because it'll also appear 7% larger and about 15% brighter than average.
The other event on May 26th is that the Moon undergoes a total lunar eclipse — the first one we've had in nearly 2½ years. The timing benefits anyone living around the Pacific Ocean. Mid-eclipse is at 4:19 a.m. Pacific Daylight Time. Everyone in the U.S. from the Rockies westward have a chance to see the Moon totally eclipsed in the hours before sunrise. Those in eastern North America have to settle for glimpsing the last partial phases as the dawn sky brightens — or maybe nothing at all.
These are just some of the highlights covered during May's engaging and informative Sky Tour podcast. Just head outside, then download or stream it to your audio device — and you'll get a personally guided tour of what's visible this month.