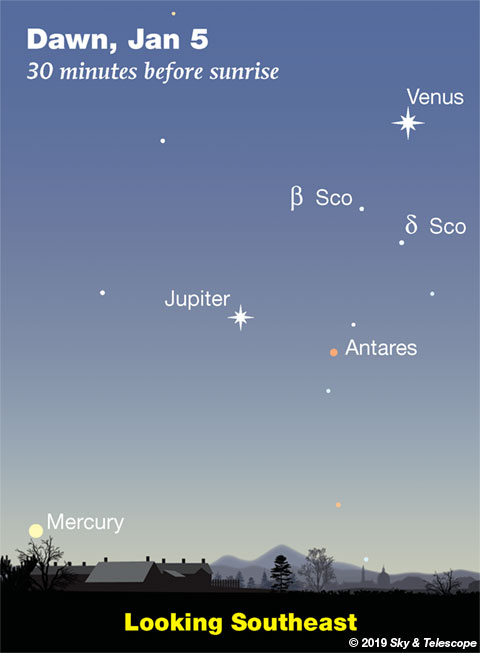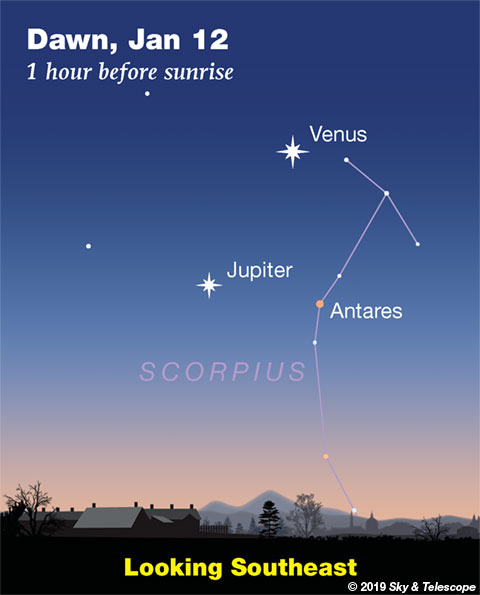 Friday, January 4
• Here it is January, and the Summer Triangle is still in view — if you look early after dark. Vega is its brightest star, low in the northwest. The brightest star above that, and perhaps a bit left, is Deneb. Look for Altair farther to Vega's left and perhaps lower (depending on your latitude).
• In the late-arriving dawns of early January, watch Venus close in on Jupiter and Antares from morning to morning, as shown here.
Saturday, January 5
• As we enter the very coldest time of the year, the dim Little Dipper (Ursa Minor) turns to hang straight down from Polaris after dinnertime — as if, per Leslie Peltier, from a nail on the cold north wall of the sky.
The Big Dipper, meanwhile, is creeping up low in the north-northeast. Its handle is very low and its bowl is to the upper right.
And Cassiopeia, a flattened letter M, is nearly overhead in the north-northwest, just beginning to tilt.
• New Moon (exact at 8:28 p.m. EST).
Sunday, January 6
• Orion stands in the east-southeast after dark, higher every week, but in early evening his three-star Belt is still nearly vertical. The Belt points up toward Aldebaran and, even higher, the Pleiades.
Down below, the Belt points to the horizon where Sirius rises around 6 or 7 p.m. (depending on how far east or west you live in your time zone). Just after Sirius clears the horizon, it twinkles slowly and deeply through thick layers of low atmosphere. It twinkles faster and more shallowly as it gains altitude, and its flashes of vivid color blend into shimmering whiteness.
• Venus is at greatest elongation on this date, 47° west of the Sun in the morning sky.
Monday, January 7
• You may know where the center of our Milky Way galaxy is: in Sagittarius next to the Large Sagittarius Star Cloud. But that's for summer. I bet you've never located the galactic anticenter in the winter sky! Pinpoint its location near Elnath, at the Taurus-Auriga border, using binoculars and Matt Wedel's diamond-shaped asterism in his Binocular Highlight column in the January Sky & Telescope, page 43. Here, you're looking precisely away from the galaxy's center.
Tuesday, January 8
• After dinnertime now, the enormous Andromeda-Pegasus complex runs from near the zenith far down to the west.
Near the zenith, spot Andromeda's high foot: 2nd-magnitude Gamma Andromedae (Almach), slightly orange. Andromeda is standing on her head, on the Great Square of Pegasus. The Great Square is about halfway down from the zenith to the west horizon, balancing on one corner. Mars shines left of the bottom corner.
Down from the Square's bottom corner run the stars outlining Pegasus's neck and head, ending at his nose: 2nd-magnitude Enif, due west and also slightly orange.
Wednesday, January 9
• The Gemini twins lie on their sides these January evenings, left of Orion. Their head stars, Castor and Pollux, are farthest from Orion, one over the other. (Castor is the top one.) The Castor figure's feet are just left of Orion's very dim Club.
Thursday, January 10
• As twilight fades, look almost two fists at arm's length below the crescent Moon (and a bit left) for Fomalhaut, the "Autumn Star," now on its way out. How late into the evening, and into winter, can you keep Fomalhaut in view?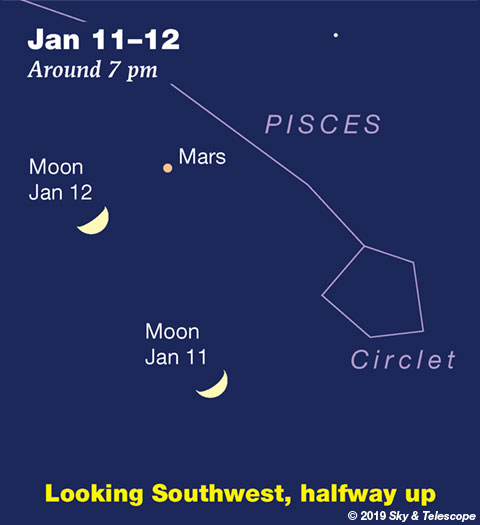 Friday, January 11
• As twilight fades this evening, how soon can you detect Mars glimmering above the Moon? They're about 18° apart (in early evening for North America). Mars is magnitude +0.6.
Saturday, January 12
• Now Mars is only 5° or 6° to the Moon's upper right in the evening, as shown here. Mars is actually about twice as large as the Moon, but it's currently 240 times farther away.
• For the next few mornings, Venus forms a roughly equilateral triangle with Jupiter to its lower left and fainter Antares more directly below it. See the top of this page.
• Start planning for the total eclipse of the Moon that will befall the Americas late on the night of Sunday January 20th. The eclipsed Moon will appear high in a dark sky for observers all the way from northern Canada to southern South America. See the cover story of the January Sky & Telescope.
________________________
Want to become a better astronomer? Learn your way around the constellations! They're the key to locating everything fainter and deeper to hunt with binoculars or a telescope.
This is an outdoor nature hobby. For an easy-to-use constellation guide covering the whole evening sky, use the big monthly map in the center of each issue of Sky & Telescope, the essential guide to astronomy.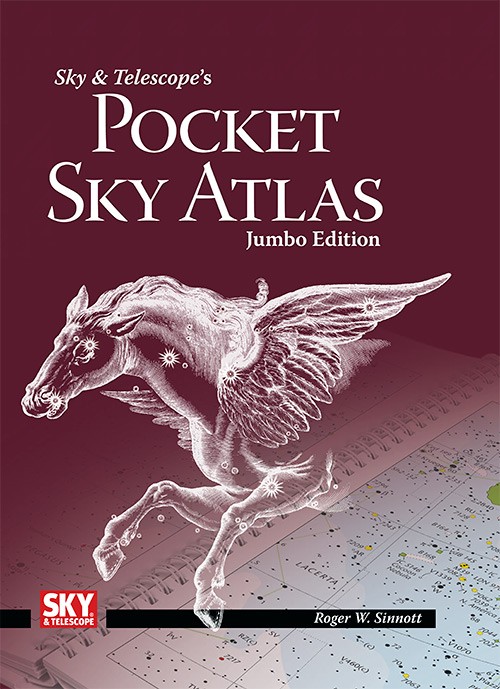 Once you get a telescope, to put it to good use you'll need a detailed, large-scale sky atlas (set of charts). The basic standard is the Pocket Sky Atlas (in either the original or Jumbo Edition), which shows stars to magnitude 7.6.
Next up is the larger and deeper Sky Atlas 2000.0, plotting stars to magnitude 8.5; nearly three times as many. The next up, once you know your way around, are the even larger Interstellarum atlas (stars to magnitude 9.5) and Uranometria 2000.0 (stars to magnitude 9.75). And read how to use sky charts with a telescope.
You'll also want a good deep-sky guidebook, such as Sue French's Deep-Sky Wonders collection (which includes its own charts), Sky Atlas 2000.0 Companion by Strong and Sinnott, or the bigger Night Sky Observer's Guide by Kepple and Sanner.
Can a computerized telescope replace charts? Not for beginners, I don't think, and not on mounts and tripods that are less than top-quality mechanically (meaning heavy and expensive). And as Terence Dickinson and Alan Dyer say in their Backyard Astronomer's Guide, "A full appreciation of the universe cannot come without developing the skills to find things in the sky and understanding how the sky works. This knowledge comes only by spending time under the stars with star maps in hand."
---
This Week's Planet Roundup
Mercury (magnitude –0.5) is sinking away into the glow of sunrise.
Venus (magnitude –4.6, in Libra) rises above the east-southeast horizon two hours before the first light of dawn. By the time dawn arrives, Venus is the brilliant "Morning Star" dominating the southeast. Spot Jupiter to Venus's lower left. In a telescope, Venus appears about half sunlit.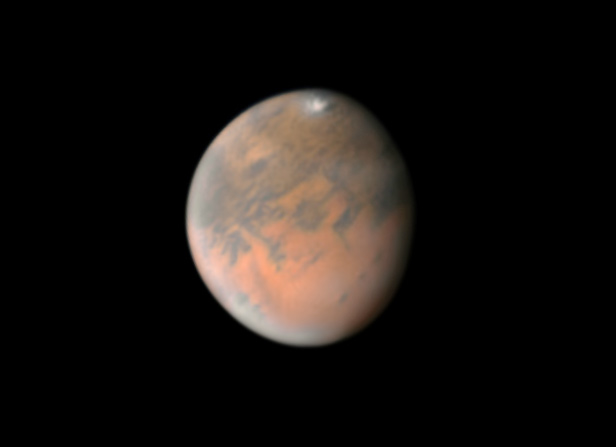 Mars (magnitude +0.5 or +0.6, in Pisces) still shines high in the south-southwest at nightfall and sets around 11 or so. In a telescope it's gibbous and disappointingly small, 7 arcseconds from pole to pole.
Jupiter (magnitude –1.8, in Ophiuchus) shines in the east during dawn, lower left of brighter Venus. Every morning Venus and Jupiter are a little less far apart.
Look 6° to Jupiter's lower right for orange Antares, twinkly and much fainter.
Saturn is out of sight deep in the bright sunrise.
Uranus (magnitude 5.8, at the Aries-Pisces border) is highest in the south just after dark. It's visible in binoculars if you have a good finder chart and if you know the constellations well enough to see where to start with the chart.
Neptune, in Aquarius, is low in the southwest right after dark and more difficult at magnitude 7.9. Finder charts.
______________________
All descriptions that relate to your horizon — including the words up, down, right, and left — are written for the world's mid-northern latitudes. Descriptions that also depend on longitude (mainly Moon positions) are for North America.
Eastern Standard Time (EST) is Universal Time (UT or GMT) minus 5 hours.
______________________
"Rational and innocent entertainment of the highest kind."
— John Mills, 19th century Scottish manufacturer and founder of Mills Observatory, on amateur astronomy.
______________________