What's your pleasure when it comes to observing? Comets? Supernovae? Occultations? Get a sample of each (and more!) in the upcoming week.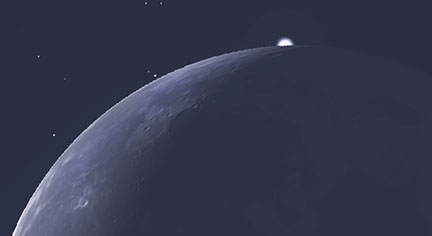 I like a busy observing week the same way I like a buffet. Just grab a tray and head for the steaming entrees that beckon from under the heat lamps. Hmm ... I'll take one of this, one of that, and maybe two of those.
Get your tray ready. With the Moon on vacation from the evening sky, we'll have our best look at the current brightest comet, ASASSN1 (C/2017 O1), and the supernova 2017gxq in NGC 4964. Then on Sunday morning, October 15th, the Moon occults Leo's brightest star, Regulus. All this action is followed by a close conjunction of the Moon and Mars on the 17th.
Don't forget to leave room for dessert. The day after the occultation, the pre-dawn sky will be dark enough to hunt down a new-old fall comet, 24P/Schaumasse. Assuming good weather, we'll all need a nap by Sunday afternoon.
Comet ASASSN1 (C/2017 O1)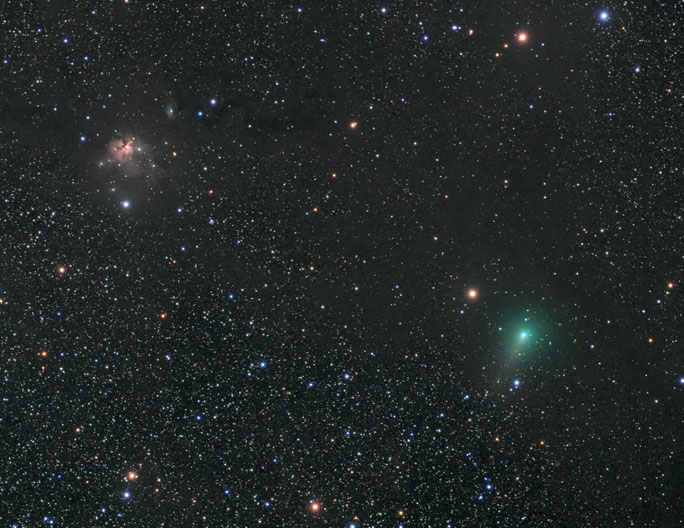 We last visited this comet in late July shortly after its discovery in the constellation Cetus by the All-Sky Automated Survey for Supernovae (ASAS-SN) team. Back then, it shone at around magnitude 10. Steadily tracking northward since, the comet has brightened modestly to its current magnitude of around 9. According to NASA's JPL HORIZONS site, it should peak in brightness next week and then slowly fade in the months ahead. Closest approach to Earth of 107.7 million kilometers occurs on October 18th.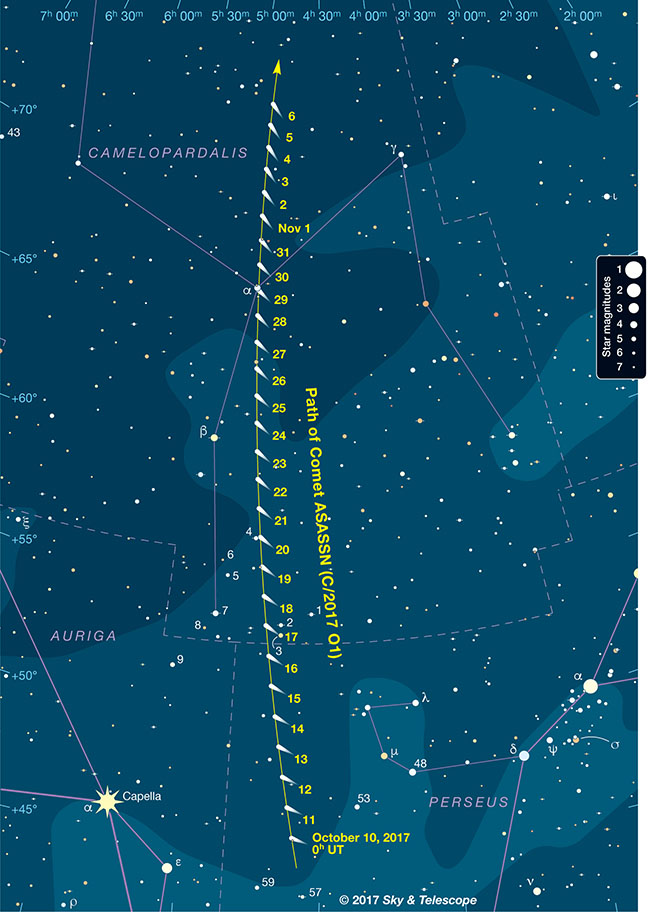 It's certainly hell-bent on heading north. After hopping through Perseus, it crosses into Camelopardalis next week, becoming circumpolar for much of the United States, Canada, and Europe. Later this season, C/2017 O1 rents a cabin at the north celestial pole, lingering within 3° of the North Star from November 30th through December 15th. Northern hemisphere skywatchers will have numerous opportunities to get acquainted with the fuzzy fellow.
I observed C/2017 O1 most recently on October 10th with a 15-inch telescope at low magnification (64×) and saw a big, hazy glow. You wouldn't call it bright overall, but the comet has a ghostly look just right for the Halloween season. I estimated its diameter at 10 arcminutes across with a slightly condensed core (DC=3 in comet parlance). A Swan Band filter boosted its contrast a moderate amount, indicating that the object emits a significant amount of gas. Observers using an 8-inch or larger scope should have no problem spotting it, especially from 9:30 p.m. local time onward, when the comet will be ~20° high and climbing.
Supernova 2017gxq in NGC 4964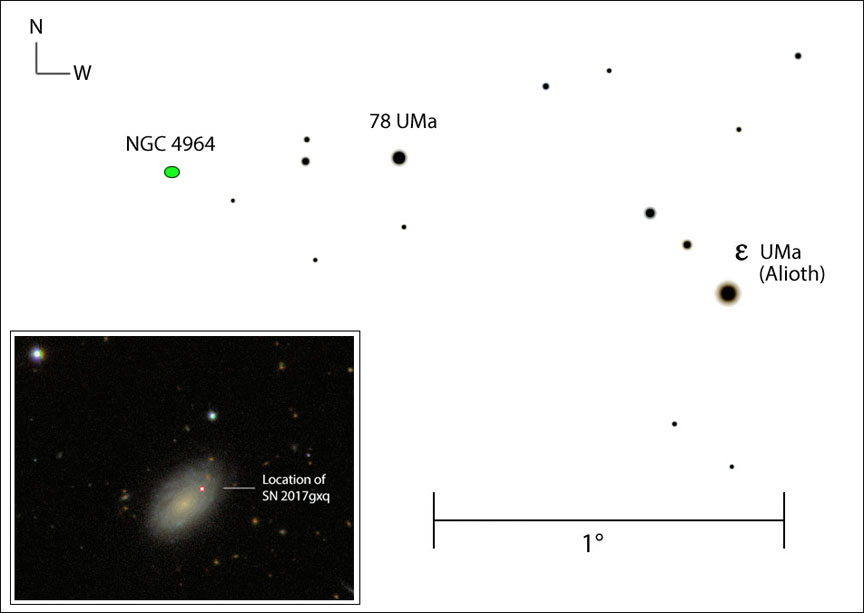 Got an 8-inch or larger scope? You should have no problem seeing this Type Ia supernova in the small galaxy NGC 4964 in Ursa Major. Discovered on September 17th by the Gaia spacecraft at magnitude 17, it quickly rose to 13.6 in earlier this month. I confirmed it at that brightness on October 8th. Despite poor seeing, it was easily visible at 145× in the 15-inch about 15-20 arcseconds northwest of the nucleus nestled within the galaxy's periphery.
Although NGC 4964 is only magnitude 13 and about 1 arcminute across, it's very easy to find tucked between Mizar and Alioth in the handle of the Big Dipper. Click here for a photo, then come see what a white dwarf looks like when it cashes in its chips in a runaway fusion explosion. It can't be pretty if you live there, but from 116 million light-years away, the view is fantastic. For updates, see David Bishop's Latest Supernovae site.
Regulus Occultation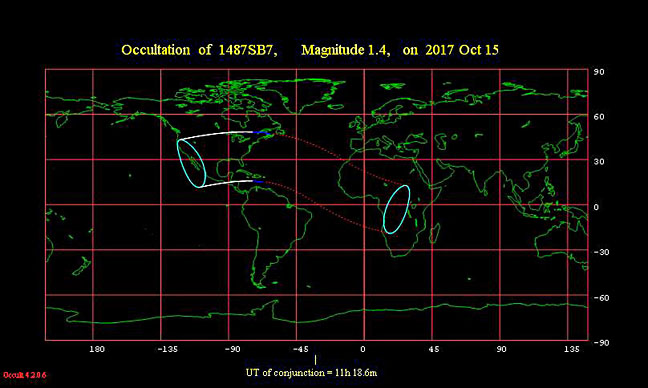 On Sunday morning, October 15th, the Moon, about four days before new, occults magnitude 1.4 Regulus for much of the United States and Central America. Exciting as it will be seeing the bright crescent cover the star, the best part will be watching its reappearance along the Moon's dark limb minutes to more than an hour late,r depending on your location. The sudden burst of starlight after the star's "dark passage" should be a spectacular sight visible with any instrument, including the naked eye.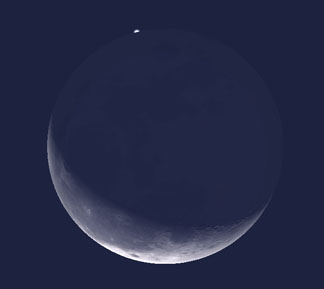 According to occultation expert David Dunham, only New England will have to contend with bright twilight when Regulus returns to view. Most other locales will either be dark or in early twilight. Click the map above for a list of more than 700 cities with times of disappearance and reappearance.
Times are in UT, so remember to subtract 4 hours for Eastern Daylight, 5 for Central, 6 for Mountain, and 7 for Pacific. Observers along a line from western Oregon through Montana, North Dakota, and Minnesota will see a grazing occultation, with Regulus popping in and out of view between lunar valleys and towering crater rims along the Moon's northern limb.
The occultation also provides a rare chance to record Regulus's 12th-magnitude white dwarf companion discovered in 2005. If you're doing low-light video recording, watch for it to appear briefly at the dark limb just ahead (we hope) of Regulus. Astronomers still aren't exactly sure of its position in relation to the bright star.
Moon and Mars 1° Apart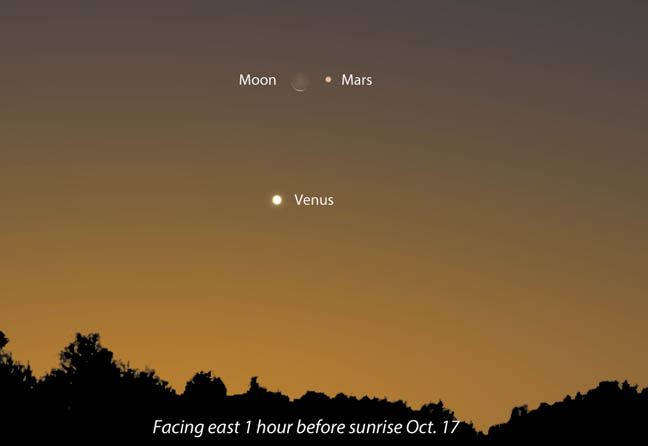 A delicate Moon passes just 1° north of Mars on Tuesday, October 17th. Watch for the pair 90 minutes to an hour before dawn low in the eastern sky. Earthshine will be bright and obvious, making the scene especially beautiful in binoculars.
24P/Schaumasse's Long-Awaited Return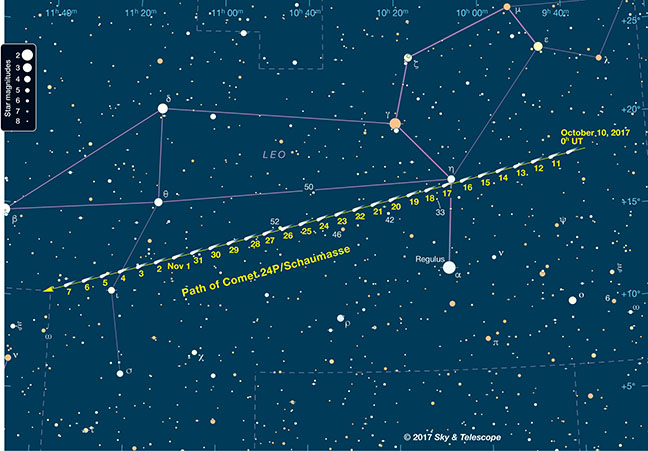 Although this comet revisits the inner solar system every 8.2 years, it was missed on its last return in 2009 because perihelion occurred on the opposite side of the Sun from Earth. This time it's back in great form and slowly brightening as it travels across Leo in the pre-dawn sky. Currently at magnitude 11, the comet is expected to peak around magnitude 10 in mid- to late November, the same time it's closest to Earth (219 million km) and at perihelion. Observers describe it as small and weakly condensed at the moment, but it should intensify in the coming weeks.
I hope you'll enjoy the buffet, the best in the universe, I hear. Don't forget to recommend it to your friends!