Vesta, the brightest asteroid, puts on one of its best shows ever in June, when it shines brightly enough to see without optical aid.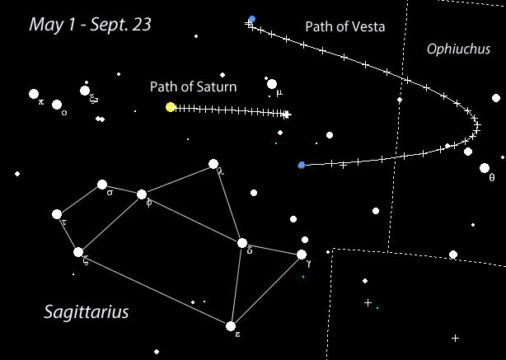 Imagine if you could look up in the sky and see an asteroid with nothing but your eyeballs. Guess what — you can! In the coming month, 4 Vesta will shine its brightest in years, affording skywatchers a rare opportunity.
The second largest main belt asteroid and a bona fide protoplanet, Vesta reaches opposition on June 19th, when it will come within 170.6 million kilometers of Earth, the closest it's been in at least two decades.
Currently at magnitude 5.7, Vesta will climb to magnitude 5.3 at opposition on June 19th, bright enough to pick out in less than perfect skies. By a stroke of good luck, Saturn will be nearby (only 7.5° southeast) to help point the way. For observers at mid-northern altitudes, extinction — the dimming of a celestial object due to absorption of light by the atmosphere at low altitudes — will rob the asteroid of ~0.4 magnitude.
The window for naked-eye Vesta viewing begins June 5th, when the asteroid is well-placed in the southeastern sky shortly before moonrise, and ends about July 16th, when it fades back to magnitude 6.0, the traditional naked-eye limit. Peak viewing, when the asteroid is brightest in a moonless sky, occurs from June 8–22.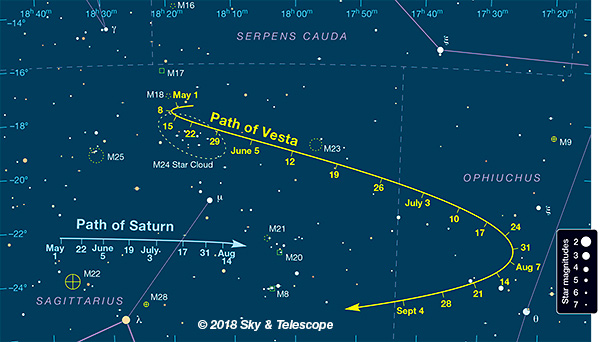 The last time Vesta came this close, but not quite, was at the May 30, 2007, opposition. Then, it glimmered at magnitude 5.4 from 171.2 million kilometers away. I made a special effort to see it at the time but wished now I'd taken better notes. Here's what I wrote: "Seen with the scope and naked eye. Dimly visible about 6 mag. along the Oph-Sco border."
Vesta starts out the month of June moving west in retrograde motion in Sagittarius near the eye-catching M24 Star Cloud. On the nights of the June 14–15, it will pass less than ½° southeast of the bright open cluster M23. Late in the month, Vesta segues into Ophiuchus before doing an about-face and resuming direct motion in early August before looping back to Sagittarius in early September. On the last nights of summer, it slides 1° south of the Lagoon Nebula.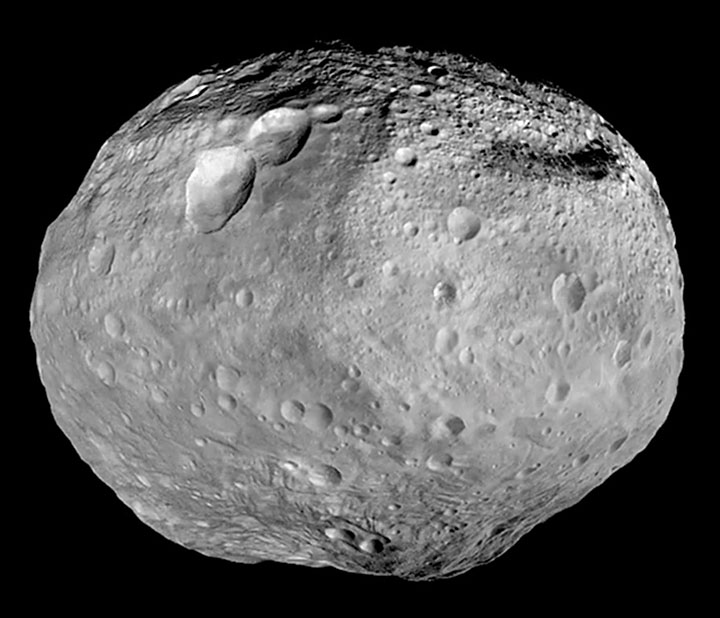 Vesta's shine has baffled astronomers for decades. The Moon reflects 12% of the light it receives from the Sun; Vesta returns 43%. What makes it so bright? There are at least two possibilities. Unlike the Moon and most small solar-system bodies that lack an atmosphere or magnetic field, Vesta shows little space weathering. Space weathering occurs when high-speed charged particles in the solar wind and micrometeorites bombard exposed rock, vaporizing tiny particles of iron in the minerals. Over time, the vaporized metal coats the rocks in a dark patina.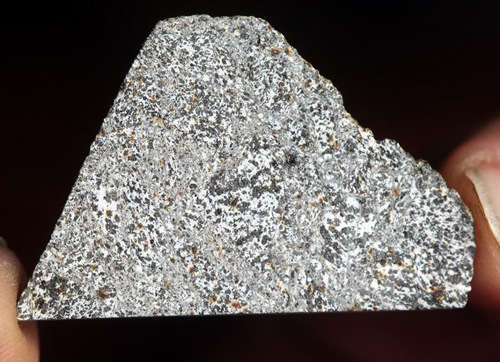 The Dawn spacecraft found no sign of this classic weathering on Vesta's crust, so either the rocks there possess little iron or the asteroid is protected by a magnetic field, which would fend off much of the damaging effects of solar gusts. Recent studies of residual magnetic fields in meteorites derived from the minor planet provide indirect evidence of its existence.
Pity there wasn't enough money approved to provide a magnetometer for Dawn or we might have a definitive answer to this conundrum. We do know that Vesta was hot enough in the distant past to partially melt and differentiate into crust, mantle, and core, the first steps on a journey to a planethood abruptly scotched by Jupiter. Perhaps the core once seethed with molten iron, enough to generate a magnetic field for a time.
Even if Vesta eludes the naked eye from your location, take a look through binoculars or a telescope. Any optical aid will show it as a "star" creeping across the Sagittarius Milky Way night by night and week by week. Amateurs looking for a challenge will want to maximize their Vestan experience by attempted to discern the asteroid's shape. As seen in the wonderful sequence by astrophotographer Damian Peach, it's clearly oval.

Vesta varies in apparent diameter from 0.20″ to 0.69″. The low end is impossible to see visually, but the protoplanet will swell to its maximum size this apparition. If you've seen Jupiter's moons as disks — not a terribly difficult feat in a 6-inch telescope at high magnification — you might, I say might just see Vesta. Let's look at the specs.
In June, Jupiter's four Galilean moons have the following apparent diameters: Ganymede (1.62″); Callisto (1.5″); Io (1.1″); and Europa (1.0″). While Europa looks very small indeed at 250×, I've seen all of them as disks in my 11-inch and 15-inch scopes. Vesta will be slightly larger than half-a-Europa. Given top notch seeing conditions I suspect that the asteroid's oval shape might be glimpsed at 500× in a 10-inch telescope.
Wait for a good night when Vesta's on the meridian and keep upping the magnification until the atmosphere won't allow. Pay attention to the color. Some amateurs, including myself, have noted a yellow hue. We'd love to hear about your attempts, successful or not.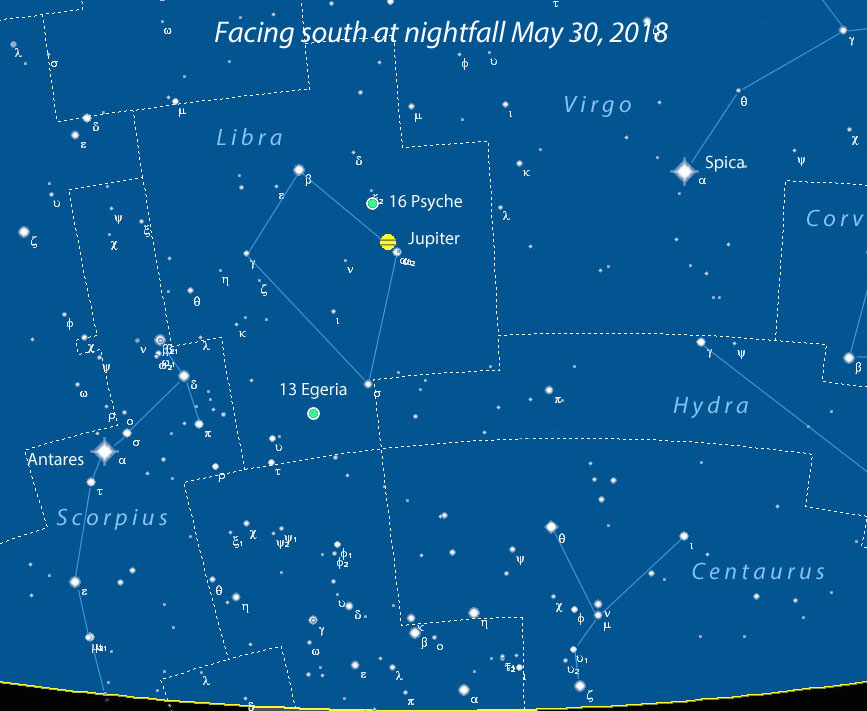 Several other relatively bright asteroids are currently prowling the June skies. As warm-ups to Vesta viewing and to expand your list of minor planets, I've included finder maps for 16 Psyche and 13 Egeria, visible in the evening hours, and 9 Metis and 29 Amphitrite, visible after midnight. Just click on the links for charts. Stars are plotted to magnitude 11.0 except in the chart for 13 Egeria, which shows stars down to 11.5.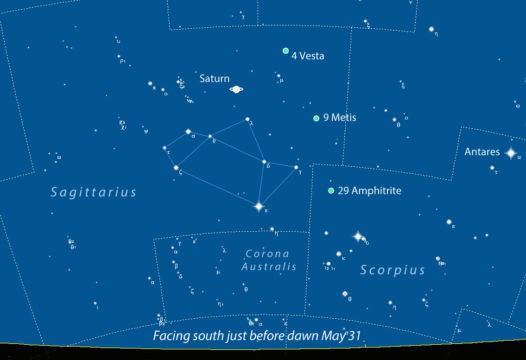 Vesta won't get this close again until sometime after 2040. I'm as excited as you are at the opportunities. Hopefully, I'll do better on my observing notes this time around!