Stars are time machines that can transport us into the past or future. They can also illuminate our own personal journeys, as Arcturus did for me one night.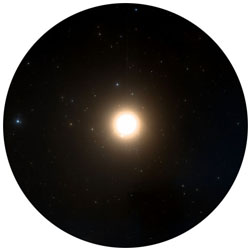 Last fall, we had to put our 18-year-old dog Sammy down. It was a sad occasion. For years, we'd walk at night under stars, clouds, snow, and rain. Now, I walk alone but keep her memory. These past few weeks, the sky has shifted from winter to spring both in temperature and content. Orion is ambling westward, and a new star gleams in the east off the handle of the Big Dipper: Arcturus.
I love this star. It really lights up the eastern sky not just with brilliance (it's the 4th brightest in the night sky) but color. Arcturus is an orange giant with a warm hue like one of those floating sky lanterns.
Astronomers have precisely measured its distance from Earth at 36.7 light-years or 220 trillion miles, making Arcturus one of the closest bright stars. It's large, too — 25 times the size of the Sun and 110 times brighter in visible light. Put in place of our star it would fill a quarter of Mercury's orbit.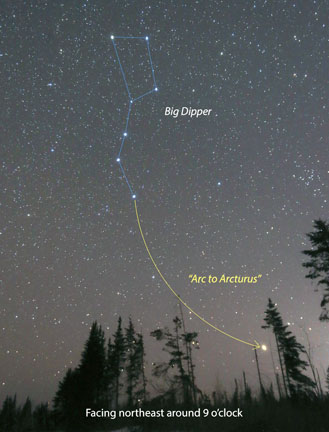 While Arcturus glimmers brightly at magnitude 0, if you took the Sun and moved it 36.7 light-years from home, it would shine about 100 times fainter (magnitude 5). You'd need a dark sky and moonless night to find it. But here's the crazy thing, Arcturus is only 1.08 times as massive as the Sun. They have nearly the same amount of stuff, so how come Arcturus is brilliant and the Sun barely registers?
Arcturus is about 7 billion years old, some 2 billion years older than the sun. As a Sun-like star ages, it uses up the hydrogen in its heart and switches over to burning it in a shell outside the core. It also begins cooking helium, a byproduct of hydrogen burning that accumulates in the core. How convenient to incinerate one fuel to make another!
The transition in how and what the star burns causes it to expand to many times its original size. Even though Arcturus has a lower surface temperature than the Sun due to that expansion (the reason it appears orange), its vastly greater surface area makes it many times brighter.
In a couple billion years, the Sun will likewise balloon out and brighten. When that day comes, Arcturus, born before the Sun and forever a step ahead, will have blown its outer envelope into space, leaving behind a tiny, invisible-to-the-naked-eye white dwarf.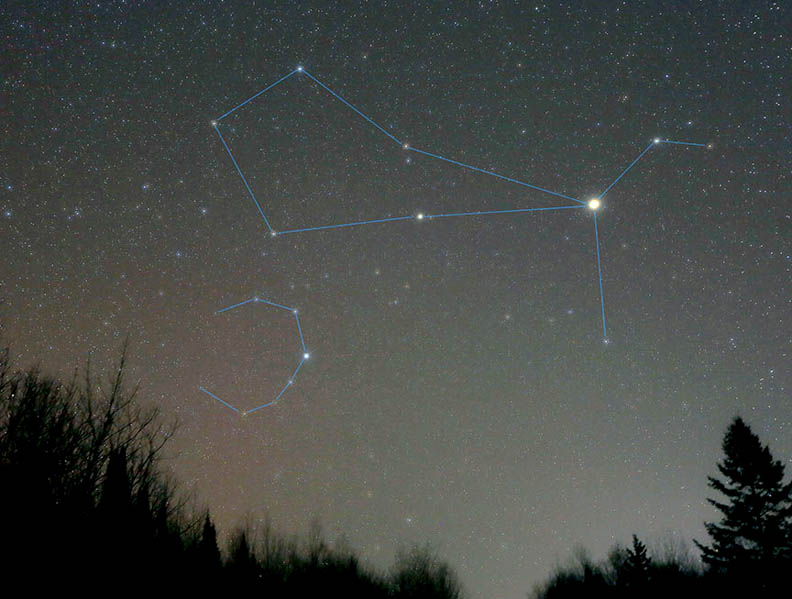 As my dog aged, she lost full use of her back legs and had other issues as well. A year ago under another spring sky, I knew where this was all headed and dreaded the decision that would have to be made.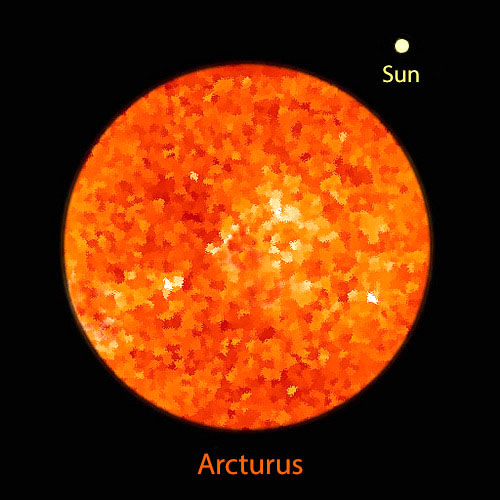 I still enjoy my nightly strolls and watching the stars change with the seasons. Some constellations bring the tingle of winter, others shout spring. Arcturus reminds me that the future transforms everything, and that a star is so much easier to let go of than a dog.