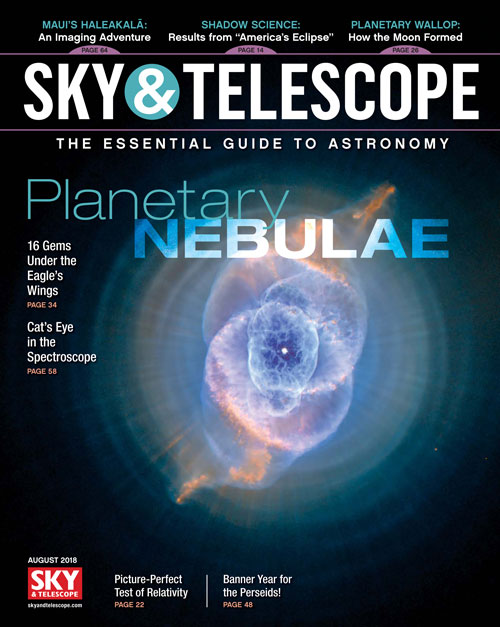 America's Eclipse: One Year Later

In the August 2018 issue of Sky & Telescope, we look back on last August's eclipse. Learn about the results of research done during the Moon's transit across the Sun. Discover how a planet-scale smash managed to make a moon so like Earth. Explore the planetary nebulae within the celestial Eagle, Aquila. Visit an Hawaiian mountaintop for a stellar view. Use your own equipment to solve the riddle of NGC 6543. In this issue, we also share a impressive build for an optimized Dobsonian. Check out our observing picks for the month, explore an enigmatic crater on the Moon, and see if you can catch all five planets that will grace the night sky throughout August! Enjoy these and other stories in the August 2018 issue of Sky & Telescope.
Feature Articles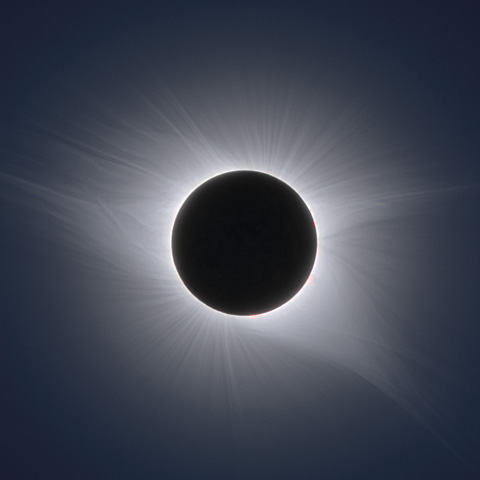 Shadow Science
Researchers studied last year's solar spectacle with unprecedented intensity.
By C. Alex Young
A Picture-Perfect Eclipse Experiment
The author redid Eddington's famous test with astounding success.
By Donald Bruns
The Moon Mess
A planet-scale smash created Earth's satellite. But how did it manage to make a moon so like Earth?
By Javier Barbuzano
Aquila's Gems
The celestial Eagle offers a plethora of planetary nebulae.
By Ted Forte
The Riddle of the Nebulae
Using your own equipment, you can experience the historic observation that changed astronomy.
By Howard Banich
A Night on Haleakalā
Visit the other Hawaiian mountaintop mecca to the stars.
By Richard S. Wright, Jr.
Beyond the Printed Page
Gaia Maps 1.7 Billion Stars, Widens Cosmic Census
Peruse the original article on Gaia's new map, including additional images and an animated view of the Hyades star cluster.
Uranus and Neptune
Read a short history of the ice giants and grab handy up to date finder charts at the end.
Mars Profiler Tool
Use this tool to learn which side of Mars is visible and more for any date and time. Best of all, it shows a map of Mars so that you can identify any bright and dark markings you see.
Lunar Librations and Phases of the Moon
Librations and other lunar data for August 2018.
ALSO IN THIS ISSUE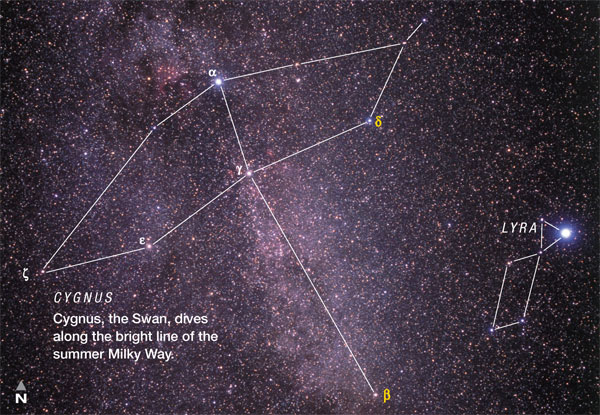 All My Mars at Once — Part 2
Join the author as he continues down Martian Memory Lane.
By Fred Schaaf

And Then There Were Five
Four bright planets grace the skies, and tiny Mercury appears at the end of the month.
By Fred Schaaf

The Crater that Cried Wolf
An enigmatic crater in Mare Nubium refuses to give up its true nature.
By Charles Wood

Cynus Puzzlers
Get to know these deep-sky strangers this summer.
By Sue French

Table of Contents
See what else August's issue has to offer.